Act Quickly: A General Guideline
Stains are bothersome, unsightly, and pretty hard to get rid off if you don't have the right tools and materials.
Here are some tips and tricks that professional cleaners swear by to help combat stains:
Don't wait, act as soon as it happens. The earlier you attempt to remove the stain, the more likely it will come off. Not all stains can come off though, no matter how early you treat the spot.
Remove excess liquid by blotting on the area immediately.
Check the material's colourfastness before treating it. Colourfastness is defined as a colour that will fade or bleed after washing or usage. You can test if a fabric is colourfast by dampening a white cloth and wiping the interior seam or hem. If you see colour on the white cloth, the fabric is NOT colourfast, and will most likely bleed or fade after a wash or treatment.
If you have a stain remover, apply it on the underside of the stain. Turn the fabric upside down and place it on top of a paper towel. This will let the towel absorb the stain off of the fabric.
Did you know that there stain resisters? Apply these on carpets and upholstery for an added layer of protection.
Never rub delicate fabrics.
If the only way to clean the fabric is through dry clean, don't hesitate to bring it to the dry cleaners. Be clear and specific about the stain so that the cleaners can safely remove the stain with the right materials.
Some stains take time before they totally come off. You might have to soak the spot for a few hours before the stain is removed. Be patient! Good things take time.

Common Household Stain Removers and Tools
There is no need to head to the grocer's for a bottle of stain removers. You just might have one right at home!
Meat Tenderiser
The powder can sprinkled on protein-based stains like blood or milk from fabrics. If the stain is wet, pour meat tenderiser on the stain and let it for at least an hour. Wipe off the powder before dumping it in the laundry. If it is an existing stain, mix water with the meat tenderiser to create a paste and then rub it on the stain. Wait for an hour before having it laundered.
Hydrogen Peroxide
If you're unsure of what a stain is and you still want to get rid of it, simply mix a tiny bit of hydrogen peroxide (about a teaspoon) with cream of tartar or toothpaste. Grab a soft cloth and rub the paste onto the stain. Rinse it off and the stain should be gone.
Paintbrushes
Some stains are pretty to get rid of, especially on clothes and delicate fabrics. Be more precise and save yourself the hassle of attempting to remove an unsightly stain by simply grabbing a paintbrush and spot treating the area.
Sandwich bags
Place detergent powder in a sandwich bag. The next time you have an out of town trip and doing laundry is unavoidable, just grab the sandwich bag. It's easy to bring plus economical; there is no need to buy detergent where it is you'll be headed to.
Spray bottles
Spray bottles are pretty nifty tools you can use anywhere in the house. Fill a clean, recycled spray bottle with a gentle solution of water and cleaner and spray on surfaces. You can also fill it with clean water and spritz on clothes before ironing.
Toothbrushes
A nylon bristled toothbrush is another effective stain remover tool you can use for those hard-to-reach areas. It saves you from rubbing fabrics together and you get to spot treat the stain easily.
White Vinegar
There is no need to limit vinegar to the kitchen. You can add vinegar to a mixture of water and detergent and you have an effective and natural stain remover and disinfectant for most surfaces. For stains on fabrics, simply pour on the affected area and use a toothbrush to rub the stain out before washing it.
Window cleaner solution
What makes this an effective stain remover on fabrics is the ammonia. Tough stains are no match for this cleaner! Make sure to check the fabric colourfastness first in a hidden or inconspicuous area.
Rubbing alcohol
Another effective stain remover is rubbing alcohol. It can pretty much make most stains disappear. Just make sure to not use it on varnished wood and surfaces as it leaves unsightly white marks.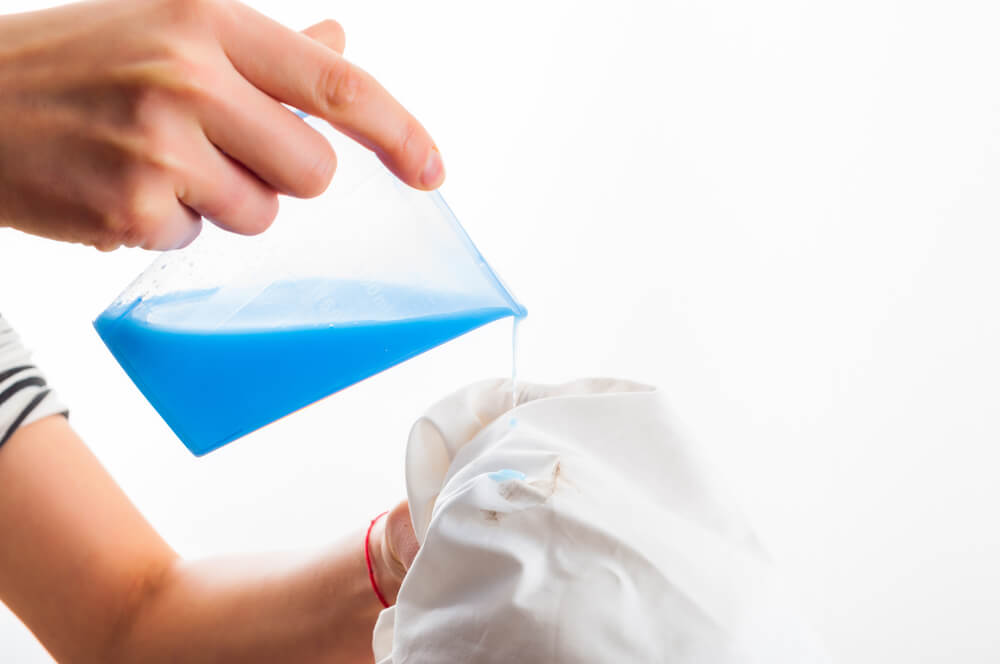 Common Stains: How To Remove Them
Wine
Having a glass (or two) after a tiring week can be an excellent way to unwind. Sometimes though, accidents happen and when it does, make it a point to act quickly:
Rug and upholstery – Blot the area with bleach diluted with water, followed with a wet towel to soak up the stain.
Marble or granite – Mix hydrogen peroxide and baking soda until it turns into a paste, similar to the consistency of peanut butter. Spread the mixture on the stain,about ¼ inch thick, and cover it with plastic. Let it sit for 24 hours. Remove the plastic and then let the paste dry up before wiping it off.
Grease
Clothing – Pour a mixture of equal amounts of vinegar and water on the stain, and then wash as usual. Repeat until the stain comes off.
Rug and upholstery – It's the other way around for rugs, carpets and the like: use laundry soap and water first and then dab with white vinegar.
Coffee
Clothing – Run hot water on the stain as soon as possible. If the stain has set, apply equal amounts of vinegar and water on it and with a toothbrush, remove the stain along with some laundry soap.
Granite and marble – Mix half a cup of hydrogen peroxide with two cups of cold water. This is sure to remove MOST stains. Stay clear of vinegar as it can damage marble and granite stones.
Pristine Home: Professional Cleaners
When you have better things to do than attempt to remove stains, get in touch with Pristine Home. We take pride in our wide range of services: from general cleaning to end-of-lease or bond clean, no dirt, dust, or stain is too tough for us to clean out. Know more about rates in less than a minute .
---