We all dread cleaning the bathroom. There's about it that makes us feel uncomfortable about getting down on our knees and scrubbing away. Unfortunately, the bathroom needs to be
cleaned just like the rest of the house.
Thankfully Pristine Home can easily do the job for you! We have a specific cleaning service that targets bathrooms. This doesn't mean that you can't clean the bathroom on your own though!
Here are some cleaning tips to help your power through the chore of cleaning the bathroom.
Bathroom Cleaning Tips
Start with the toilet bowl
Yes, the toilet bowl!
As much as possible we try to avoid the toilet bowl for as long as we can but putting it off can become costly for us in the long run. Before starting with the rest of the bathroom, begin by squirting the insides of the toilet bowl with a cleaner that has bleach. Let the bleach work its magic while you do the rest of the bathroom.
Bleach and other cleaners work best when it's left to "work" on surfaces before you scrub or wipe them down. As for the toilet bowl, letting the bleach sit for some time will definitely kill off any bacteria.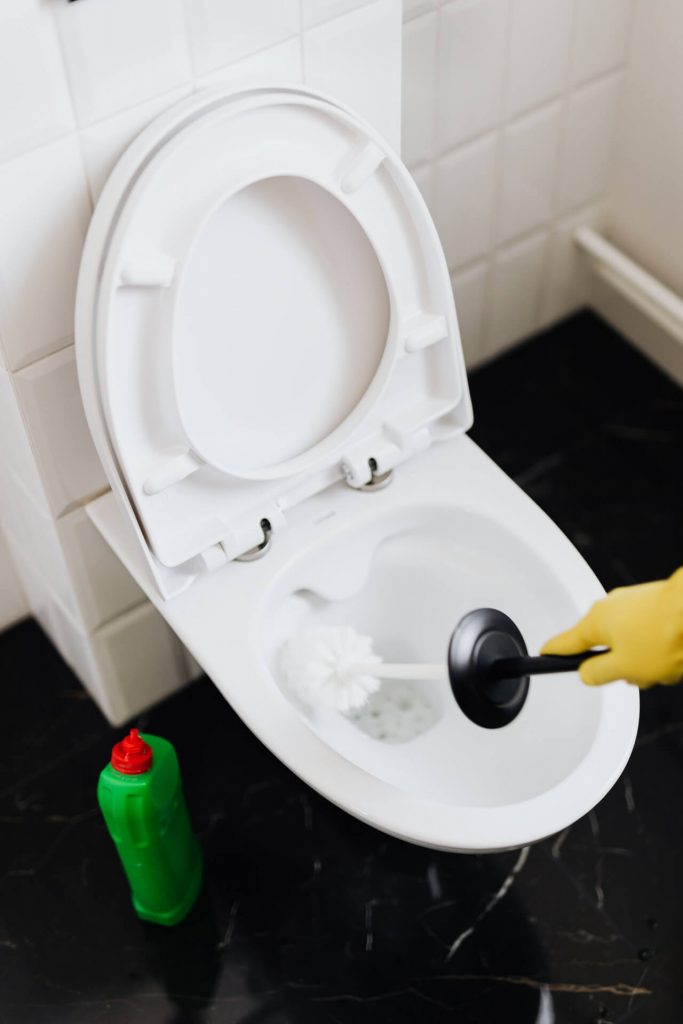 Sink and Vanity
Leave the toilet alone for a moment and focus on the sink and vanity. The sink should be thoroughly cleaned and scrubbed. After all, this is where we wash our hands, our faces, spit out
after brushing our teeth…. You get the picture.
The good news is that all you need are two things: a coarse sponge and hydrogen peroxide.
Clear the vanity of any items before you start. Make sure that the surface is free of any clutter. Spray hydrogen peroxide on the surface and let it sit for a minute or two. Like bleach, letting it
stay on the surface will really get those stains removed. Make sure to cover the sink as well.
Using a sponge you can now scrub the sink and wipe the counters. You'll notice how easily any stains have come off because of the hydrogen peroxide. Rinse the sponge and then do a final
wipe down of the surface.
Do you still see any unsightly stains in your sink? Use a denture cleaning tablet! Plug or close the drain, fill the sink with hot water and then drop the tablet. The water should begin to foam
after a few minutes and when it does, drain the mixture. The stains should be gone with the water but if there is still leftover gunk, grab a sponge and wipe it off.
Mirrors
Mirrors are pretty easy to clean as you would only need a microfibre cloth and perhaps a soapy solution. Spray the mirror with water and a bit of liquid soap mixed and then wipe away! To prevent mirrors from misting up while you're taking a hot shower, a bit of shaving cream will help save the day. Wipe the surface with shaving cream and it should help your mirror from fogging up for the next couple of weeks or so.
Shower curtains
Shower curtains can have mildew or molds over time when it doesn't get washed often. Mildew and molds develop when there is too much moisture and the shower curtains are no exception.
Shower curtains should be washed once a week and allowed to dry thoroughly to prevent mildew or molds from forming. However, if there are mildew stains on your curtains already, try
to remove them with a bit of vinegar and baking soda.
Add about half a cup of baking soda with your detergent. Wash as usual and before the rinse cycle begins, add half a cup of white vinegar. This should remove any molds or mildew!
Take out the rubbish and mop the floor
Let's not forget empty and rubbish bins and mop the floor with some soapy solution to give it a good shine. If your floor is tiled (which it most likely is) there might be stains on the grout if you
haven't given it a thorough cleaning in a while. Hydrogen peroxide works with grout stains. Just like the sink, let the hydrogen peroxide sit for a minute or two before scrubbing.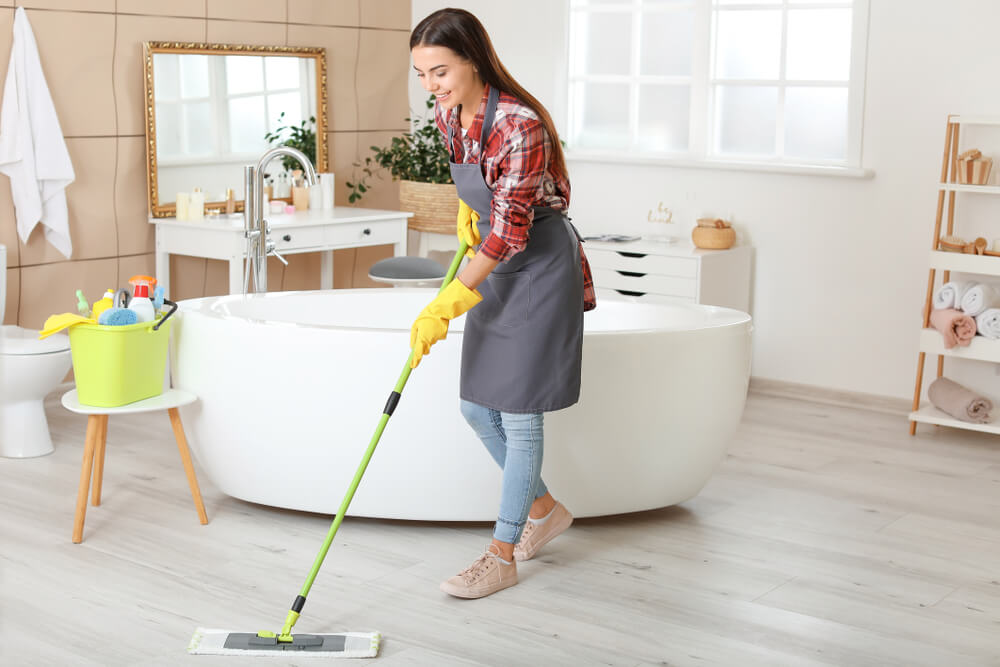 Go back to your toilet bowl
The toilet bowl has been sitting with bleach for some time and now is the best time to start scrubbing.
Grab a pair of disposable rubber gloves and your toilet brush. The bleach would have made any stains easier to scrub. You won't need a lot of elbow grease here. Start with the insides, working
your way towards the lower, inner part of the toilet bowl. When you're satisfied with how clean the toilet bowl is, flush the bleach solution away.
Other Tips
Try to make use of disposable cleaning items, such as gloves, sponges, and such. The bacteria in the bathroom is of a different kind and you should cross contamination by using materials that can be easily disposed of.
If disposable cleaning materials are too expensive for you, invest in a separate cleaning set that is solely for the bathroom's use only.
Stock up on baking soda and white vinegar because these two handy household items can help with the cleaning more than we care to admit!
Cleaning the bathroom, just like other rooms in your home, should be done regularly. A simple daily cleaning should help keep any stains away, and a weekly thorough cleaning should be enough.
---