When you have children at home, cleaning up can be quite a chore. When you are a parent whose focus is not just on the children but on your career as well, cleaning can easily become a thing of the past. You're pretty much too tired to even bother with the piles of toys or the dirty dishes staring at you when you get home.
You don't have to carry the burden of keeping the house clean. Have the children involved in the process.
Setting Them Up For Life: The Benefits of Having Chores
We sometimes have this notion that children aren't supposed to be doing any house work and that it is our duty to maintain a clean and tidy home environment. Having this kind of mindset can not only be a burden on our end as parents, but may also be detrimental to our children's overall well-being as well.
As a parent it is only natural to want to provide everything our kids need (and want) whenever we have the capacity to do so. This includes letting them make a mess out of the house because we feel it is our responsibility to clean it up anyway. Now let's fast forward to 10 plus years down the road, your kids are teenagers, and here you are STILL cleaning up after them. Even when you've told them time and time again to tidy up their rooms, somehow you end up doing all the work. You only get some respite once they've left the nest and make it on their own, only to find their apartments just as messy as it was when they were still living with you.
Not a fun thought, eh?
By giving our children some cleaning tasks — albeit simple ones — we are not only helping ourselves a tiny bit, but more importantly we are teaching them how to be responsible for their belongings and to practice mindfulness. Having a consistent set of tasks to do everyday sets them up to do bigger, harder ones as they grow older, eventually letting them become more responsible individuals.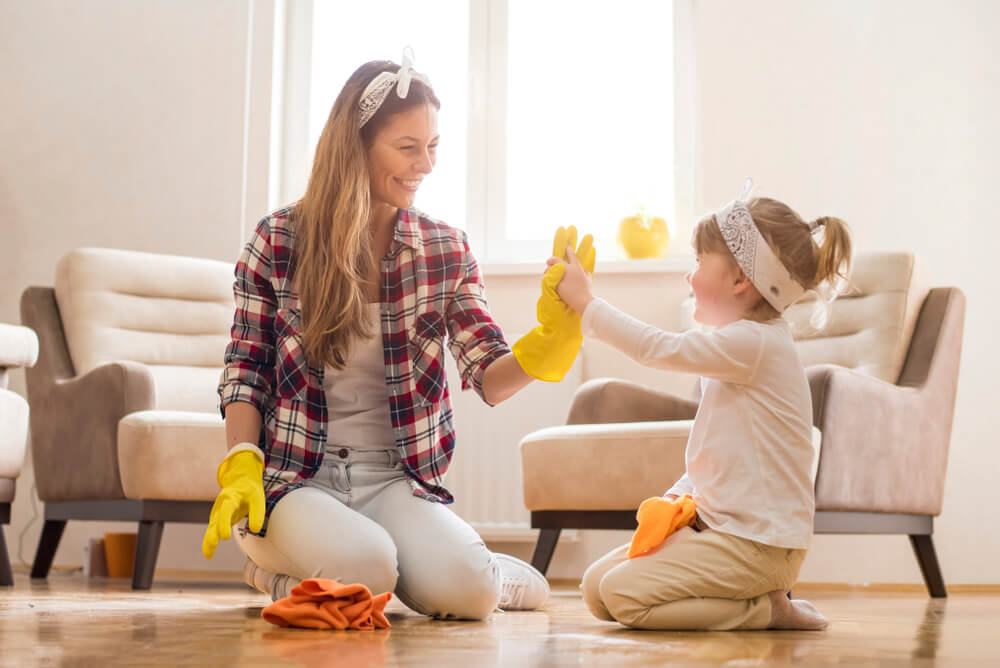 How the Kids Can Help at Home
It is easy to assign tasks to kids as long as it is age-appropriate. We don't want to give them too much too soon; start by giving one or two tasks a day and then work your way upwards after a couple of weeks. The key here is to set up a routine where it will eventually become natural for them to tidy up after themselves — without you having to nag.
There are creative ways to help get the ball rolling, as they say. For example, for older children you can opt to offer an allowance or reward system for every chore they finish. What is important here is that:
You teach them how to do the task specifically the way you want them to. This is quite challenging and will definitely take some time but in the end you are confident that your child will do the task properly (and safely!)
You are consistent. There are no "off days" for cleaning. Set a schedule — it can be a daily or weekly thing — and make sure to stick to it! Once your child sees you are inconsistent, they might end up becoming lax about doing the chores. Hang in there, it will quickly become second nature for everyone to do some house work.
You are their role model in keeping the house neat and organised. If you keep nagging them to clean up after themselves but they see that you have left the dishes piling or the laundry left unfolded, then they can easily gauge that cleanliness is really not a priority in your family.
The earlier you begin, the better. This sets them up to a better understanding of how much you value your home and help them develop a sense of responsibility early. Don't underestimate your preschooler; they're smarter than they let on!
They won't be doing their chores perfectly. Employ a relaxed approach whenever you assign tasks to your children. You just might frustrate yourself with how things are going or even worse, you might be tempted to jump right in and do the task yourself.
Praise is important. There is nothing wrong with verbal praises; letting children know that they've done a fantastic job lets them feel like they have actually accomplished something (which they have!) and motivates them to continue doing it. Positive reinforcement is the key here.
Tasks You Can Assign the Kids
Before the chaos begins (because let's admit it, anything that involves kids can be pretty chaotic), book a cleaner  with us. Let us clean any hard-to-reach areas and remove debris that even you can't handle. It will also be much easier on your end to assign tasks while the house is spotless.
Generally speaking, preschool aged children (2 – 3 year olds) can handle very simple instructions, usually a one-step to two-step task is enough to start with. Check out a few of our suggested cleaning tasks, according to your child's age:
Note: this is just a guideline and should be treated as such. You should be able to discern whether your child is physically ready and mature enough to handle the suggested tasks. Adjust accordingly; and older child should be capable enough to do a chore that a 3 year old can do.
2 to 4 year olds:
Sort items into piles.
Check underneath their beds and other furniture for things that are out of place
Put soiled clothing in the hamper
Arrange the books, magazines, and newspapers into piles
Dust
5-7 year olds:
Take the laundry or the hamper to the laundry room, as long as it is not a hazard
Empty trash cans
Make their beds
Clear the table
Do a bit of gardening, like pull the weeds out
Water the flowers or plants
Unload the dishwasher
Wash the dishes in the sink, but make sure it is plastic to avoid breakage
7 year olds and up:
Help change the bedsheets and pillow cases
Sweep the floor
Sort the laundry
Set and clear the table
Vacuum (under your supervision, of course!)
Help put away the grocery
Mop the floor
Assist in packing their school lunch
Chores for 10 year olds, preteens, and teens:
Fold the laundry
Clean the bathroom (Have them wear rubber gloves)
Wash the windows
Help wash the car (for teens, they can do it on their own)
Cook simple dishes under your supervision or another adult's
Clean the kitchen
Baby-sit younger siblings (always with an adult present at home, never alone)
The list can go on, but pretty much you have an idea of what kind of tasks you can start assigning your children.
Tip: It would be nice to have a chart set up in a place where everyone can see, like the kitchen or living room. In the chart you can plot chores on a weekly basis and put a check on the ones they've already done. It is a good visual reminder for you and the children about what needs to be done, and to also give you the opportunity to praise them for finished a chore. Remember, don't be stingy on praise!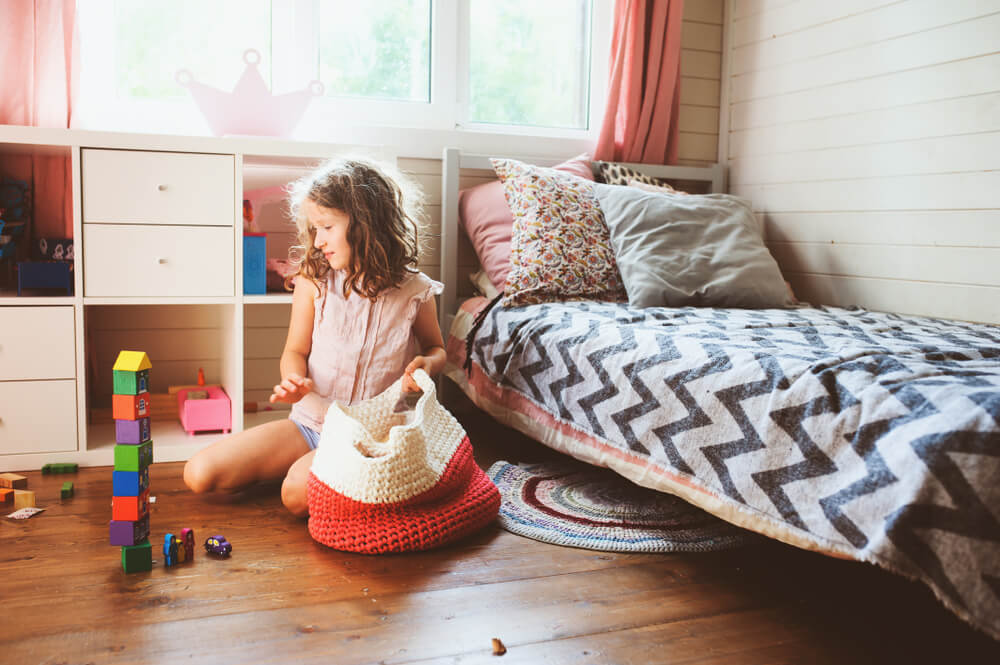 Parenting 101
Being a parent can be such a monumental task and responsibility that it can sometimes be overwhelming. You might be wondering how you've come this far with this whole parenting gig! Always remember that it's never a walk in the park and when it comes to cleaning and assigning chores at home, it is always best to approach things with a fun and relaxed attitude. Not only are you keeping a clean and organised home, but you are also setting them up with a sense of responsibility that they will surely carry for the rest of their lives.
We at Pristine Home believe in making cleaning a fun and enriching activity for the whole family. Book a cleaner and get the bigger cleaning jobs done so you won't have to. Our team of professional cleaners are fully equipped to help get you on the right track to maintaining a clean and beautiful home environment.
---