It's never too late (or early) to get the little ones to help out with chores. Living with children certainly has its highs and lows. They keep you on your toes and trying to clean up after them can be a daily hellish experience.
But with a little guidance, we can actually get the kids involved in the cleaning up. Keep reading to learn the ways you can get your child involved in the household cleaning!
Kid-Friendly Chores
Giving a child the responsibility of some kid-friendly tasks can empower them and instil good habits for the future. Get your child to help out at home with these age-appropriate cleaning tasks.
Preschool Age
Children at this age are very curious — and are also prone to making mess! However, your little tot is also trying to imitate everything you do. When they show an interest in your cleaning, teach them. They can be your little assistant while you do your daily chores.
Since they're still experimenting and always trying to do new things, don't expect much from them. The fact that they returned their book back to the shelf or helped you store your groceries should be rewarded with praise.
The secret to making sure that your child grows up to continue doing household chores is to be consistent. This is especially important and true for preschoolers as they thrive on routine. Notice they become irritable when their schedule is disrupted. When you introduce a cleaning task to them, make sure to continuously repeat it until you see that they've got it down pat.
Some simple cleaning tasks they can do include:
Throwing away trash properly
Putting used dishes and cups in the sink
Putting dirty clothes in the laundry basket
Wipe down surfaces they can reach and have nothing dangerous on them such as chemicals or breakable items
Putting away toys or returning them to their proper place
Taking the laundry out of the washing machine
Helping you fold clean clothes
These simple cleaning tasks will create a strong foundation for your child so they can learn to appreciate and actually do some cleaning as they mature and age. Another great thing about doing household chores with your tot is that these tasks help further develop their hand-eye coordination, help muscle growth, and improve their balance, among other things.
Young Children
Primary school children are at an age where they are either sweet angels or trying to test your patience. On the flipside, they are more mature and can listen to your instructions.
Begin establishing house rules – the earlier the better – so that it becomes a habit or a part of their daily routine. One of these rules is assigning household chores. Whether you have an only child or a brood of 4 (or more), make sure that an integral part of their day to day activities is helping out at home:
Make their bed
Take out the trash
Wash some of the dishes
Put away or organise their toys and other belongings
Help you organise and tidy up the kitchen and living room
Help out with laundry duty such as folding and hanging clothes
Notice that the chores are usually a step or two more difficult than younger kids. If you had started them at an earlier age, having them take on these tasks won't be a challenge.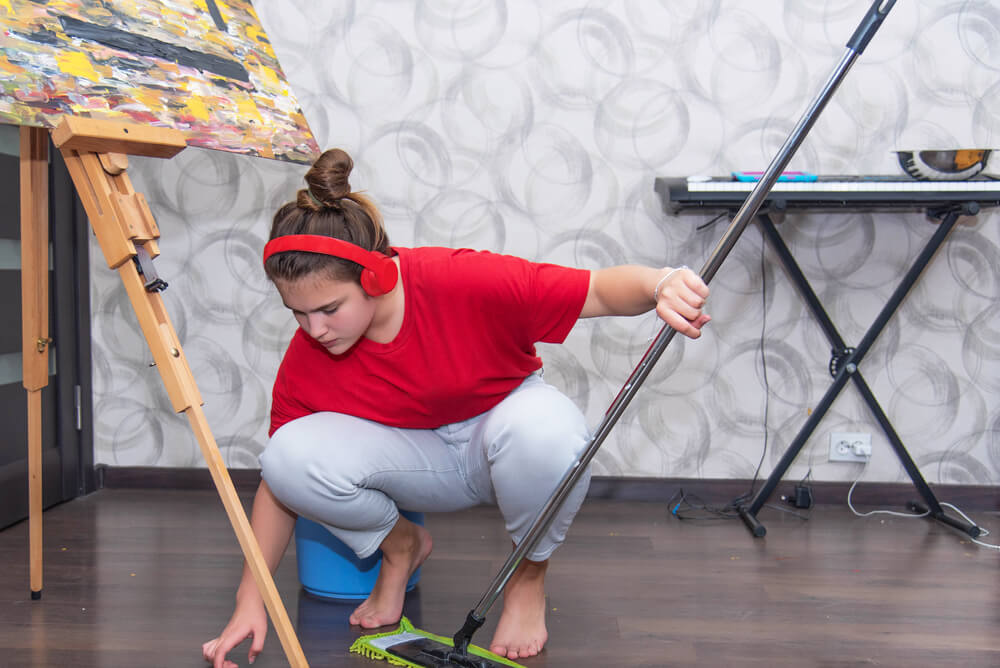 Teens
Aaah, growing pains. If you remember your teenage years, you'd recall how all you wanted was to either spend time with friends or lock yourself in the privacy of your room.
Be a little understanding of your teen and know that there are a lot of things in their minds. With social media, the internet, games, not to mention academics ruling their world at the moment, expect to butt heads when you nag your child to do this or that.
However, as a parent, being able to draw the line between giving them space and letting them take responsibility for any assigned chores at home can be a challenge in itself. Here are some tips:
Let them clean their own room. This includes making their bed, changing the bedsheets and pillowcases, sweeping the floor, wiping down surfaces, and such. Let them take responsibility for their own space.
They might have grown bigger than you, which means they can take on harder tasks now. If any equipment is involved, make sure to always supervise them.
If they have younger siblings, assign them to "teach" the little ones. One less chore for you!
More Cleaning Tips
Make a reward system. If your child was able to accomplish this week's list of chores, go for a treat.
When you organise, make sure to have your child with you. Having them by your side means that you have a small assistant and it also saves everyone from having to ask mum, "Where's my (insert missing item)?!" This will also teach kids that everything has a place in the home.
Make it easy for younger children to clean by limiting the number of toys they play with. Tots will better concentrate and focus when there's less distractions around them. Try to limit to 3 toys and about 5 books. After a couple of weeks, change it up with another set of books and toys. Continue this rotation.
Be patient with them and assist whenever you can. These things take a lot of time and effort for everyone. Make cleaning fun and they'll find it easier to do.
Consistency is the secret to ensuring that your child learns the importance of cleanliness.
Why Cleaning Should Be a Habit
Cleaning becomes second nature when we learn to incorporate it into our daily activities. Reminding children that cleaning our living space is an integral party of healthy living.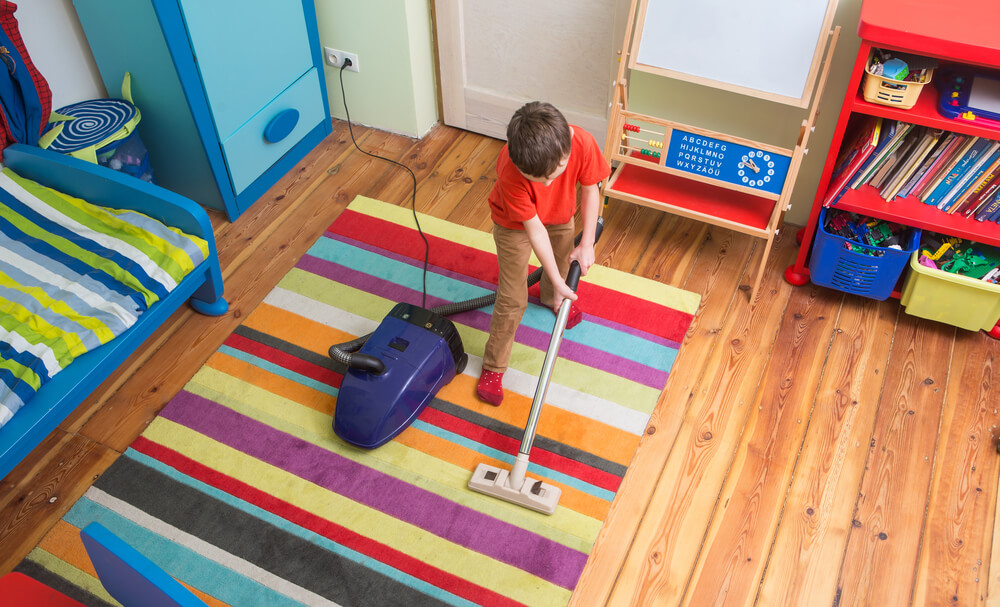 Benefits of a clean home include:
Less chances of anyone getting sick as there will be considerably less dust, dirt, and bacteria.
Allergy attacks will decrease. One of the most common causes of allergies is dust.
You'll be more at peace. People have noted that living in a neat and tidy environment has helped reduce stress levels and improved their mood. They have also found that they sleep better.
You know where things should go and where things are. Cleaning becomes much easier to do when you declutter and organise your belongings.
You don't have to worry about an unexpected visitor popping in. Because you continue to maintain your home, there's nothing really to fuss over.
The Takeaway
Children carry with them some habits until they reach adulthood – make sure you equip them with practical and necessary life skills such as keeping oneself and their environment clean.
Don't let cleaning take the fun out of living. Enjoy your free time with your kids instead of mopping the floor when you book one of our experienced cleaners. Enjoy $20 off your first appointment.
---