Let's have a quick chat.
When was the last time you really cleaned your walls?
You probably sweep the floor almost everyday; mop maybe once a week or so; you wipe down countertops and other surfaces daily; but how about giving your walls a good scrubbing? Walls can be pretty discreet and more often than not are usually forgotten in the scheme of things. But every now and then something will catch your eye — a scuff mark or that colourful doodle your toddler left for you to admire.
We've come up with some pretty cool cleaning tips to help keep those walls nice, clean and pristine.
Things To Do First
Before getting into the nitty gritty of things, here are some things you should do first:
Cover any nearby furniture and carpet area with old sheets or newspapers. Aside from dust particles, you want to protect them from any cleaning mishaps that may occur while you clean your walls. The last thing you want is to damage other items in your home.
Anything that's against the wall should be moved. Paintings and picture frames should also be removed.
Next, dust your wall using a vacuum cleaner and its soft bristle attachment. If you don't have one, you can use an extendable duster so you can reach those corners and high places.
Check the finish of your wall. If it's glossy, it can withstand some elbow grease. For flat or matte finishes, you'd need to be careful.
Oil or Latex Paint?
Interior paint is usually oil or latex paint and knowing which one is used in your home will help you maintain its integrity and also allow you to use appropriate cleaning materials and products. If you're unsure if the paint is oil or latex-based, here's a simple experiment you can do:
First, choose a small section of the wall that's invisible to the naked eye. Carefully wash the spot with warm water and detergent. Wipe it dry with a clean cloth. Grab a cotton ball soaked in rubbing alcohol and gently rub on the wall. If the paint comes off, it's latex paint. If it doesn't, it's oil-based.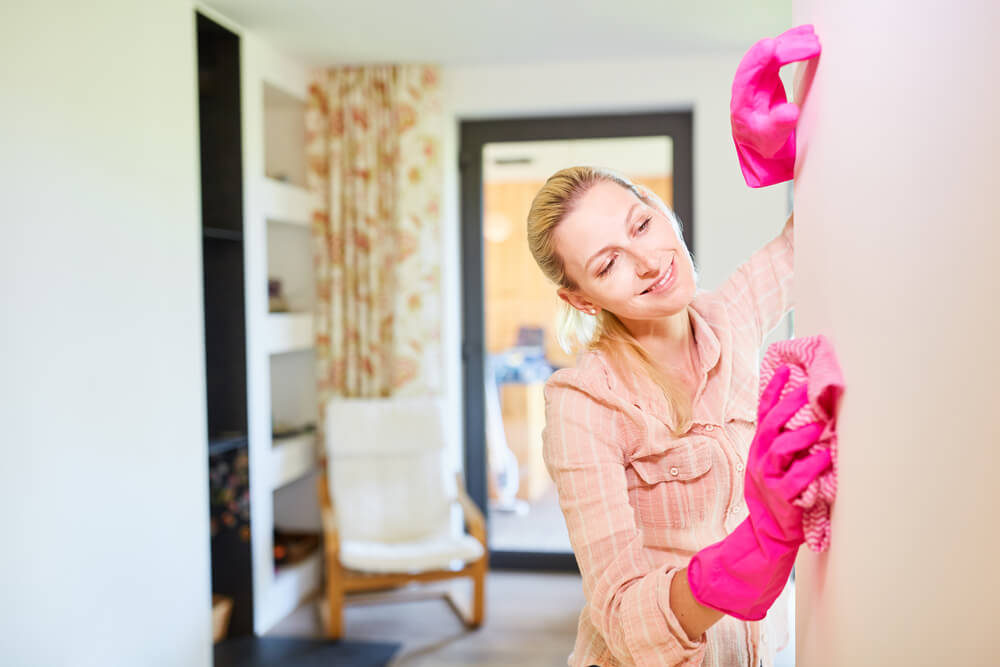 Cleaning Painted Walls
Glossy and Semigloss Finish
Walls with glossy finishes can withstand a more thorough cleaning. Their durability makes it a common choice for high traffic areas such as the kitchen and bathroom. A mild degreaser is safe to use. Glossy and semigloss walls will still scratch though so make sure to use a non-abrasive sponge.
Flat, Matte, or Eggshell Finishes
These finishes are more delicate and would need you to be more careful when you scrub. A soft sponge is an ideal cleaning tool, just make sure to wring it properly before you begin scrubbing.
Cleaning Walls with Latex Paint
Walls with latex paint can come off when you use chemical-based cleaners. Make sure to use a gentle soap or detergent.
First, have two buckets ready: one should have warm soapy water and the other should be filled with clean water. You will need two soft sponges too. After dusting, begin scrubbing the wall, paying close attention to areas that are often touched, such as around light switches.
Because you have something wet in your hands, please be extra careful when you clean around outlets and other parts of the wall that may be connected to electrical wirings. If possible, turn off the circuit breaker while you clean.
Cleaning Walls with Oil-Based Paint
Oil-based painted walls can be cleaned in the same manner as latex walls. Though hardier, you should still be cautious whenever you do a scrub down.
Oil-based paints can leave streak marks on walls if you use harsh cleaning tools such as a teflon sponge. These streaks are permanent and won't look pretty.
Cleaning Wallpapered Walls
Wallpapers came into fashion in the 19th century during the Victorian era and ever since then, plenty of homes have made use of this innovative interior design material. Since it comes in a wide range of colours, patterns and pictures, wallpapers are a common sight in many an Australian home.
When it comes to cleaning wallpapered walls, doing it is the same as cleaning painted walls: simply get a bucket of warm soapy water, a bucket of clean water, and clean sponges and you're good to go! Wallpapers nowadays don't peel or disintegrate easily as they once did because they are made of sturdy materials.
Just like painted walls, make sure to scrub as gently as possible.
Spot Cleaning
How do you remove stubborn spots or marks off of your walls?
Unfortunately, spots and other unsightly markings can make their way to your precious walls. Thankfully, getting rid of them is easy.
As a general rule, you may use soapy water to clean wallpapered walls. You can also use warm water with a bit of ammonia. Remember to dust the wall first.
For wallpapers that have a vinyl finish, dab the surface with a cloth that's dipped into a solution of warm water and white vinegar. Avoid directly applying vinegar onto the walls. Make sure to wring the cloth well before dabbing.
For ink and crayon stains, use a stain remover product. WD-40 works wonders, so does dry cleaning fluid. Grease stains can be scrubbed off with warm soapy water.
For the final step, gently rinse off the cleaning solution with a cloth dampened with warm water. Grab a paper towel and pat the area dry. Let the walls air dry.
A Natural All-Purpose Cleaning Solution
If you're iffy about using chemicals on any part of your home, here's a simple all-purpose cleaning solution that you can use practically anywhere.
For every one quart of warm water, add one teaspoon of liquid detergent and ¼ teaspoon white vinegar. When you need to remove a stubborn stain or mark, let the solution sit for at least 10 minutes before you scrub.
Remember that for every cleaning task, including wall cleaning, always start from top to bottom.
Are homemade solutions effective and safe? Learn more here.
Prevention is Key
You won't have to worry about cleaning dirty walls in the first place when you've got a good cleaning schedule in place. Aside from regularly dusting the walls and checking for wayward marks and stains, have Pristine Home come over every week or fortnight for a thorough clean from top to bottom. Book us now and enjoy $20 off your first appointment.
---