With the current housing and property market in Australia, it's no wonder that many people are opting to rent instead of buying a home. For many of us, it is simply the more cost-effective option than shelling out a big upfront payment for purchasing a house.
Most renters know the stress associated with moving or out of a rental property because of a long list of things that need to be done at the end of a lease.
On top of all the preparation you need to do before vacating a property, you have to worry about cleaning the property to conform to the standard of your agent or landlord because if you leave the place in a bad shape, you risk forfeiting your deposit. To avoid this from happening, consider the following moving out tips below:
Cleaning Tips During Your Lease
1. Take Photos
Prior to your move in date to a property, record the condition of the place by taking photos of the facade, and the different rooms inside the property. This step is vital to ensure that you will not be charged with unnecessary penalties for damages you did not cause.
2. Fix Immediate Problems
Do the necessary housework right away. Stains, moulds, and spills must be dealt with immediately, because the longer you leave them untouched, the harder they set. Once the moulds set, it will be harder for you to remove them. If you are not seeing any success in your attempt to get rid of stains and moulds , it may be better to contact a professional cleaner to deal with the housework.
3. Make Cleaning A Routine
Take simple steps to ensure that you will not have any major cleaning to do at the end of your lease. Simple things like removing outdoor shoes before entering the property, and avoiding smoking inside the house can prevent the buildup of hard-to-remove dirt.
4. Be Wary of Pets
Many landlords will refuse potential tenants who plan to bring along a pet to the property, so if possible, try not to have a pet in the rental property. The reason why landlords have a strict pet policy is because they fear that pets will cause damage and foul odors. This in turn will make the property less appealing to new tenants, especially if the previous tenant leaves the place without thoroughly cleaning the carpets and floor surfaces.
5. Contact Your Landlord With Immediate Problems
If you have already moved in to the property, and find that there are things that need fixing, get in touch with your landlord or real estate agent immediately. Fixing a damage within the property is part of the responsibility of a landlord.
6. Understand Your Terms of Lease
Make sure you fully understand the terms of your lease. By studying the terms of the lease, you will know what to avoid doing while you are living in the property. Some terms prohibit pets in the house, and does not allow smoking inside the premises. If you have overlooked these terms of the lease, then you may end up paying damages for violating the terms.
7. Always Ask When Unsure
Always seek the permission of your landlord for any improvements or changes that you intend to make to the property. If your landlord gives permission verbally, ask for a written approval so you have proof that you can show in case your landlord denies giving you permission to the make changes. You should also take photos of the room before you make improvements, and after you have made the changes, so you have a documentation to show your landlord that the changes you made are according to your agreement.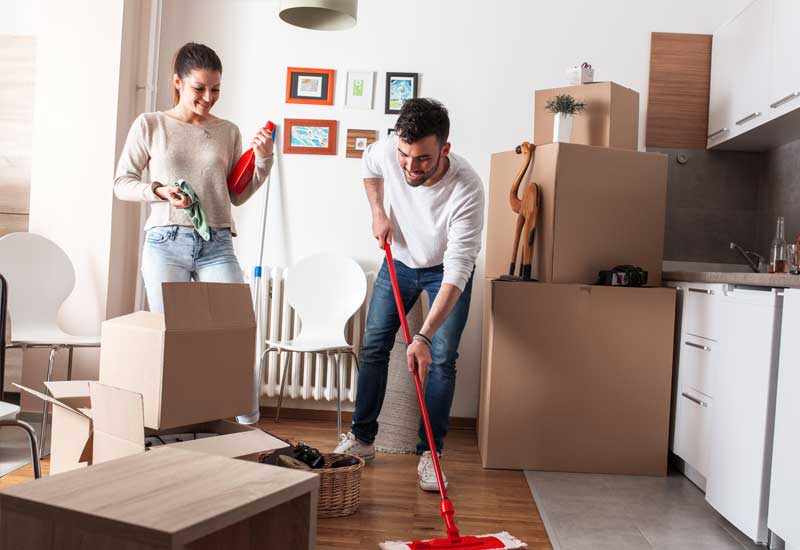 End of Lease Cleaning Tips
1. Review Your Entry Photos
Look at the photos you took of the property prior to your move in, and compare it with the current condition of the place. Are the images similar? Or does the property need fixing to return it to its original condition? You are not required to fix damages that were already there even before you rented the property, but your agent will expect you to "broom clean" the place, and fix the changes you made during your stay.
2. Review Alterations
If you made alterations to the property that do not comply with the lease agreement you have with your landlord, make sure to reverse these changes and have the property looking as close to its original appearance as possible. However, if the changes you made increases the value of the place, and benefits your landlord, you may be allowed to keep the changes before you move out. Be sure to discuss this option with your landlord.
3. Review Walls
There's no need to worry about normal wear and tear, which is acceptable and expected in a rented property. You are not responsible for fixing walls or other areas that wear out due to age. There are however certain repairs that you need to fix, such as holes in the walls that you made to hang paintings and photographs.
4. Clean The Property Thorougly
Clean the property thoroughly before the final inspection. You may want to hire professional cleaners to ensure that all areas are covered and that the result will meet your landlord's cleaning requirements. Find a cleaning company that specializes in end of lease cleaning and offers a bond refund guarantee. At Pristine Home, we are knowledgeable of cleaning checklist given to renters who are moving out.
5. Ensure It Meets Your Own Living Standards
Consider what renters are looking for in a property. If you were a new renter, how would you like to move in to a property that looks like it has been properly taken care of by the previous owner? Take a look at the place, would you have it cleaned again if you were moving in soon? The answers to these questions will give you an idea of what else needs to be done with the place before you move out.
6. Hire Professional Cleaners
Another important thing to remember is the hard work involved in getting the house to look sparkling clean. If you think you don't have the luxury of time to do it on your own, consider hiring professional vacate cleaners. Pristine Home provides a guarantee that you will get a full refund from your landlord after we perform a thorough clean of the property.
Hire The Best In Home Cleaners
Let's face it, moving out is stressful enough without having to worry about the cleaning. You have removalists to organise, packing your home, switching energy and gas off and then organising everything to be ready at your new home. The last thing you need to worry about is the cleaning.
At Pristine Home we offer trusted and vetted home cleaners and we specialist in bond and vacate cleaning in Sydney. We have a detailed checklist that means that no area of your home is left unnoticed. Our professional cleaners will come into your home and restore it to the showroom shine, even better than when you moved in.
So what are you waiting for? Contact our team today or simply book a cleaner online in under 60 seconds.
---