Make Your Move-Out a Breeze!
Moving out of a rented property can be both exciting and overwhelming. One crucial aspect that tenants must tackle is the end of lease clean.
A thorough cleaning not only ensures you leave the property in pristine condition but also increases the likelihood of getting your bond back.
In this comprehensive and approachable guide, we will walk you through the essential steps for a successful end of lease clean, from preparation to final inspection.
We'll also explore the benefits of hiring professional cleaning services versus doing the job yourself.  So, if you're about to move out of your rental property – here's what you need to know about your end of lease clean.
Preparing for the End of Lease Clean
Before diving into the cleaning process, it's crucial to prepare adequately. Here are the essential steps our professional cleaners take when prepping for an end of lease cleaning job:
Reviewing the Lease Agreement and Checklist: Take the time to thoroughly review your lease agreement and the provided checklist (your real estate should have given you their standard bond clean checklist). This will help you understand the specific cleaning requirements expected by your landlord or property management company.
Scheduling the Cleaning Process: Plan your cleaning process strategically. Allocate sufficient time to tackle each task, ensuring you complete everything before your move-out date. When scheduling, ensure that you think about areas of the home where you will have people coming in and out and rooms that may be used during the cleaning process. There are certain rooms that may require extra cleaning due to usage throughout the cleaning process.
Assembling Necessary Cleaning Supplies and Equipment: Gather all the cleaning supplies and equipment you'll need, including:
All-purpose cleaner
Glass cleaner
Microfibre cloths
Vacuum cleaner
Mop and bucket
Broom and dustpan
Scrub brushes
Gloves
There may be some additional cleaning tools that you wish to use but based on our experience, these are the absolute must-haves.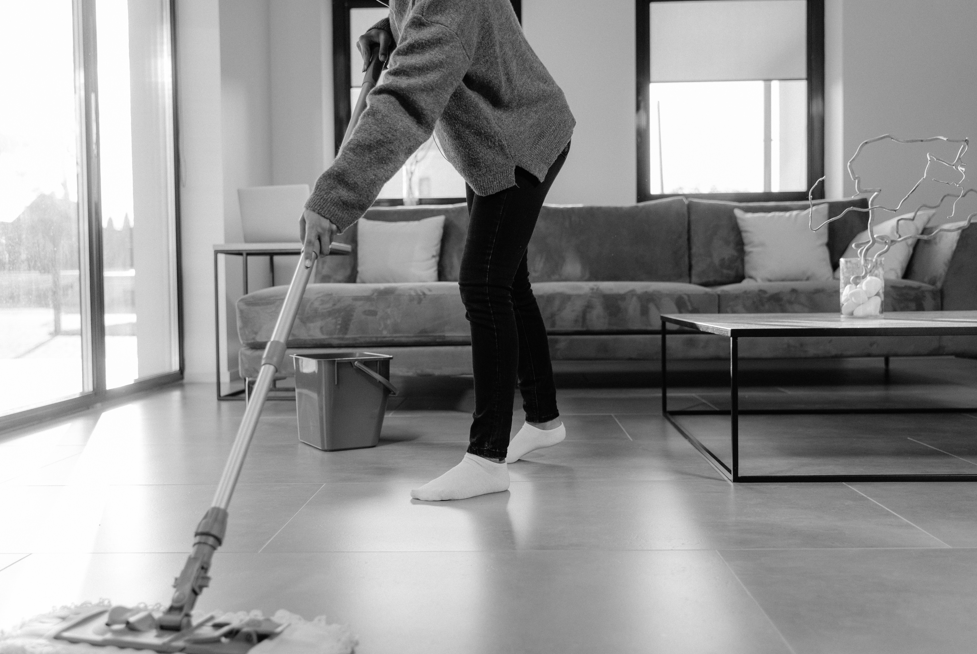 Cleaning the Interior
Now, let's delve into the nitty-gritty of cleaning the interior of your rental property. Here's what you need to think about and know:
General Cleaning Tips for All Rooms:
Dust surfaces, including shelves, countertops, and light fixtures.
Vacuum carpets and rugs and mop hard floors.
Clean windows and mirrors using a streak-free glass cleaner.
Don't forget to clean light switches, doorknobs, and baseboards.
Kitchen Cleaning:
Clean appliances, including the oven, refrigerator, and dishwasher, both inside and out if they are to stay in the home. If the appliances are coming with you, then make sure you clean the areas where the appliances lived.
Wipe down cabinets, countertops, and backsplash.
Scrub sinks and faucets to remove any residue or stains.
Bathroom Cleaning:
Remove soap scum and grime from tiles and fixtures.
Clean toilets, showers, bathtubs, and sinks thoroughly.
Ensure proper ventilation and deodorize the bathroom.
Bedroom and Living Area Cleaning:
Vacuum or steam clean carpets, or polish hardwood floors.
Dust and wipe down furniture, including tables, chairs, and shelves.
Launder or dry clean curtains and upholstery if needed.
Exterior and Outdoor Cleaning
Don't forget about the exterior and outdoor spaces of your rental property. Unless it's impossible to reach, it's likely that you will be expected to clean windows and any outdoor areas that you have:
Cleaning Windows and Frames:
Clean the exterior windows and frames to remove dirt and grime.
Pay attention to window sills and tracks, ensuring they are free of debris.
Sweeping and Tidying Outdoor Spaces:
Sweep patios, decks, and balconies, removing any leaves or debris.
Clear out any clutter or personal belongings from outdoor areas.
Removing Dirt and Stains from Walls and Fences:
Wipe down walls, removing any scuff marks or stains.
Clean fences or railings, ensuring they are presentable.
Cleaning Garage or Storage Areas:
Sweep the garage or storage areas, removing any dust or cobwebs.
Clean any surfaces, such as shelves or workbenches, to leave them tidy.
Paying Attention to Detail
To ensure you leave no stone unturned, focus on these additional details:
Checking for Any Damage or Repairs Needed:
Inspect the property for any damages beyond normal wear and tear.
Address these issues promptly to avoid complications.
Touching Up Paint and Filling Nail Holes:
Repair any nail holes or wall damages, and touch up paint as necessary.
Ensure the walls have a uniform appearance.
Cleaning Light Fixtures and Ceiling Fans:
Dust and clean light fixtures and ceiling fans to remove accumulated dirt and grime.
Replace any burnt-out bulbs if required.
Addressing Specific Requirements Outlined in the Lease:
Review your lease agreement for any specific cleaning requirements.
Address these requirements diligently to meet the terms of your lease.
The Final Steps to Getting Your Bond Back
As you near the end of your end of lease clean, follow these steps:
Reassembling Furniture and Arranging Items:
Reassemble any disassembled furniture and arrange it neatly. You may have taken items apart during your tenure in the home or for the cleaning process.
Return any items that were moved during the cleaning process to their original positions.
Conducting a Thorough Inspection:
Perform a meticulous inspection of the entire property. Look for things that may not have occurred to you while you were living there.
Ensure all cleaning tasks have been completed to a high standard.
Documenting the Clean Condition:
Take photographs or videos of the property after the clean.
Keep these as evidence of the property's condition when you vacated.
Returning Keys and Settling Outstanding Matters:
Return the keys to the landlord or property management company as per the agreed-upon arrangements.
Settle any outstanding matters, such as utility bills or final rent payments.
Hiring Professional Cleaning Services
A bond clean or end of lease clean is a huge job and can be particularly difficult to do to the high standards of real estate agents. So, if you prefer to save time and effort or require expert assistance for your end of lease clean, hiring professional cleaning services can be a wise decision.
If you're in Sydney, here at Pristine Home, we can help. We're a reputable cleaning service in Sydney, specialising in end of lease cleaning, amongst various other cleaning services. Our service range can be tailored to meet your specific needs, including thorough cleaning of all areas mentioned earlier, attention to detail, and adherence to the highest cleaning standards.
Benefits of hiring professional cleaning services include:
Time-saving and convenience
Assurance of a comprehensive clean
Increased chances of securing your security deposit
When considering hiring a professional cleaning service, keep the following factors in mind:
Reputation and customer reviews
Service offerings and pricing
Flexibility and customization options
Get Your Bond Back with the Right Cleaners
Completing an end of lease clean may seem daunting, but with proper preparation and a systematic approach, you can achieve outstanding results. Remember to follow the comprehensive cleaning steps outlined in this guide and pay attention to detail.
If you prefer to hire professional cleaning services, Pristine Home offers reliable end of lease cleaning services in Sydney, ensuring a stress-free transition from your rental property. By investing time and effort into your end of lease clean, you'll leave the property in impeccable condition and maximize your chances of receiving your security deposit back in full.
---