There's nothing quite like stepping into a pristine bathroom where you can take a warm bath after a long day at work. It's satisfying to see the sink that has been wiped free of dried-on toothpaste, the clean towels hung up nicely, and the tub and countertops that sparkle after a thorough scrub. But how exactly can you ensure that the bathroom stays this way, and that you are able to give it a professional clean every time? While using a shower squeegee does a great deal of good in removing excess water on shower walls and doors, a deeper clean of the bathroom is still in order every few weeks.
Here are some useful steps to get the powder room looking spotless clean for longer:
Open the windows
If it is not too cold, open the windows to allow air to circulate inside the room.
Remove items from their designated spots
You want to have a clear surface to work with, so it's important that you clear everything, from the bath mats, to the shower liners, towels, and anything on the countertops. If you have any freestanding furnishings, you should also take them out to make it much easier to clean all surfaces and corners of the bathroom.
Vacuum the tiles
The last thing you want when cleaning the tile floors is running into strands of wet hair and dust balls. To eliminate this nuisance, vacuum the tiles to remove any loose debris that can cling to rags and cleaning sponges. For a more thorough clean, start vacuuming from the top of window casings, and remove dust from light fixtures. Once that's done, work your way down to the floor, and make sure to cover every inch, so that when it's time to use a cleaning solution, you don't end up scrubbing filthy tile floors. An upholstery brush with soft bristles works best for this job.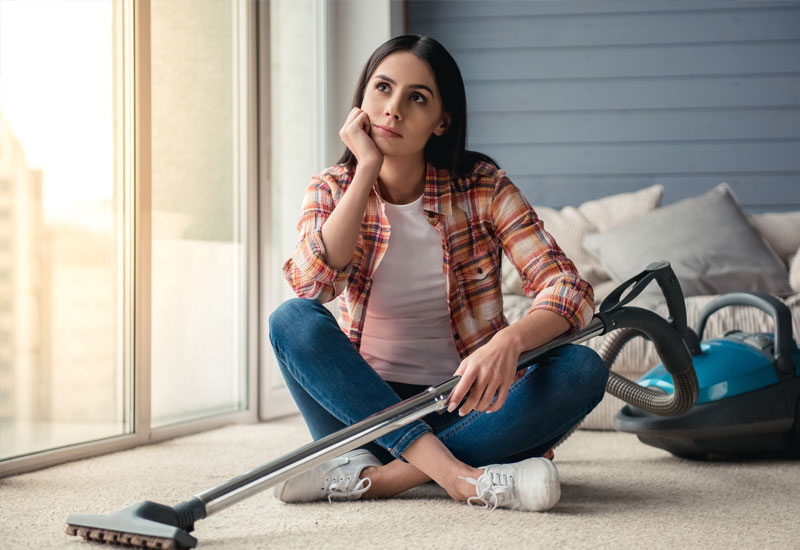 Work on getting a sparkling toilet
Deep cleaning a device that collects urine and feces multiple times a day is a highly unappealing task. But as with other less pleasant chores at home, cleaning the toilet now can help you avoid problems later. Here are some instructions that will help you get through the task efficiently:
Use a damp sponge to wipe down the toilet seat, tank, base, lid, and the exterior of the bowl
Apply a toilet bowl cleaner around the rim, and let the solution soak to clean away any dirt and grime. The inside of the toilet bowl's rim is often ignored, so it's important to use a specially-formulated toilet cleaner on this part to prevent mineral buildup along the rim.
Place paper towels soaked in white vinegar on any mineral deposits or hard water stains, and allow things to soak for at least 15 minutes before going in for a scrub.
Scrub the bowl thoroughly using a toilet brush with firm bristles, paying special attention to stains and mineral deposits behind the bowl and along the water level.
One of the areas inside the bathroom that is often missed when cleaning is the spot behind the toilet. If it has been a while since you last checked that area, chances are you will find a buildup of fecal and urine matter that leave a nasty residue. These can be very hard to clean, so if you can't dedicate sufficient time to get into the minute details of removing them, consider leaving the task to professional cleaners who know the appropriate cleaning solutions and the necessary equipment to get the job done correctly.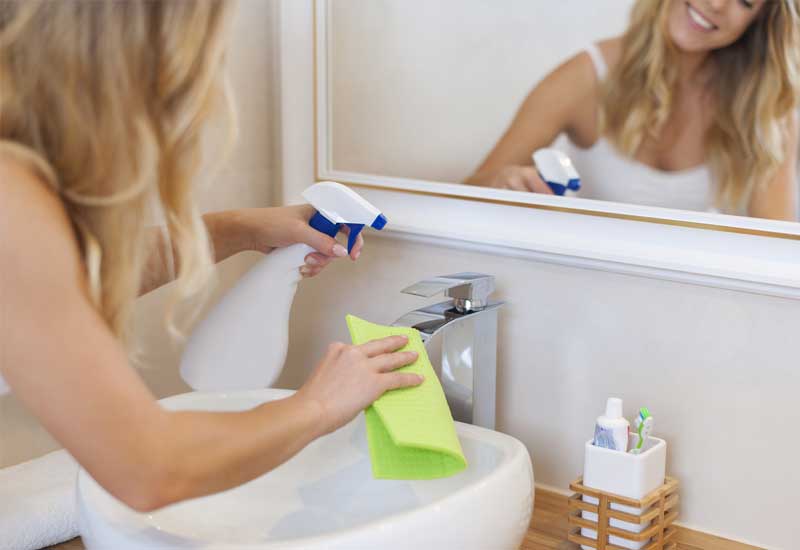 Mind the sink
The bathroom sink sees a lot of use throughout the day, so it tends to get covered with soap, toothpaste, and even makeup. To preserve your sink's beautiful shine, you need to do a thorough cleaning every few weeks, and use the right cleaning products to avoid damaging the surface.
You need to take extra care in cleaning a porcelain bathroom sink because it scratches easily. Avoid using steel wool, and opt for a clean sponge when removing surface stains. Wipe the sink in circular motions using the sponge and some dish soap, then rinse sink with warm water. If you want a nice shine for your porcelain sink, you can use baking soda and a soft cloth to get rid of sticky hair and soap scum. Don't forget to also clean the underside of the drain flaps, the caulk seal, and the faucet.
Copper bathroom sinks have antibacterial qualities, so you don't have to worry much about disinfecting the sink with harsh chemicals just to inhibit the growth of bacteria. In fact, a mild dish soap and a soft cloth are all you need to remove brown spots and other stains from your copper sink. The important thing to remember is to avoid using chemical cleaners that can damage the metal, and acidic products like lemon, which can cause damage to the finish.
Natural stone sinks require very little effort to maintain. You just need to give the sink a quick rinse after every use to ensure that there will be no chemicals left on the sink that could etch into the stone, and wipe it down with a clean cloth. When doing a deep cleaning of your stone bathroom sink, it is best to use a very mild soap, rinse with warm water, and dry it with a soft cloth. Be careful of natural bathroom cleaners that contain citrus oils, as this can damage the stone.
While stone sinks need little maintenance, they are not indestructible. The type of stone has a bearing on your sink's care and maintenance, which is why it's vital to know what kind of stone sink you have in your bathroom, or better yet have a professional cleaner take on the chore for you.
Tired Of Cleaning Bathrooms?
At Pristine Home, we clean sinks and other parts of the bathroom using safe cleaning liquids and quality equipment to ensure that no grime and disease-causing germs are left behind.
---