The laundry is rarely the favourite room in the house, especially when it comes time to clean it. But keeping it clean and organised is important both emotionally and for hygiene purposes for you and your family.
However, it is rare that we focus on cleaning the laundry room itself, the bathroom often gets far more attention. Maybe you're busy with work on weekdays and hardly have time and energy on weekends to clean it.
Still, every month or two, you need to deep clean your laundry room to keep it in the top shape. Directly cleaning your laundry can also help to reduce odours, especially from your washing machine, that may impact your household or clothing.
It's an area of your house that you need to dedicated some time and love if you want to keep on top of it. This often the reason why families hire home cleaners to ensure that areas of your home remain clean while saving you time to do what you need to do on a day to day.
Laundry rooms may contain washers, dryers, open shelves, cabinets, ironing area, utility sinks and laundry baskets. Some would only have the washers and dryers, plus an open shelves above. It may take only 30 minutes for some or 30 minutes times five for others to clean the room.
Set a time limit for yourself so you can really get the work done.
Declutter the laundry room
When you lose focus and ignore your laundry, it's easy to accumulate many items that potentially don't belong there. Maybe there are expired cleaning products, old dried out sponges or many other items that can be stuffed away out of your regular eyesight.
Get an empty laundry basket or a trash bag, open one drawer or cabinet at a time, and start to sort your stuff. Ask yourself if an item belongs to the laundry room, if you are going to use it in the future, or if you can use something else instead. It's usually a quick and easy task to cull any items that you no longer need and quickly simplify and restore your laundry to a clutter free zone.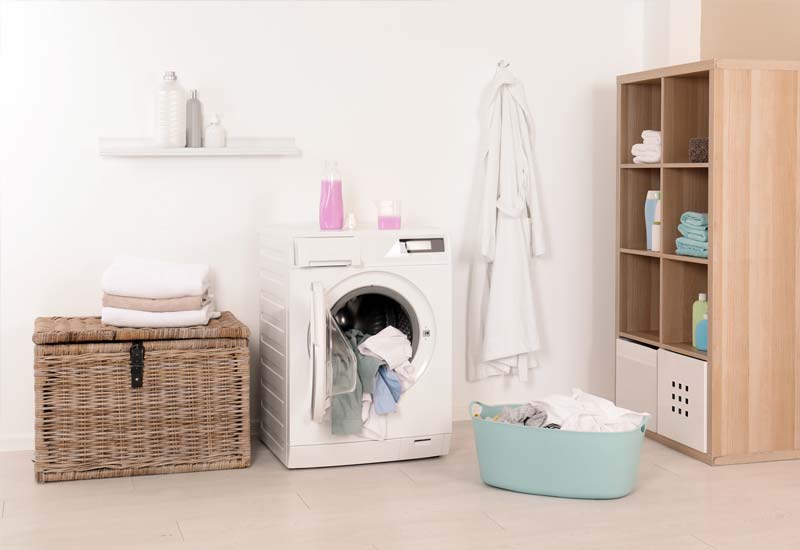 Clean up the ceiling and remove the dust bunnies
Remove the cobwebs from the ceiling and dust it off using a vacuum hose attachment. Starting in the upper part of the laundry room is better so you don't have to repeat cleaning the surfaces below.
Wipe the dust off the surfaces using a feather duster, a dusting brush or a vacuum hose attachment, and pay extra attention to nooks and crannies.
The laundry is often the area where washing powder, dust, lint and other items can get caught up around the washing machine. Due to water and dampness it's also and area that can attract mold and other unwanted dirt and grime. When conducting a deep clean we recommend pulling your washing machine out from the way, as long as it's not too heavy, and using your vacuum cleaner and a mop to clean the space thoroughly.
Wipe down countertops and cabinets
Using an all-purpose cleaning wipe, clean the counter tops, cabinets and open shelves in your laundry room.
Lint and dust land on them and stick, especially with stray sprays and splashes of detergent. When left uncleaned, it can be a great place for bacteria and mold to live in.
Return and organized the items on the shelves and drawers. Take an inventory as you do so, and restock detergent, fabric softeners, bleach, etc., if they're running low already. This will make sure you have all you need when you do your next laundry.
Clean the washer
Dirt and grime can accumulate in your washing machine over time, so deep cleaning it will help eliminate those buildups in hoses and pipes.
Run an empty regular cycle on hot with two cups of vinegar. Then scrub the inside of the washer with a brush or a cloth soaked in water and white vinegar. Vinegar also helps in sanitising the inside of the machine.
Remove the soap tray and any other parts you can detach to clean in the sink using water and white vinegar.
Some washers have a trap to catch debris and hair, as well as a small door that catches coins and buttons. Look for them and clean with vinegar.
Return the small parts you removed after cleaning and run another empty, regular cycle on hot with only water.
Clean the washing machine's exterior using a cloth with water and vinegar or an all-purpose cleaning wipe. If control knobs can be removed, clean them in the sink.
Check the water supply hoses for cracks and wear and replace them if needed to avoid potential water damage.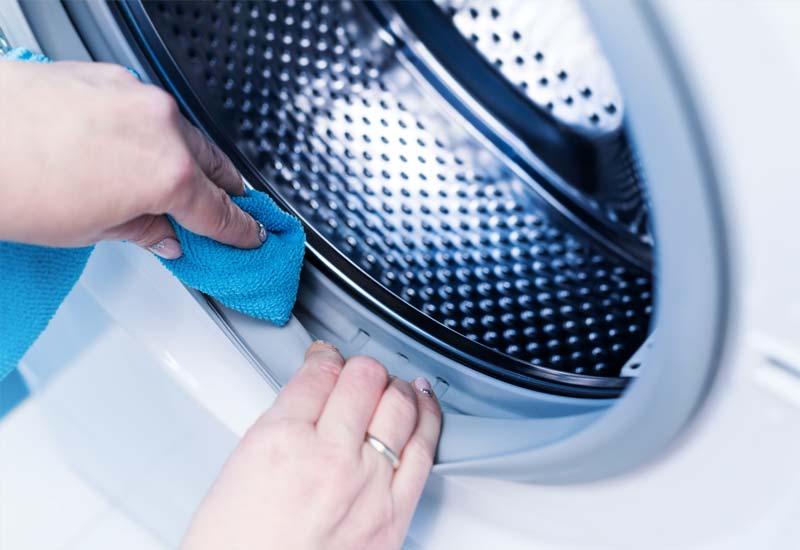 Clean the dryer
Tiny pieces of lint can build up in your dryer, which can prevent your clothes from drying properly. Lint is also a fire hazard, so it is important to remove the trapped lint every month.
To clean the dryer lint trap, remove the screen and use a vacuum to remove every small bit of lint. Wash it with soap and warm water in the sink.
With a narrow vacuum extension, clean the slot where the dryer lint trap is placed, and reach as far down as possible.
If you have an inline dryer hose lint trap, clean it with a vacuum as well.
To clean the exhaust hose, remove the clamp on the end of it and use a vacuum to remove the lint. A special brush may be needed if there is a significant buildup inside the hose.
Scrub the inside of the dryer to remove stains before they can settle in.
Return the lint screen and other parts to their proper places. Wipe down the exterior of the dryer using a wet cloth or an all-purpose cleaning wipe.
Sanitise other small appliances and laundry bins
Irons, steamers and other small appliances in your laundry room also need extra care. As part of deep cleaning the room, sanitize the iron using vinegar, baking soda, salt or dish detergent. Fill the iron's reservoir with distilled water and set it on high. The steam will naturally clean the iron's vents.
Remove any dirt on the steamer using vinegar and setting it on high. Then heat distilled water in the steamer.
Like your washer and dryer, wipe down their exterior using a cloth or sanitizing rags.
Also wipe down plastic laundry baskets and hampers, and vacuum the inside of wooden bins to keep them fresh and clean.
Clean the floor
Finally, clean the floor of your laundry room. Move your washer and dryer, if possible, and take the baskets and hampers out of the way, and then vacuum any dust and debris living behind them. Mop the floor starting with the corners until all area has been covered. Put your machines and bins back in their places.
All sound like too much hard work? Don't worry, we can help!
Do these sound like a lot of work to you? If yes, it is worth hiring home cleaning professionals to do the task for you. Enlisting the help of a professional cleaner can help you ensure that your home is cleaned properly and that the right cleaning solutions are used to get the job done faster. At Pristine Home, we employ experienced and skilled cleaners who have proper knowledge of what it takes to give your laundry room the best clean. Tapping our service will help you deep clean your laundry room effectively and save you time and energy in the process.
---