Finding the right balance between your profession and your family life is never easy. You may feel overwhelmed with the amount of work you must complete at home and in the office. A work-life balance is even tougher to achieve if you have kids at home who have yet to develop the habit of stashing their toys each time they are done playing. Despite your best intentions, there are times when it will seem impossible to maintain an organised home while raising kids.
If you are wondering how you can deal with toy clutter that seem to multiply behind your back, one simple solution we suggest is to teach the kids to help out with the household chores. While children are not primed to want to want to pile magazines and books, or bring in mail, there are simple steps you can take to encourage them to get involved in housework without overwhelming them.
Here, we outline the ways you can motivate the kids to lend you a helping hand with regular cleaning tasks, so you can maintain a clutter-free house that looks and feels like an oasis:
Assign age-appropriate tasks
Performing house chores teaches kids the importance of a clean and organised living space – a lesson that will remain relevant as they age and eventually reach a period when it's time to move out of the house. In addition to learning essential life skills, they also develop diligence and good work ethic, which are critical to their future success.
But before you give them a long list of chores to work on, it pays to consider their age and capabilities. You would not want to assign tasks that are too difficult to handle for kids their age, and end up jumping in and doing the tasks for them.
Instead, focus on giving them basic chores in the beginning, such as making the bed, putting dirty clothes in the hamper, and picking up toys, then add more responsibilities as they become more able. Kids between the ages three to five can be tasked to help with feeding the pets, and setting the table, while older kids can take on chores like wiping bathroom sinks, and straightening book shelves.
Make it enjoyable
Turning chores into a game is one of the most effective ways to motivate kids to help around the house. Here are some ideas to make cleaning fun for kids:
Consider which chores they like. Have a seven year old who enjoys dusting the floor? Teach him or her the proper way to do it, and let them know they are improving. If your son loves playing with water, involve them every time you water the plants, or fill the pet's water bowls. Letting the kids do more of what they enjoy will save you time in convincing them to perform jobs that they find unexciting.
Have them race against the clock. Setting a timer and instructing the kids to collect as many toys as they can within a few minutes will keep the cleaning sessions short and sweet. Just make sure to encourage friendly competition, and avoid pitting the kids against each other. A great idea is to have the kids work together to achieve a common goal. Afterwards, reinforce their deeds using verbal praise or social rewards like a trip to the park, or more play time with their friends.
Treats for every task. Write down chores in small pieces of paper, and include corresponding treats for every task completed. Needless to say, the idea of getting cookies or a tootsie roll for every job done is exciting for kids, and will encourage them to do more.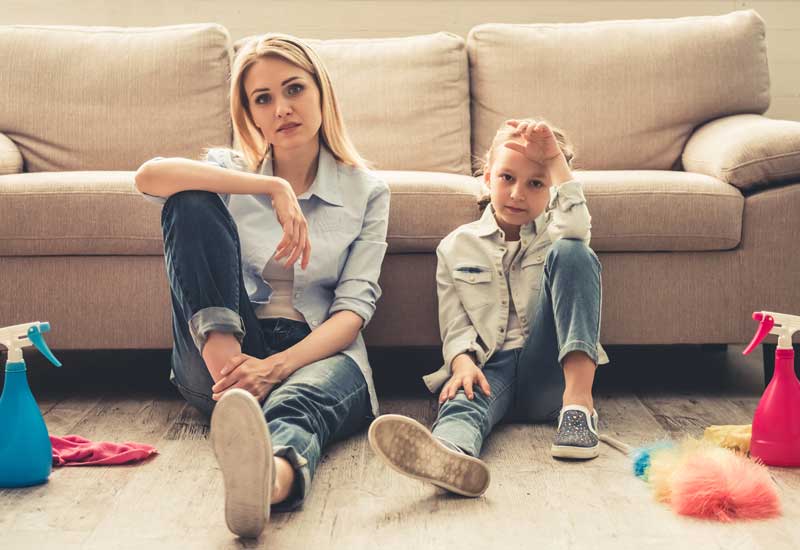 Work Together
Working as a team is an efficient way to make cleaning more enjoyable for the kids. Show them how you sweep one area of the house, and have them continue the task on other parts of the living area. Since you are there to demonstrate how to perform certain cleaning chores, the job is more likely to get done correctly.
Teach Kids Responsibility
Inviting the kids to participate in cleaning the house will make them feel valued, as they recognise their role in maintaining cleanliness at home. Play to their skill level, and show them how to perform simple tasks. If your son always leaves dirty clothes on the floor, invest in a laundry hamper sorter, and attach descriptive cards on the cart that detail the types of clothes that go into each container.
Once the kids know how to clean up after themselves, inform them about the tasks that they are expected to complete on their own. Use the word responsibility to refer to these tasks, so your kids will accept them as their obligation. Allowing your kids to perform cleaning tasks in their own way will foster a sense of responsibility, and give kids a sense of accomplishment.
Teach the Importance of a Germ-Free Abode
By letting the kids know of the health risks associated with a dirty home, they are able to see the importance of sweeping the floor, and dusting surfaces, instead of viewing these tasks as a nuisance.
Vary Their Tasks
A cleaning chore can feel like a monotonous task if you have to do it day in and day out, which is why it is a great idea to have the kids take turns with doing certain tasks like washing the dishes, and clearing the table.
Set an Appointment for Regular Cleaning
Simple cleaning chores done by you and the kids can help keep clutter and bacteria at a minimum. But if you want a deeper clean for your home, you will need to do more than just mop the floors, and scrub the bathroom tiles.
Picking items off the floor, and keeping up with all other household chores are time-consuming, and should not be the center of your life. Luckily, you have the option to enlist the help of professional cleaners so you don't have to tackle the massive cleaning tasks on your own.
At Pristine Home, we understand the cleaning requirements of busy working professionals, which is why we provide basic and deep cleaning of homes using safe and effective cleaning solutions. This way, you can have peace of mind that your home receives the most thorough clean, and that you can come home to clean and safe environment.
---