Many of us battle dust in our homes, I'm sure you do too. You may even feel like no matter how much you clean, it just won't stop accumulating on your furniture and other parts of the house. An endless task and a huge waste of your free time and weekends.
Most indoor dust is made up of fibers from upholstered furniture and carpets, airborne particles from outdoors, and dead skin cells (eww!). When it accumulates, it becomes more than just a mere inconvenience, as it can cause serious breathing-related issues, and even cardiovascular health problems. And because with dust comes dust mites, it puts your kids at risk of year-round asthma and allergy.
While it's impossible to completely eliminate dust at home, you can still take steps to keep it from building up and wreaking havoc on your family's health. Here's some of our best tips.
Use the Right Tools
If you typically use a feather duster for the job, it may be time to switch to microfiber cloths. Unlike feather duster that only fluffs dust into the air, microfiber cloths can be positively charged, so they work like magnets, and attract dust, dirt particles, and hair.
There is also no need to use a chemical cleaning spray when dusting with a microfiber cloth, making it a perfect option if you want to avoid the health hazards of chemical products. It can be used dry or wet, and leaves behind less streaking compared with traditional cotton cloth.
Schedule a Weekly Cleaning
While you may be fully capable of taking on the dusting project on your own, professional cleaners will significantly be more thorough in tackling the job. In addition, they are well-versed when it comes to the appropriate cleaning techniques and set of equipment to use to suck up the dust, and prevent it from escaping back into the air.
Typically, cleaning companies bring their own cleaning tools such as HEPA vacuums to ensure that dust particles and other pollutants are taken out of the air. With a weekly cleaning, you can keep dust from accumulating, so your family can breathe better and avoid dust allergies.
Much of the issue with dust just comes from maintaining regularly cleaning, this is where a regular clean from a professional cleaning service can help you stay on top.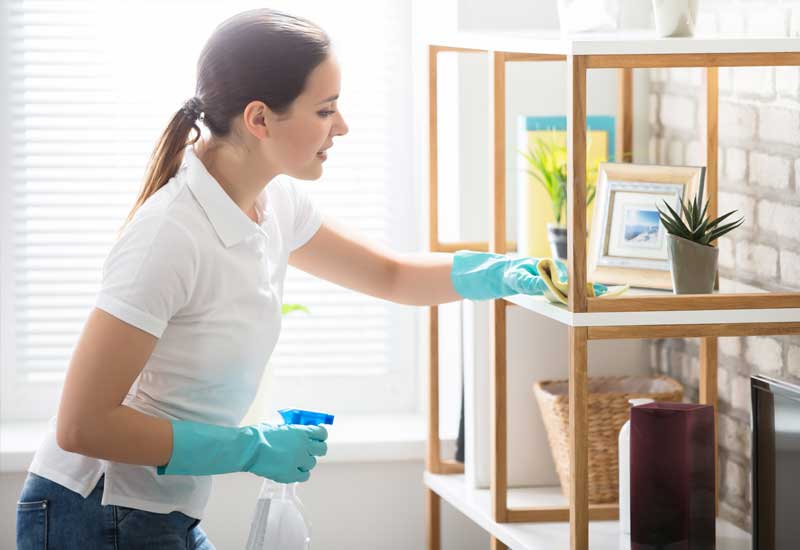 Mind Your Blinds
Blinds, curtains, and windowsills tend to collect the most dust in the house. Depending on the type of window treatment you have, it may take you anywhere from a few minutes to a few hours to clean the surface where dust has settled. If you don't have the luxury of time to do a regular cleaning of your blinds, it might be worth switching to a window treatment that is easier to keep clean. This is especially important when you live in a high-dust home.
We suggest vertical blinds that do not provide dust with a place to settle on. Even if dust settles on this type of window treatment, it is relatively simpler to clean, as most vertical blinds are made from faux wood materials or PVC.
Another helpful tip to remember is to avoid slatted blinds and dry-clean-only drapes that are more likely to attract dust and pollen.
Run an Air Purifier
If you don't have an air purifier, now is the time to invest in one.
Air purifiers pull the air in your household to remove harmful airborne particles as they come in from outside. Once the dust, pet dander, and other allergens in the air are trapped inside the device, it then circulates purified air back into your home, effectively keeping your environment healthy. With regular use, an air purifier can greatly reduce the amount of dust you have to clean every week.
The right placement for your air purifier
Single-room air purifiers can be placed in an area of the house where you spend the most time in, or where it is most needed, like in the living room and bedroom.  You can also get a larger version of the device that can handle the job of a whole house air purification.
The great thing about this device is that it's portable, allowing you to move it from one room to another where you need to purify the air. During the daytime, you can place it in the living area so you can play with the kids while breathing fresh air. Come night time, move it to your bedroom to create the same clean atmosphere.
Be Diligent in Changing Your Sheets
The importance of putting fresh sheets on the bed regularly cannot be underestimated especially if you have a dust mite allergy. Keep in mind that pesky mites feed on the skin particles from your body, and accumulate in areas that are not regularly cleaned, so the longer you wait to wash your sheets and bedding, the harder it gets to keep dust and dust mites under control.
Ideally, you should change your sheets once a week, and clean your pillows, comforters and mattress regularly to keep dust levels down.
A home cleaning service can help you with changing your sheets and putting your old sheets in the way and outside to dry.
Clean the Houseplants
Having plants around the house can make you feel more at ease with your environment, and help improve air quality in your household. But they collect dust too, and thus also require cleaning at least once a month to allow the plants to photosynthesize to the best of their ability, and to keep the dust that has accumulated on the leaves from entering your home.
You can dust the leaves first, and spray it with a combination of lukewarm water and dishwashing soap, then  lightly wipe the plant with a microfiber cloth to coax the dust from it.
A monthly cleaning of your houseplants is typically sufficient to keep dust at bay, but if you live in an area where there is a lot of wind, then you may need to clean your houseplants more often.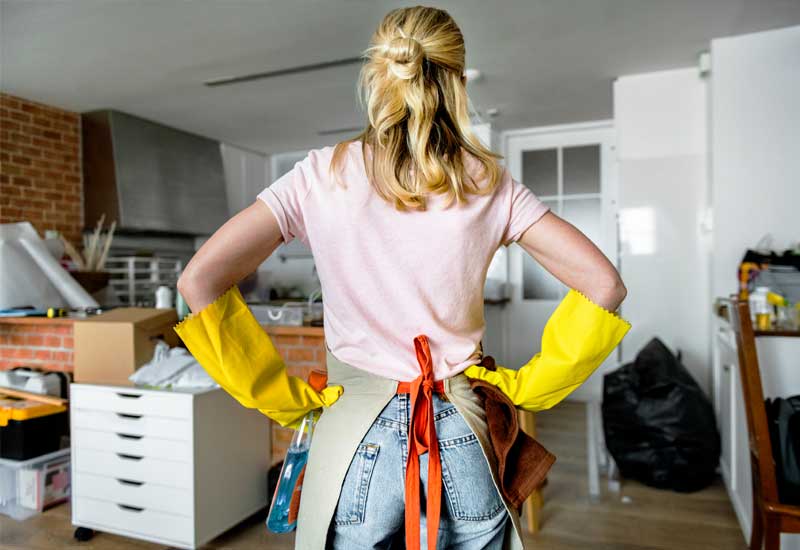 Get Proactive On Dust
Reducing the amount of dust in your household will not only make your home look refreshed, but will also make your environment a lot healthier, as the air your breathe becomes free from air contaminants.
But sometimes dust buildup and can be so heavy and time consuming to clean that a simple cleaning of the dusty surfaces will not suffice. You might also be the type of person that simply feels better when you have a clean home. The mental drain of staring at dusty areas, that you haven't had the time to clean, can affect your mental health. For both these situations it is best to enlist the help of Pristine Home's trusted cleaners who will tackle the chore for you.
We provide maintenance cleaning, and one-off cleaning of homes and workplaces to cut through heavy dust buildup, and allow your family to breathe easier.  Get a quote online in under 60 seconds and we can have a cleaner out to your home as early as the next day!
---