Many people say that the kitchen is the heart of the home, where you get to create dishes that commemorate special occasions or moments with family and loved ones.
Keeping it clean and organised is a challenge especially when we all have busy lives. Know more about how being an all-star chef while maintaining a clean kitchen is as easy as 1-2-3.
A Guide to Keeping Your Kitchen Clean
Take a step back and look at what you don't need
This is a pretty hard thing to do in the kitchen, especially if you enjoy cooking and baking for your family.
Things tend to pile up and we don't realise it until we take a moment to really look into items and appliances we use and those we don't actually need.
Start big, as these are items you can see right away. Make a list of the different appliances you use on a daily basis. If you have some that are just taking up precious space, maybe it is time to sell them or give them away (provided they still work!)
Sometimes we are gifted or have bought appliances that end up being decorations more than useful pieces of technology. For example, you might have purchased a huge stand mixer, thinking you would get into baking. Turns out, you didn't have the time to indulge yourself with some baking time. What happens to the mixer? It is just sitting on the corner of your countertop, a reminder of a purchase you now feel like you shouldn't have made.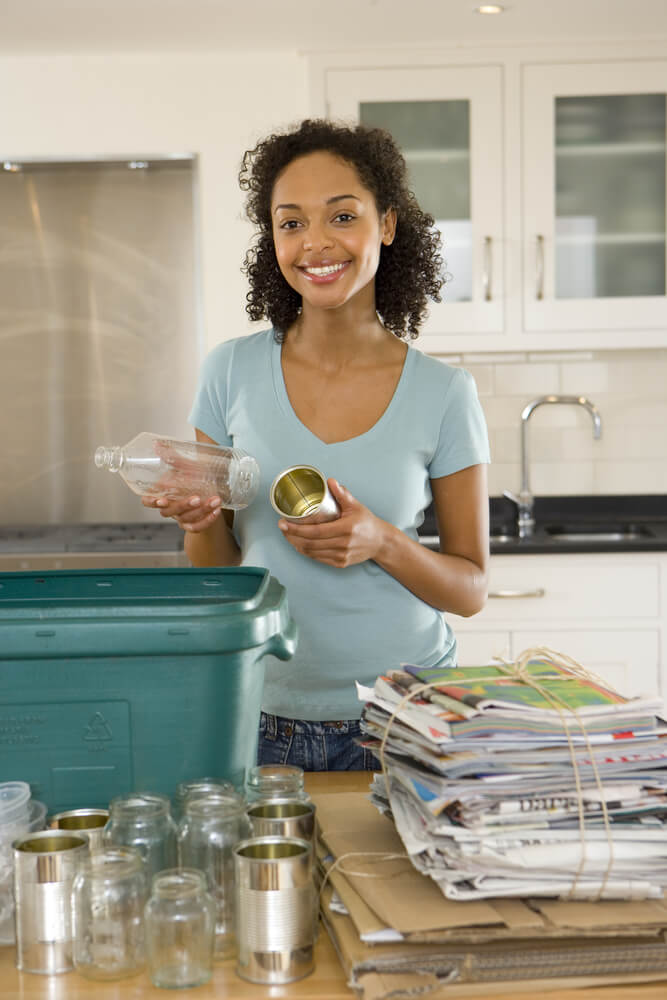 Once you are done with appliances, move on to other items like dishes and utensils. If you have too much of something, then it's time to get rid of the excess. If you open your cabinet and you are greeted by towers of plates of all sorts of sizes, ask yourself, "Do I really need all of these?"
Have a set that you and your family use everyday and have another set that you can bring out during special occasions or when you have guests over. Store these dishes on the topmost shelf of the cabinet, including appliances you don't use everyday. Doing so frees up lower shelves, and these are spaces you do need to put essentials so it is easy to get.
Once you are done taking out stuff you don't need, admire how clean your kitchen already looks. The open spaces are a sight for sore eyes and now you can begin rearranging and organising your kitchen.
In the future, whenever you feel like you need that newfangled coffee machine that promises to make cappuccinos and lattes in less than a minute, or that beautifully designed dish set, really think if it is something that can be put into good use or it something that will end up gathering dust on your countertop.
Storage, Storage, Storage
Make use of storage space wisely by keeping items and food you often need or use on the countertop.
This is the time to put your thinking cap on and let your creativity show. Invest in some durable, space-friendly storage containers that go well with your kitchen's interior design. Keep spices on a vertical rack (as opposed to a horizontal one) to utilise free space further. Have a wicker basket where you put towel or rags in beside your sink so it is easy to wipe any wet spots after you do the dishes or cooking.
In a drawer, buy organisers to separate the spoons, forks, and knives. It is best to store sharp utensils in a higher drawer where small children won't be able to reach it.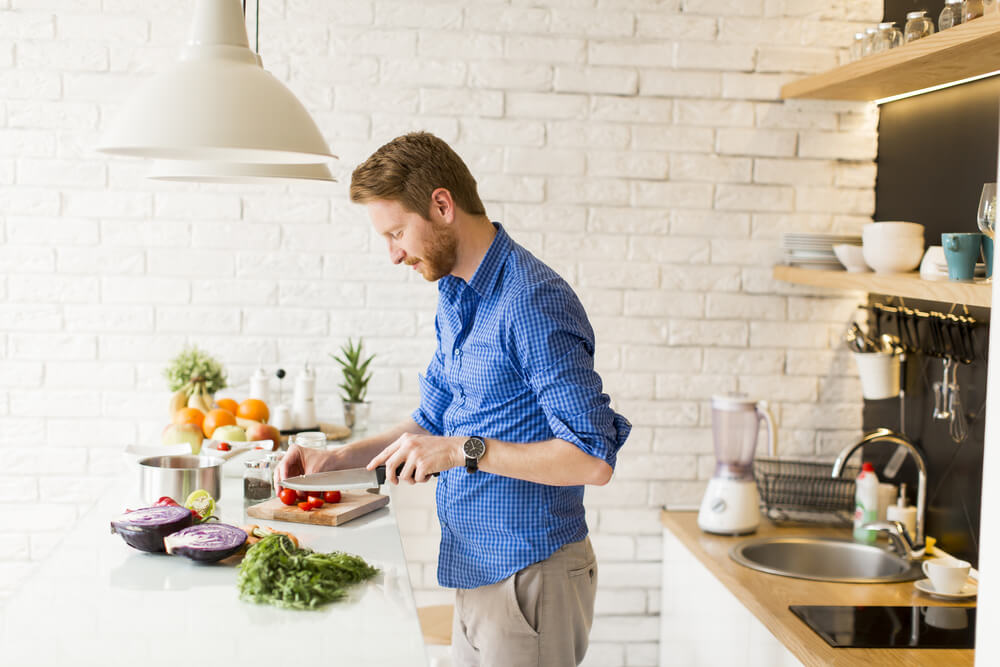 As for pans, display commonly used ones near your stove. You may hang them on the wall decoratively. This frees up space in your cabinet or drawer for other items.
When you're done with the countertop, head to the fridge. You need to think about organising your fridge as well to it is seamless with the rest of your kitchen. Take out any food items that are near its expiration date or have already expired. Keeping them longer in the fridge can actually make other fresh food items rot faster. Molds that develop in expired food can travel through the air and affect other food stored in the refrigerator.
Invest in glass containers for your fridge where you can store produce. Plastic may not cost much and is more durable than glass as they don't break but many households nowadays prefer glass storage containers as a safer way to keep food items. Buy containers that are clear so anyone can see what is inside them.
Create Good Habits
Generally speaking, cleaning up as you go along is a good habit to develop, whether inside the kitchen or out. Even while you cook or bake, have a plastic bag by your side where you can dump any pieces of trash easily. When you are done, you have less mess to tackle.
Here is another tip from Pristine Home: enjoy what you do. Take your time while you cook or bake. Make it an enjoyable activity that you can be deliberate with and not rush into. Focus on each chop of the vegetable or the measure of each cup of flour. Doing it this way will help be more organised.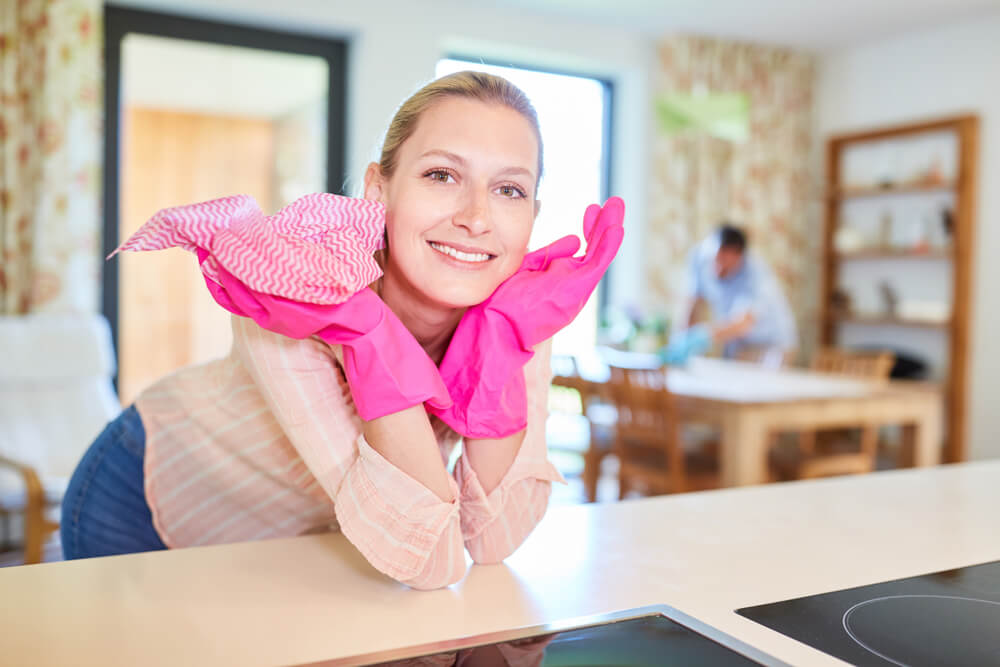 Keep cleaners handy by placing them near work areas in the kitchen. Have a spray bottle of natural cleaner and a microfibre cloth; after each time you work, you can spritz the cleaner and wipe down surfaces. When you do a general cleaning, there will be less grime or dirt.
Other Tips
Have a "garbage bowl" where fruit and vegetable peelings can be thrown. You can then dump these into your compost pit to make fertilised soil. This is better than throwing them into the garbage disposal where it can clog up pipes.
If you have smelly tupperwares, take sea salt and white vinegar. Sprinkle salt and add a splash of vinegar into the container and leave it under the sun for half an hour. The smell will be gone!
Keep baking soda and white vinegar handy as these are natural cleaning agents.
If you want your kitchen to smell fresh, maintaining an herb garden by the window can help. The fresh scents of basil, rosemary, and mint are awesome plants to maintain.
Wash microfibre cloths regularly. Sometimes reusing them too often without washing can actually stink up your kitchen (or any part of your house).
Call professional cleaners (link) to do a general cleaning. Our cleaners are experts at getting all those stains, dirt, and grime out of every nook and cranny of your kitchen and your entire home.
Dirty Kitchen No More
The next time you find yourself in the kitchen, make it a point to follow our tips to help ease you through household chores. Cleaning doesn't have to be a burden, especially when you contact us. Easily get an estimate and book a cleaner in less than 60 seconds.
---