Do you know what's in that bottle of cleaning product you just used on your dining room table? How about that liquid spray that you use so generously whenever you give your bathroom a good scrub?
It's a fact that household cleaning products are full of chemicals that may be harmful to you and your family and the emergence of naturally-derived and homemade products have flooded the market (and homes) in recent years. Which is the better of the two?
Know What's in That Bottle
Whenever we prepare a dish we know what the recipe calls for. If it has ingredients that we may be allergic to, we avoid the dish. Knowing what chemicals are in your bottle of cleaning products is also crucial as some may prove to have some harmful effects to you and your family.
Make Reading a Habit
It doesn't hurt to check the label before heading the counter. Some companies purposely print the product's list of ingredients in an inconspicuous place so as not to draw attention. Some of the chemicals to keep an eye out for include:
1,4-Dioxane
Said to be a carcinogen – a substance that causes cancer – this chemical is still found in many common detergents.
Quaternary Ammonium Compounds
Also known as quats, these chemicals can cause asthma attacks.
Chlorine bleach
While bleach is commonly used at home to remove stubborn stains and disinfect surfaces, too much of it can be harmful to you. They may cause neurological and respiratory problems because of its toxic fumes. It is also a reactive liquid, potentially making it dangerous.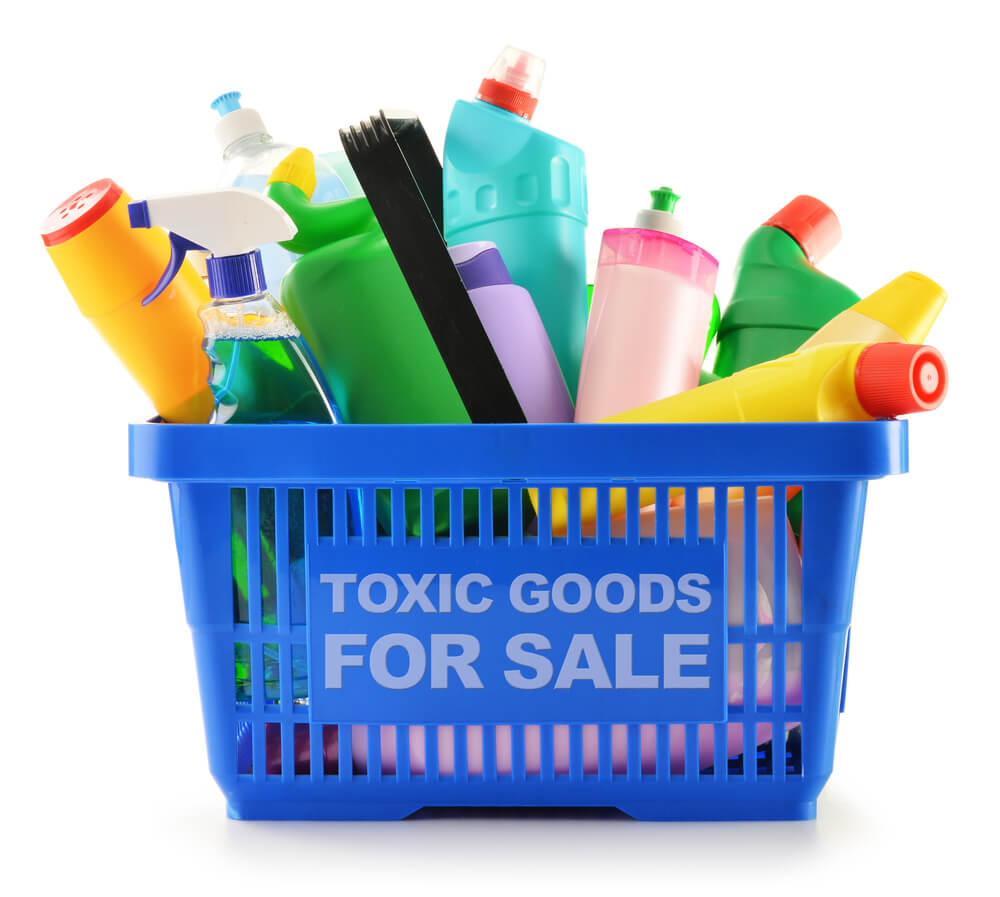 Formaldehyde
Another carcinogen, formaldehydes are usually used as a preservative.
Perchloroethylene
This ingredient can be found in spot cleaners and home dry cleaning products. It is most likely carcinogenic as well as a neurotoxin.
Ammonia
It affects the skin and respiratory system. It is an irritant that you can do without in your home.
2-Butoxyethanol (2-BE, BCEE, or Butyl cellosolve)
It is an eye and skin irritant that can be found in oven cleaners, degreasers, and laundry stain removers.
Fragrance
A generic ingredient, "fragrance" is a very misleading label. It can be made up of many different chemicals and may even cause asthma.
These are just a few examples of harmful chemicals that can be found in one of your cleaning products at home. Not only are they eye, skin, and respiratory irritants, they're also deadly when swallowed.
Indoor air pollution is actually an issue and is one of the leading environmental dangers according to the Environment Protection Agency. If you think that these pollutants come from cleaning products then you're right. As you may be aware, side effects are immediate: headaches, fatigue, shortness of breath, dizziness as well as eye and skin irritation are apparent. Long term side effects are linked to cancer and respiratory issues.
Meet Your New Cleaning BFFs
Thankfully you don't need harsh chemicals to keep your home sparkling clean. Meet the star players and your new best buddies when it comes to cleaning:
Baking soda: its versatility is well-known in the cleaning department. You can use baking soda practically anywhere in your home. It may help get rid of some viruses, has deodorising power, and also brightens surfaces. It is also effective against grime and grease.
Vinegar: just like baking soda, white vinegar is a behemoth when it comes to cleaning and disinfecting.
Lemon juice: Mildew and mold's worst enemy! It smells wonderful and works wonders on hard surfaces.
Olive oil: Good not just for cooking, but also for cleaning and polishing.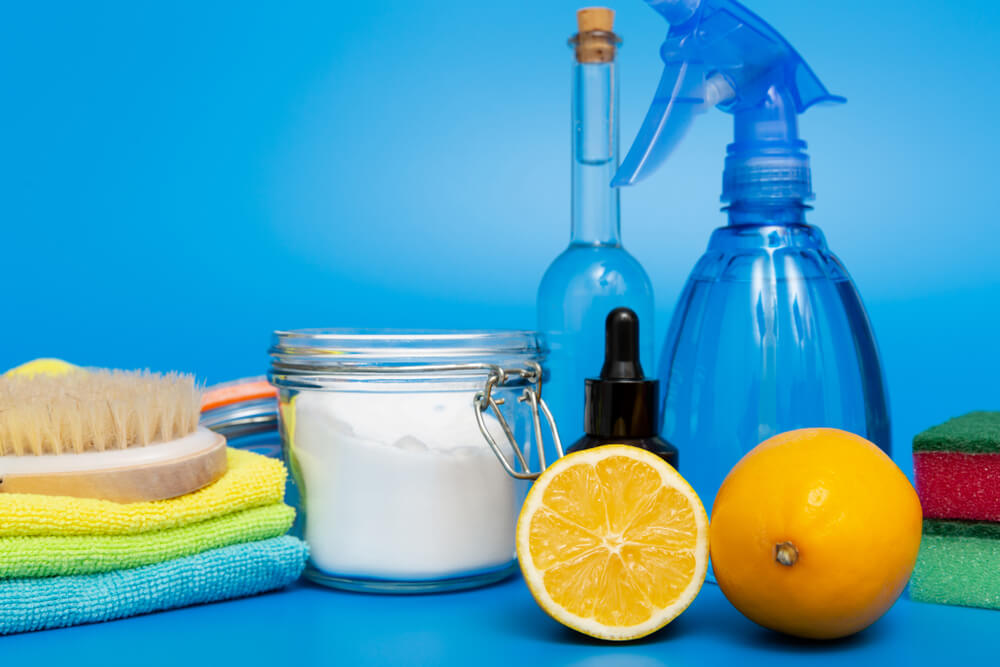 Essential oils: Thanks to aromatherapy, essential oils have been gaining traction in recent years. Essential oils are naturally occurring oils found in some plants and while they are considered safe, some scents may cause an allergic reaction.
Liquid soap: liquid soap can come in handy when you want to make your own cleaning concoction at home.
Salt: sea salt in particular can be used to gently scrub some surfaces.
Rubbing alcohol: another cleaning staple that is inexpensive and easy to find. Rubbing alcohol can disinfect surfaces. Just make sure to avoid using it on wood as it will leave unsightly marks.
Keeping a spray bottle or two handy, as well as a bunch of microfibre cloths, will round up your arsenal of natural cleaning must-haves.
DIY Cleaning Recipes
All-Purpose Cleaner
This is one recipe you cannot do without! This multi-purpose cleaner can be used in a jiffy and it won't leave you worrying as to whether you can use it on any surfaces – it's gentle enough to not be corrosive and cause damage, but boy is it effective! Simply mix half a cup of white vinegar, ¼ cup baking soda into half a gallon of water. You're done!
The vinegar scent can be off-putting so you may consider adding lemon juice for a more citrus-y scent. Use this solution to clean mirrors, tiles, concrete, and windows.
Carpet Stain Remover
Carpet stains (link) can be a pain in the neck. They're unsightly and can sometimes be difficult to remove. Mix equal parts vinegar and water in a spray bottle and spritz directly on the affected area. Wait for at least an hour before gently scrubbing the stain off with warm soapy water using a microfibre cloth. For fresh stains, sprinkle cornstarch and wait for half an hour before vacuuming. If you're serious about deep cleaning your carpet, here's a solution that's sure to bust out those stains, dirt, and dust: mix a quart of cup of salt, vinegar, and borax. Target stains and gently rub the paste onto the area. Wait for a few hours at least and then vacuum.
Air Freshener
Commercially available air fresheners are laden with chemicals that are supposed to temporarily diminish your sense of smell (scary, right?) The best solution is to deodorise and absorb any unwanted smell in your home. Target the source, so to speak.
Consider being a plant mummy and keep a few indoor plants here and there. Some varieties can absorb odor, while others can even get rid of toxins in the air.
Keep your entire home smelling fresh with small dishes strategically placed in high traffic areas. Place vinegar with lemon juice in it for that citrusy scent everyone enjoys.
Herbs and spices can be air fresheners and may even keep some pests at bay.(link)
For a kitchen that smells like it's Christmas all day, simmer water and cinnamon. Just make sure to turn off the stove whenever you leave to prevent any accident from happening.
An opened box of baking soda will keep your fridge smelling good.
A halved lemon in your garbage disposal will not only smell awesome but will also gently disinfect it.
Fabric Softener
Getting your clothes to be soft and snuggly is easy when you simply mix one gallon of white vinegar with about 30 drops of essential oil of your choice. Use about ⅓ cup for every load.
Furniture Polish
A gentle all-purpose polisher is required in every home. All you'll need is ¾ cup olive oil and ¼ cup vinegar. Gently spread over the furniture using a soft cloth. Wood furniture can use lemon juice instead of white vinegar in the same recipe.
Microwave Cleaner
When was the last time you cleaned your microwave? We don't remember either! Here's a simple solution: just mix vinegar and lemon juice in a small cup and microwave for 2 minutes. Let it sit for about 15 minutes before wiping the inside with a clean cloth.
Natural Disinfectant
We know bleach as a tried and tested disinfectant but it can be dangerous and can irritate your nose and skin. Its strong odour can be off-putting too! For a natural surface and floor disinfectant, mix 3 tbsp of liquid soap, 2 cups of water and about 30 drops of tea tree oil.
Cleaner Toilet
Avoid scrubbing the toilet by using two ingredients: baking soda and vinegar! Pour about a cup of baking soda into the toilet bowl and leave it alone for at least an hour. Next pour a cup of white vinegar and let it sit for about 5 minutes before flushing. Watch the grime and stains magically disappear before your eyes!
Safety First
Despite these recipes using natural products that can be found in our homes, there are some considerations you need to keep in mind:
Don't just spray or pour away — test on a small area first. Choose a spot that is hidden or unnoticeable to the naked eye.
Never mix and experiment ingredients. You might be creating a lethal chemical reaction.
When you make your own DIY solutions, do so outdoors or in a well ventilated room in your home. Wear rubber gloves and a mask.
Label every bottle or solution properly.
Storage is crucial. make sure that it is away from curious little hands if you. have children at home as well as pets.
The Takeaway
Pristine Home takes delight in seeing every Aussie home all neat and tidy. These DIY cleaning solutions are gentle and help support the environment. And while you can whip these babies up yourself, you can also choose to leave the cleaning to the professionals! Booking a home cleaning service every week or fortnight will help keep your living spick and span. Contact us now for $20 off your first appointment.
---