As a working mum of two hyperactive kids, I can't stress enough how frustrating it can be to see the house in disarray. The mess seems to go on and on. I try not to be too hard on myself though; after all, just like many mums and dads, I also have a full-time job. With my career being one of my top priorities, it shouldn't come as a surprise then that cleanliness has been bumped off to the bottom of my to-do list. Yikes.
Whether you're a working parent like me, or someone who's focused on making it big in the world, it can be quite a challenge to try to squeeze in a few moments of our time to tidy up. Let's be honest with ourselves: during our free time would we rather relax and binge watch our favorite TV show, or clean, dust, and organize our home?
I don't know about you, but I'd choose to spend some quality time with my children than spend those precious moments scrubbing the floor.
Luckily we live in a time when home cleaning services are becoming more of a norm now than it ever was. Depending on your area, how big your house is, and how much cleaning needs to be done, home cleaning services can be pricey (but worth every penny). It might be a bit daunting to open up your home to a complete stranger but don't fret; these guys know what they're doing and no stone will be left unturned (or wiped clean, whichever you prefer!)
Let's Talk Costs
Prices are dependent on the size of the area, as well as what needs to be cleaned and its current condition. Your location is also a factor; if parking spaces are hard to come by in your neighborhood, you will most likely be charged a premium fee. There is also the matter of when you'd like to have your home cleaned. If you book a cleaning service on a public holiday, chances are the rates are much higher.
Let's be more specific here.
What if you're one of the lucky households who just need one room to be tidied up? How much will it cost to hire a professional cleaning service to do the job for you? Perhaps you'd like to upgrade your home and you plan to move out soon. How do you get the property into its original state?
There are factors that cleaners consider before giving clients a fair price:
Where you live – Rates vary from state to state and it is always wise to hire a cleaner located near you. That way you won't have to worry about additional expenses such as transportation. Some areas of Australia cost more than others. Understandably, metropolitan areas in the Australian Capital Territory would incur a higher rate (about$37.50/hour) compared to New South Wales, Queensland, Sydney and Western Australia ($30/hour). If you live in Victoria, rates go just slightly higher at $31/hour. Residents in South Australia can enjoy a housecleaning service for $35/hour.
The size of your home – The bigger the home, the more costly a cleaning service will be. If you own a two-storey house, the cleaning that needs to be done can last for a couple of hours to an entire day. Because of this, rates can range between $100 to $800 based on the average hourly cleaning rates in Australia. A three-bedroom home of 150 to 250 square meters, typical of an Australian residence, would be charged at least $125 to $170 including up to three bathrooms. The same house would be charged $280 (more or less) if it had carpeted rooms. Carpet steam cleaning is an add-on service and would therefore have an extra charge.
The type of service you wish to avail – Yes, you CAN choose how thoroughly cleaned you want your house to be. A standard cleaning service will include:

Mopping tiled floors
Vacuuming areas that are carpeted
Wiping down surfaces (like kitchen counters) as well as home furniture
Washing any dirty dishes in the sink
Have all your rubbish bins emptied
Not bad for a standard cleaning service, if I do say so myself.
With that being said, what if you find yourself in a position where your home needs a little bit more than just a standard cleaning? Cleaning services charge extra for a deep clean or a bond clean. In this case, service fees can drastically change depending on how untidy the property is and how much work needs to be done. Bond cleaning can start at $400 and can reach prices of over $1000.
The huge price difference is dependent on the factors I have already mentioned above.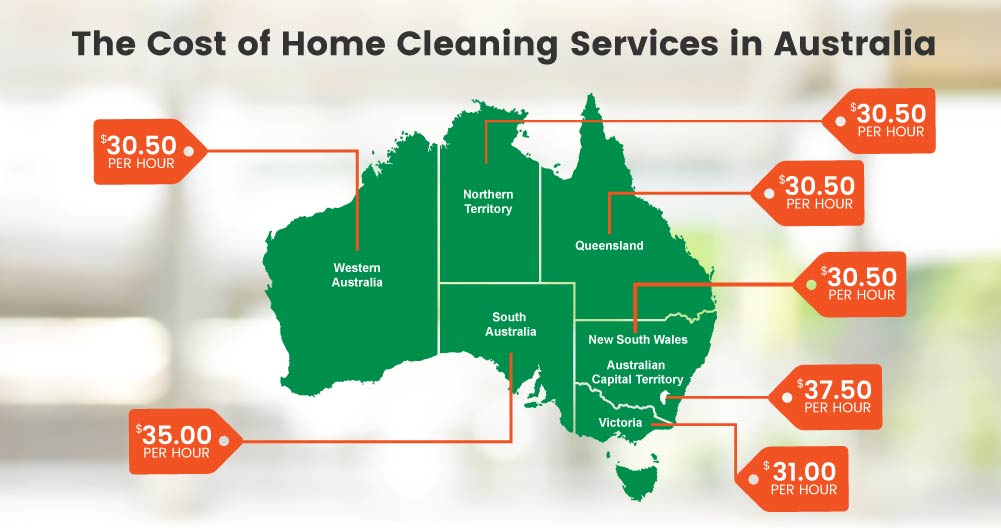 Image: The Cost of Home Cleaning Services by Hourly Rate per State in Australia
Most cleaning services offer these additional cleaning work with an added cost:
Cleaning the carpet (this is much more comprehensive than vacuuming)
Removing any stains on the walls (stubborn marks will cost extra)
Cobweb removal
Cleaning any kitchen appliance such as the oven, microwave, dishwasher, and fridge
Scrubbing cupboards, both inside and out
Comprehensive window cleaning (both sides of the window)
Door frame and door handle cleaning
Cleaning the lights
Cleaning the garage
Lawn mowing and tidying up the garden
Cleaning the pool if you have one
Scrubbing the patio, deck, or balcony
Cleaning the roof
These extra services are specialised and are guaranteed to make each area of your home spick and span in no time. You also have the choice to mix and match these services and create your own cleaning package. As always, keep in mind that personalised cleaning services usually cost more.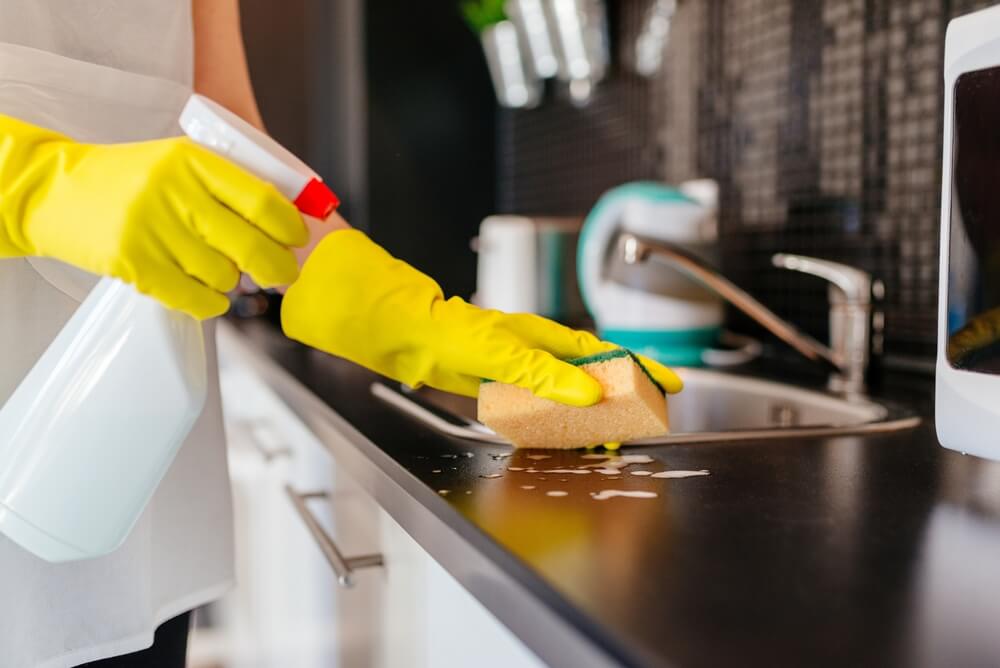 The Difference Between a House Cleaner and Cleaning Service
As I was ready to commit to getting my home thoroughly cleaned once and for all, I came across something that was totally confusing. Bear with me on this one, because you and I might be on the same boat here. I thought a house cleaner was one and the same with a cleaning service. Turns out I was slightly wrong. Which one should I get then? I did a bit of research to help me decide which one I needed.
Here's what I discovered: If I can afford to have someone come in every week or every fortnight even, then it would be better to get a house cleaner. A house cleaner is someone who will do the cleaning and who charges per hour.
A cleaning service, on the other hand, doesn't limit itself to residential properties. They may be commissioned to tidy up an office area or a business. They usually base their rate by how big the area is. On average, companies charge between $1 to $6.50 per square meter. Aside from area size, it also depends WHAT they'll be cleaning. For a carpeted room, rates begin at $2.50 per square meter. Same with bathroom tiles but expect it to go as high as $5 per square meter.
As for your house's general area, expect a company to charge you $2 per square meter but if you've had construction done (like a renovation), expect a huge jump in prices: $20 to $35 per square meter are average rates for such an intensive cleaning service. Other companies charge by square feet. Their rates generally begin at $0.2 to $0.65 per square feet. Again, their prices are based on how big the area is, what needs to be cleaned, and how dirty it is.
Another factor that I'd also like to point out is security. While there is absolutely nothing wrong with hiring a freelance home cleaner, I feel like nothing will beat having the peace of mind of knowing that you're letting trusted workers in your home. Cleaners who are affiliated with a professional home cleaning service have been thoroughly screened, background checked, and have most likely had stellar recommendations from a previous employer.
So while a freelance home cleaner might come out slightly cheaper, I would personally prefer to shell out more cash for that extra layer of security.

Make an Appointment
We created Pristine Home for exactly that reason. to create a cost effective cleaning service but also a cleaning service that you can trust to do it right. There's always a balance between the standard of clean and the time required to do the job correctly. To make things easier for yourself, and any cleaners you work with, I recommend you list down all the important details that you think will be crucial in getting an honest and fair quotation from a reputable cleaner.
Make sure to include the following information when you inquire:
Your location (be honest about how accessible your house is)
How big your house is, including how many storeys
How many bedrooms and bathrooms that need cleaning
The time and date you want to have your home cleaned
Your budget (if you have any)
Specific cleaning tasks you want to have done
Ask what products they use (especially if you live with children or pets). You may provide
your own set of cleaning products you want them to use
Feel free to ask several cleaning companies in your area for a quotation so you have a clear idea of price points and compare. It wouldn't hurt to ask a neighbour or relative for a referral if they had recently had their houses cleaned as well.
At Pristine Home we also offer a super easy online quoting system which you can easily get a fast quote in under 60 seconds, if you want to use that then click here.
A Service That's Worthwhile
Is it worthwhile getting a cleaner? Absolutely!
If you're like me, you're time poor and struggling to keep on top of household chores and a home cleaner could make a world of difference.  I feel like a new person whenever my home is clean and having it cleaned regularly is better for my mental wellness too, I simply feel better when it's done. Somehow my living space becomes much more personal and I made a promise to myself to always make it as clean as I possibly could.
But, if I don't have time to keep it clean, I can always call the cleaners. I recommend you do to!
---