Every homeowner wants to make their windows and glass doors shining, shimmering, and splendid. Unluckily, there's no genie in a lamp that can grant you wishes so you can achieve all of these in an instant. Nor is there a magic carpet that can lift you up and down so you can reach every nook and cranny of the glass panels in your home.
Fortunately, you have professional cleaners like us! In this piece, we're going to spill some of our best-kept secrets in cleaning the dirtiest windows and glass doors you can imagine.
These glass cleaning tips will allow you to have a new fantastic point of view of the outside of your house and enjoy the feeling of being inside a whole new home.
But first, prepare some of these materials that you might need for a streak-free window cleaning:
Soft-bristled brush – for taking out the dust and gunk that settled into the deepest corners of the doors and windows

High-quality squeegee – for cleaning the window panes. Make sure you get the ones with a replaceable rubber blade, so you don't have to buy new ones if the rubber gets worn out

Small bucket – the one that you can carry up and down the ladder or…

Cleaning spray bottle – for a lighter and more efficient work

Ladder – you need this so you can reach the top of your windows and glass doors, unless you're a giant

Rubber gloves – if you still want supple hands after the cleaning task
How to Clean Your Windows and Glass Doors Like a Pro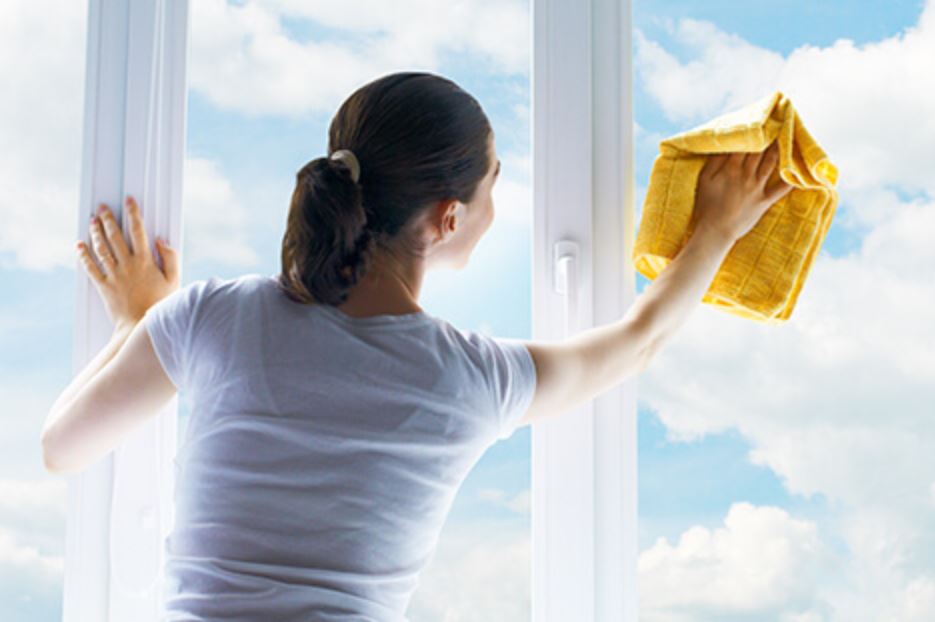 1. Take advantage of a cloudy day
Believe it or not, the best time to make your windows and glass panels sparkling clean is when the sun is hidden behind the clouds.
While a bright sunny day will allow you to see all the spots, residues, and streaks on the window, the heat coming from the sun can also dry out the washing fluid prematurely, causing visible streaks. Unlike during a cloudy day, the cleaning solution will remain until you wipe it off the panes, resulting in a spotless window!
2. DIY your weapon of choice
Picking your cleaning solution of choice is also a crucial step when cleaning your windows and glass doors. Good thing, you'll never run out of choices because there are so many to choose from in your local shops.
But if you're kind of tight with the budget, you can always make your own cleaning spray at home! Don't worry, you don't need to scour every store in your area just to find the right ingredients. Everything you need to make a DIY glass surface cleaner is right in your kitchen.
Below are three cleaning solutions you can make out of simple ingredients. Just follow these simple steps and you're good to go!
1st Cleaning Solution
Ingredients:
½ cup of white vinegar

2 cups of distilled water

10 drops of any essential oil of your choice
Simply mix all of these in a spray bottle and shake gently. For the essential oil, you can use lemon, eucalyptus, peppermint, lavender, etc.
2nd Cleaning Solution
Ingredients:
¼ cup of rubbing alcohol

2-3 tbsp of white vinegar

1 cup of distilled water
Combine the rubbing alcohol and vinegar first in a spray bottle, then add the water. After mixing them all, put the lid tightly then shake thoroughly.
3rd Cleaning Solution
Ingredients:
16 oz of hot water

a few drops of mild dishwashing liquid
Combine the two liquids in a bucket and you're good to go!
3. As usual, start from top to bottom
You know the drill. When cleaning your home, it's always a better idea to start at the top, down to the bottom. Window cleaning is no exception. This strategy is the best way to clean glass surfaces since it will make the most of your cleaning solutions by letting the solution drip all the way down to the bottom of the panel.
Wiping or light scrubbing must also start at the top to achieve streak-free windows.
4. Use squeegee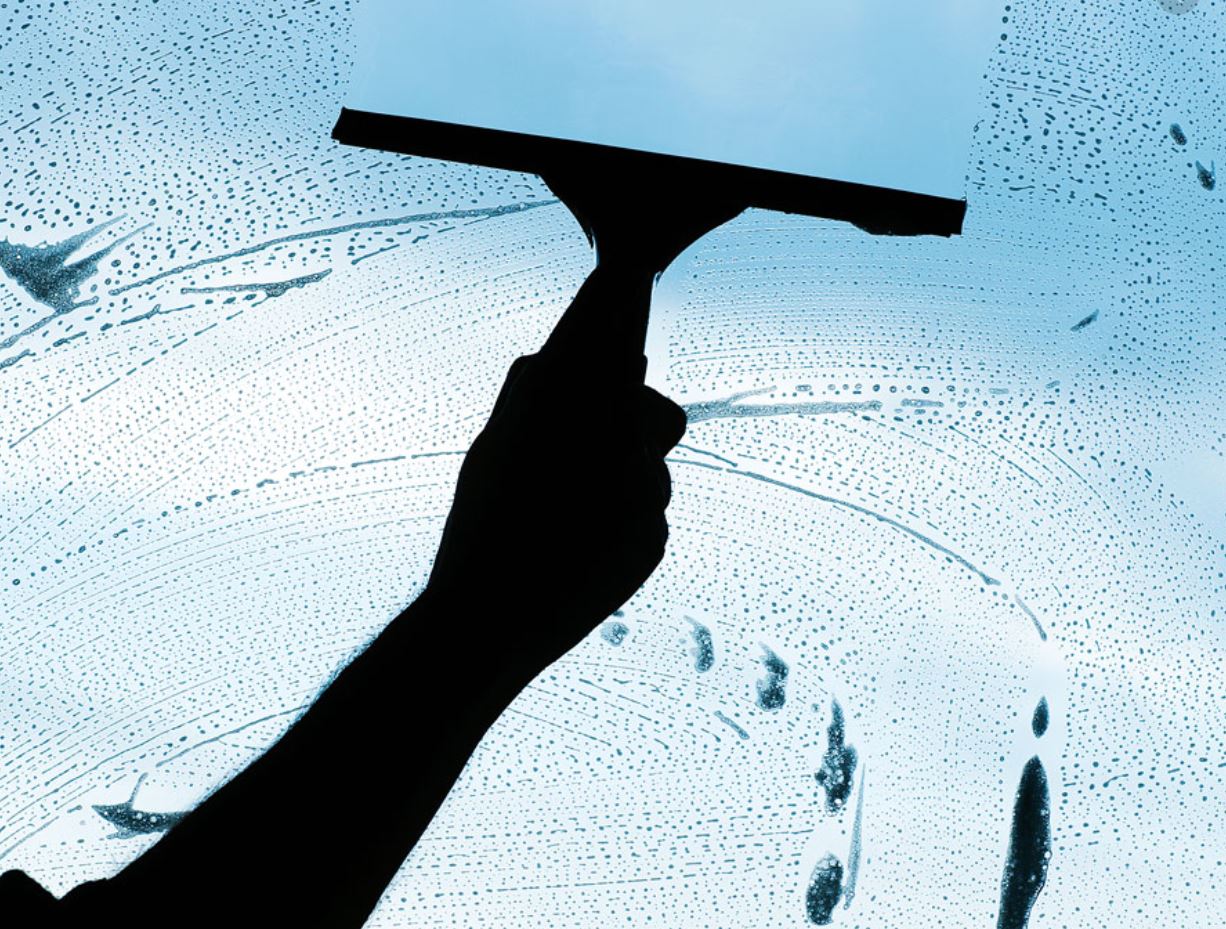 When it comes to glass cleaning, squeegees are the workhorse. It's a quite simple tool but it can work wonders on the glass surfaces of your home.
What it does is that it makes sure that no residue is left behind. Because sometimes, rags are not enough to wipe the cleaning solution off the windows, so re-wiping is necessary. The problem with re-wiping using a piece of cloth is that it will certainly lead to visible streaks and spots. But with squeegees, it's easier to polish the panes and achieve a squeaky-clean result.
The best thing about squeegees is that you can also use them on glass doors and shower walls as well.
5. If you don't have squeegees, use old tees
While we highly suggest using squeegees, it doesn't mean that it's the only thing that you can use. You can always use old tees as a great alternative, in case your squeegee broke or the local shop ran out of supply.
Old tees, especially the cotton ones, are absorbent and lint-free enough to polish your windows and leave them spotless.
Using your worn-out shirts is also a great way to cut the housekeeping costs since you don't have to buy a new cleaning cloth every time you need one.
6. Sometimes, newspapers work, too!
When polishing their windows, some homeowners also use newspapers. Surprisingly, they work! And they work very well. It's certainly worth a try especially if you're not a fan of old towels and tees.
The downside of using newspapers is that they're easily torn when they get wet, plus, there's a chance that you'll get newspaper prints on your hands. But you can just wear gloves if you don't want to get your hands dirty.
7. Be careful not to damage the woodwork
Most houses have woodwork installed around the windows. For you not to damage it, place a small rag or a piece of cloth on the windowsill before spraying anything on the window. The rag or cloth will absorb any fluid that will drip down to the bottom part, while protecting the wood from getting wet and, eventually, damaged.
These are only some of the expert tips that we can give so you can clean your own windows and glass doors. These tips can be handy especially during the times when you can't book professional cleaners like us either because the slots are full, schedule mismatch, or quarantine restrictions.  
But if there's just too much on your hand and you think you can't handle the cleaning, don't hesitate to call us! We'll figure something out for sure. We'll even give you $20 off your first appointment! 
---