The task of cleaning has been one of the very few things that I simply did not enjoy doing. Who can blame me? As a working mum with two rambunctious children always in tow, there were times when I couldn't care less if the floor resembled Lego floor tiles rather than wood panels.
When I do get the chance to clean, I end up becoming too exhausted. The mess has piled up to such a degree that my entire day is dedicated to simply just cleaning the house. Not a fun way to spend my Saturday. Does my story sound familiar? If you're like me, then you might already be at your wit's end about how to go about cleaning your home.
Organization and Consistency are Essential
The adage "A place for everything, everything in its place" holds true for any sort of clean up.
Before you even attempt to do anything and risk losing your mind in the process (I know I have more than once), let me share with you some tips to help make cleaning a happy task for everyone at home.
● Get rid of anything that:
– Is old and replaceable
– Hasn't been touched or used in the last few years
– Has served its purpose
-Is useless for everyone at home
Have everyone pitch in and do some decluttering.
● The less clutter, the easier it is for you to organize your home. Buy some baskets and crates to organise all the things you've decided to keep. Make this task a family affair so everyone knows where everything is placed. Give everyone their own set of crates to organize personal stuff with in their bedrooms.
● Once your home is organised, it's all a matter of keeping things as they are. It's actually easier said than done, believe me. The secret here is consistency and eventually it all becomes a habit.
● Set some ground rules about cleanliness and orderliness. Be firm about it, even with your spouse. You might come off as a nag at first but they'll get the picture. The house isn't your sole responsibility; it's everyone's. Having everyone do their own bit lets you clean less of the house than you originally have. Small children can help too. My little one knows how to put her toys back after play time and set used dishes to sink. This instills a sense of responsibility in them.
● Invest in good cleaning tools and materials. Try to avoid cheap and flimsy cleaning tools as they will end up in the bin along with the trash you've just cleaned up. Take your time browse through different cleaning agents in the market. You have the option of buying a one-for-all cleaner as it will save space in your cabinet. However, if you have
special surfaces like pinewood, it may be best to buy a specialised cleaner.
● Dust with a microfibre cloth and go from left to right, top to bottom. Microfibre cloths are effective in picking up allergens such as dust and pet dander, improving the quality of the air in your home.

The Checklist
Having a checklist keeps things, well, in check. Go around your home and take note of the cleaning you usually do in specific parts of the house, then break them down into daily, weekly/fortnightly, monthly, and yearly/seasonal cleaning tasks.
Daily
These are things that should be done everyday, no excuses. It is paramount that you do thefollowing tasks as it will pretty much dictate your home's overall cleanliness and orderliness. Besides, who wants to walk around a messy house?
● Make your bed
● Wash the dishes and load/unload the dishwasher
● Take out the trash
● Sweep the floor
● Wipe down countertops and tables
● Wipe and mop the bathroom
● Return stray items to their proper places
Weekly/Every Fortnight
Doing these tasks on a weekly or fortnightly basis lessens the overwhelming feeling of having to clean everything at once. Remember that certain cleaning tasks can be reserved on certain days of the week, such as:
● Wiping the appliances
● Mopping other floor areas of the house
● Vacuuming any carpeted rooms
● Wiping and disinfecting countertops
● Wiping mirrors
● Scrubbing and disinfecting the toilets
● Scrubbing and disinfecting the kitchen sink
● Cleaning and scrubbing the shower and bathtubs
● Change and launder bed sheets and towels
● Checking food items if they're expired
Mum tip: I've found that going through our food together with the hubs and kids make it a fun activity. We usually do this the night before I head to the grocery and it also gives my children the chance to choose which snacks I should be buying for them.
Monthly
I call these my "big cleaning tasks" because admittedly it does take some time and effort to do them:
● Vacuuming the upholstery
● Wiping and disinfecting waste bins, doorknobs, light switches, and telly remotes
● Dusting the ceiling and vents
● Scrubbing the stovetop, including the burner grates
● Cleaning and deodorising the microwave
Seasonal/Yearly
● Cleaning the oven interior
● Cleaning and degreasing the stove hood
● Cleaning the refrigerator and freezer interiors
● Rugs shaken out and professionally cleaned
● Windows are washed inside and out
● Polishing stainless steel items
● Large appliances and furniture should be pulled out for cleaning behind and underneath
● Washing window screens
● Cleaning the dryer duct
● Washing or dry clean slipcovers
● Washing or dry clean pillows
● Washing or dry clean comforters
● Cabinet shelves should be emptied and cleaned
Pristine Home knows that there are just some things you simply cannot do yourself as much as you want to. Professional home cleaners are more than happy to swing by and do the cleaning for you.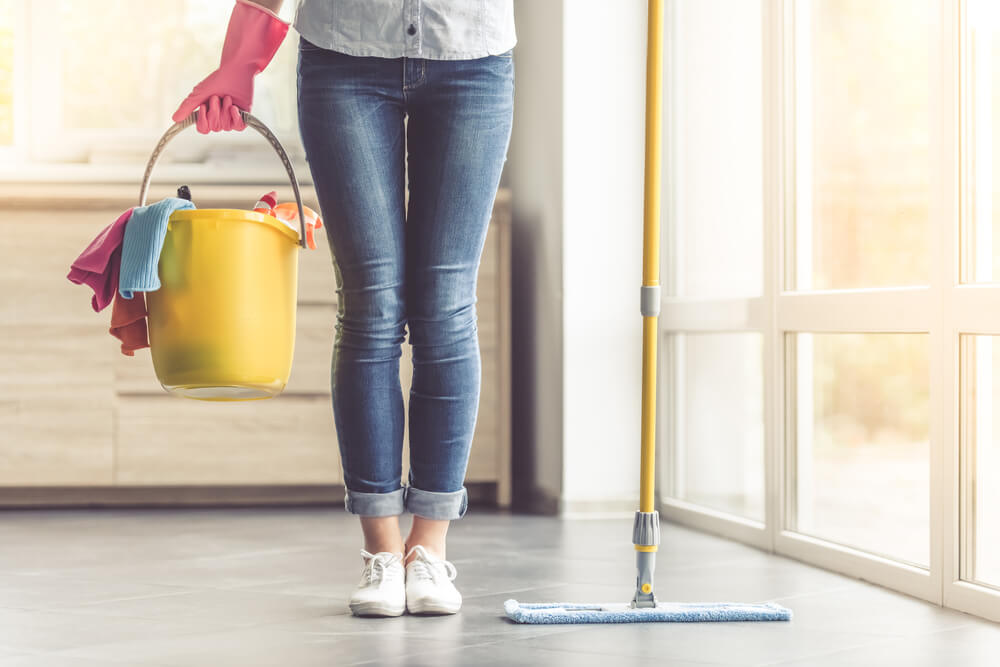 Clean Home, Happy Heart
Even with our busy schedules, there are just some things that we can't do without. While cleaning is an essential task we all need to do, the sense of fulfillment that comes with it is undeniable. There's nothing better than to see your surroundings neat and tidy — until someone messes it up again.
---