The refrigerator is constantly in use, in fact you might not realise but it's probably opened and closed between 20 – 50 times in a day by you and your family. It's this constant day to day usage that makes your fridge so incredibly challenging to keep clean.  Not only do you need to worry about stale food but also the constant crumbs, food scraps and grime that get caught up in the doors  and shelves when food is moved in and out.
We all know that maintaining a clean fridge is important to nasty bacteria and other health concerns, but if you rarely get free time because of your hectic schedule, you can easily overlook the regular cleaning of the fridge.
To help you do a deep clean of the refrigerator, we cover some actionable tips that focus on getting rid of food scraps and dirt on the inside of the appliance:
Make sure the fridge is empty
Take out the contents of your refrigerator and place them on a counter or table while you clean the inside of the fridge. For food items that cannot be left out in warm temperature, have a cooler where you can place them until you are done cleaning the appliance. Also, have a trash can where you can put the expired items and the meats that have become unsafe for consumption.
If the milk carton or other items have drips on the bottom or side, wipe those away using a damp cloth. You want the items to be completely clean before putting them back to the fridge so you are not spreading mess when the shelves are already clean.
Tip: A good time to do a deep cleaning of the fridge is when there are lesser items inside. This means fewer items to take out and fewer items to return to the fridge post-cleaning.
Take out drawers, shelves, and other removable parts
This will allow you to reach the corners of the fridge for a more in-depth clean, and to finish the task quicker. Place these removable surfaces near the kitchen sink, so it will be easier for you to wash them.
Wash the drawers and shelving
Lather up some suds and wash the shelving and other removable surfaces with hot water. You can use either a sponge or a brush to scrub the shelving. It doesn't matter which one you use, just choose the one that best in removing stains and food scrap. If your fridge has glass shelves, use cold water in washing them to avoid damage to the glass. Once you are able to remove the stains, rinse them carefully and allow them to dry out completely before inserting them back to the fridge.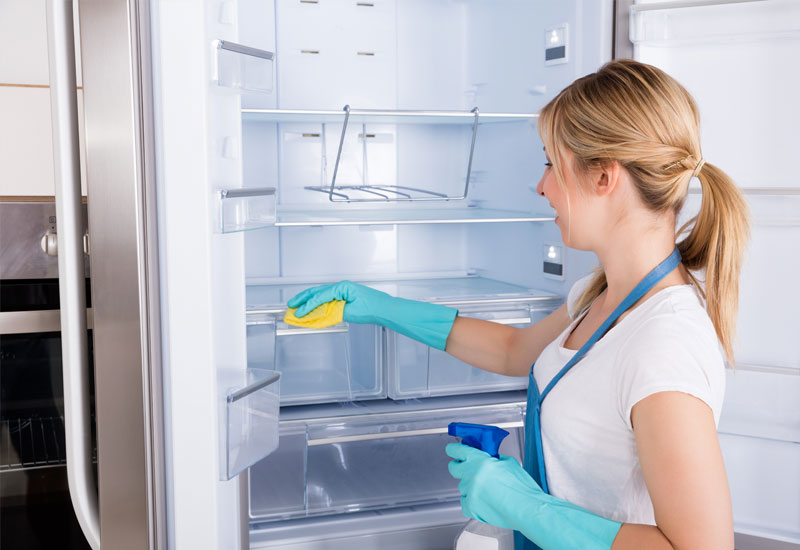 Start working on the inside of the fridge
Take a clean cloth or sponge, and dip it in a cleaning solution made from one quart hot water, and two tablespoons of baking soda. Use this to thoroughly clean the fridge door, built-in fixtures, and the interior walls. You can also make a cleaning solution from three parts hot water and one part apple cider vinegar to remove stubborn stains from the interior walls. When cleaning the inside of the fridge, keep in mind that you will be storing food there, so you want to avoid using harsh chemicals that may affect your food.
Dry the interior with a cloth
Once you finish cleaning the interior, the next step is to ensure that it is completely dry before replacing the drawers and shelves. To do this, wipe the interior walls as well as the removable parts with a paper towel or a soft cloth.
If you unsure of which cleaning solutions are safe for use in the interior walls of the fridge, do not hesitate to call in expert cleaners who are specifically trained to apply the appropriate methods and use safe cleaning solutions for every cleaning task.
Clean the door
Close the refrigerator door and wipe it with a clean cloth to remove specs of debris and dust. When cleaning the door, be careful to use just a bit of pressure to avoid stripping the paint, where applicable. If your refrigerator has a protective coating, you can do away with simply wiping the surface.
Replace food and other items in the fridge
Take care to wipe the sides and tops of any items you will be putting back in the fridge, and to secure lid to prevent spills. If possible, place seafood and meat on the bottom of the fridge to protect other food items from spills. You can also put paper towels under liquids like juice and milk to keep things extra clean.
You can refer to the step by step guide outlined above when doing a thorough cleaning of the fridge. But if you find that some of the steps take longer to complete or you are having difficulty taking on the task alone, consider having professional cleaners come to your home on a weekly or bi-weekly basis to supplement some of the house cleaning you regularly do.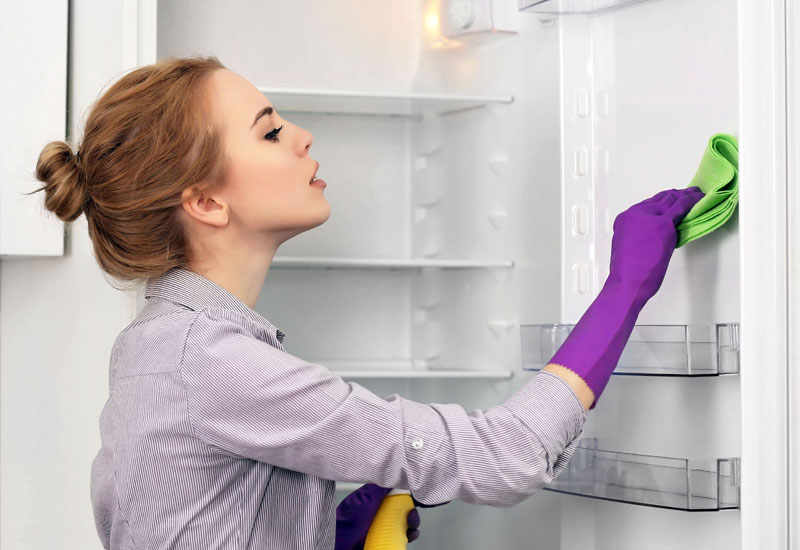 Ready For Professional Help?
The cleaners at Pristine Home understand that food scraps left in the fridge can make all food items unappetising. They also know how spills can get out of hand especially for busy homeowners who are almost always in a rush to prepare food and will just grab fruit juices or milk on the go. We will help you maintain cleanliness in one of your most important appliances, so you have one less thing to worry about.
By scheduling a regular cleaning of your home or your appliances, you can have peace of mind that the risk for cross-contamination from meat spills is greatly reduced. Just book a cleaner online, review the price quote that we will instantly display for your review, and we will arrange for our trusted cleaning technicians to visit your home at your desired time and date. We take over the cleaning of the refrigerator and other appliances and areas in your house so you can free up time and spend your free day the way you wish.
---