Having your home cleaned by professionals can make a world of difference not only to the appearance of your abode, but also to the overall health of your family. After all, a home that is not thoroughly cleaned can easily become a haven for germs and bacteria, making it more important to disinfect surfaces and deep clean various areas of the house. The cleaning of the house should be done more often if you have children and pets at home, or live in a larger space.
However, cleaning chores come with their own stress, especially when you feel like no matter how much scrubbing and wiping you do, the house is still not as spic-and-span as you wish it to be. Luckily, you can get your home looking refreshed with this list of cleaning tricks that professional home cleaners use to turn homes into a sparkling sanctuary:
Declutter
Professional cleaners get more things done when there are less items lying around the house because it allows them to focus on actually making your place clean. So if you want to clean your house like a pro, the first thing you need to do is to tidy up your stuff. We suggest preparing five baskets for this first step: a basket for things that have crept out of their designated spots,  a container for items that you can recycle such as glass or paper, a bin where you can put things that are meant for the trash heap, one basket for items that need to be repaired or cleaned, and lastly a basket for items you can give to another person or donate to charity.
Set up the containers before you begin decluttering, so you have easier time sorting your things. You may bring the boxes in every room you declutter, or place them in a central location in the house for easy access while you work.
Give cleaning products time to work
Your time is precious, and you probably don't want to spend the whole day scrubbing the tiles and wiping dirty surfaces. As such, we suggest applying cleaning products on surfaces, and giving them time to break down crud and kill bacteria before you start cleaning any problem areas. Just make sure to check the label of the disinfectant product you are using to get the correct timeframe. Doing this will leave you with less work to do, which is what you want when you have a busy family life.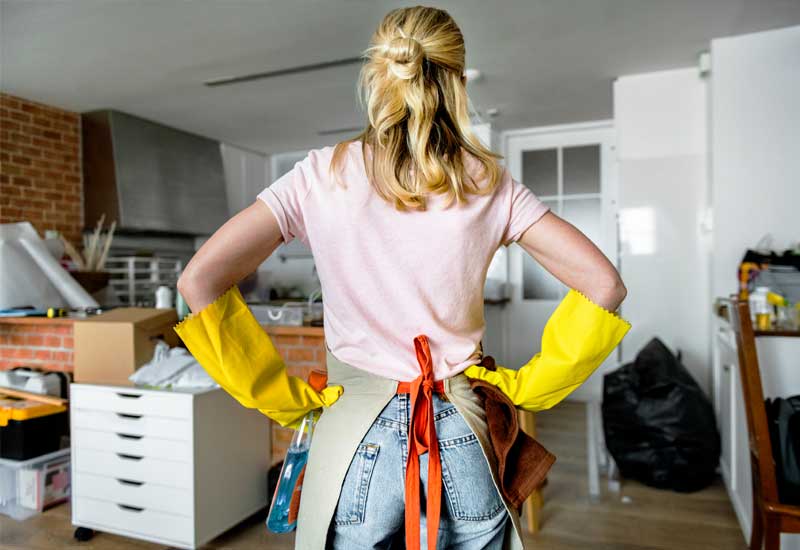 Clean the walls and ceilings
Cleaning your ceilings and walls involves some elbow grease, and requires the use of the right materials. Depending on the type of walls you have, you may get away with simply vacuuming cobwebs and washing the structure. Take caution when dealing with painted walls however, as this will require a different cleaning method. Harsh chemicals can cause damage to latex-painted walls, so it is best to choose a mild cleaning solution to spot-clean any stain and debris on the structure.
If you want to give your ceilings and walls the best treatment, but are unsure of the appropriate cleaning techniques and cleaning solutions to use, it is well worth enlisting the help expert cleaners who will take meticulous care to pinpoint any issues, and offer a thorough cleaning to extend the lifespan of your walls and ceilings.
Cleaning crusted microwaves
All it takes for a sparkling clean microwave to turn into a crusted appliance is a few food particles left uncleaned. A dirty microwave is the perfect breeding ground for bacteria, which is why it is crucial to tackle the cleaning of this appliance on the regular to avoid exposing your family to potential health risks caused by a smorgasbord of germs inside the microwave.
If you are wondering how to clean your microwave in a way that leaves no splatter behind, then follow these simple steps:
Mix one part water with one part vinegar in a bowl.
Microwave the mixture until it is boiling, then let sit for at least a minute to avoid the risk of burn.
Take the bowl out and grab a sponge or some paper towels to wipe the inside clean.
This method works well for cleaning the inside of microwaves, as the acid and steam help soften hardened food splatters and other spills.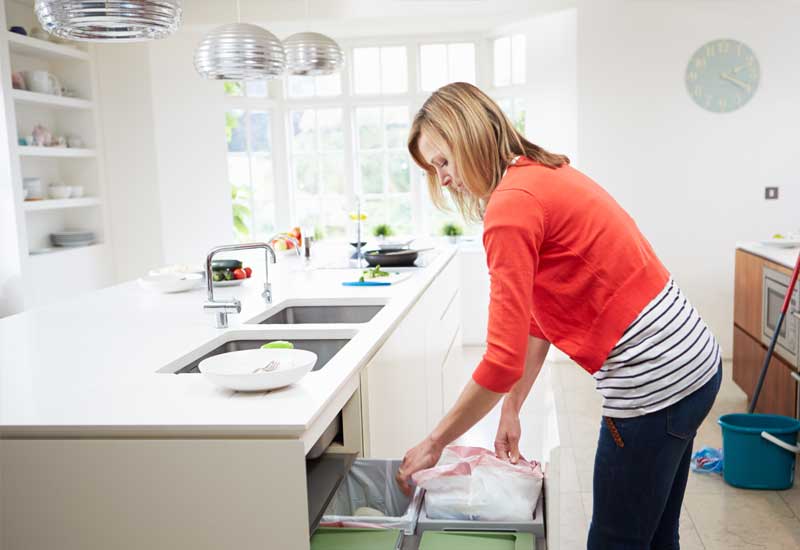 Have the right tools
Professionals are able to give your home the best clean because they stock up on the essential tools needed to get the job done. Therefore, you need to ensure that you have your cleaning arsenal ready for the most effective work. Do you need a stick/hand vacuum for removing pet hair from your upholstery? Do you have a duster that is long enough to make short work of cleaning chores such as dusting ceilings, cleaning light fixtures, and dusting kitchen cupboards?
For a professional-worthy clean, you want to use the right cleaning supplies: a cleaner for the bathroom tile, one for the walls, another for the grout, and so on. If you are trying to go green, your choices for cleaning products will also change. So if you are unsure of which cleaning solution is best for each part of your house, you can benefit from a weekly professional clean where cleaning companies bring their own supplies, saving you the hassle of having to buy and store bulky cleaning equipment.
Set a Cleaning Schedule
The key to maintaining a dirt-free home is consistency and organization. As such, you need to stick to a cleaning routine and complete certain chores every week so you know you are hitting all the spots that really require cleaning. A cleaning routine also allows you to avoid marathon cleaning sessions where you devote your entire day off to cleaning your home in one big burst.
If you can't commit to a regular cleaning routine because of your busy family and career life, consider setting an appointment for weekly or monthly professional cleaning so you can step into a home that looks and feels like a haven for you and your family. At Pristine Home, our expert cleaners ensure that your home is cleaned to the highest standards, so it becomes a more comfortable place for all family members.
---