As the temperature begins to rise and you start dreaming of warm rays of the sun and light clothing, you may also think that it's time your home needs a bit of attention.
You know the drill. It's time to spring clean.
For some reason, most people suddenly have a spring in their step once the cold wintry weather thaws out. Take advantage of this sudden burst of energy and get on spring cleaning!
How to Spring Clean
Before anything else, it's best that you don't do this monumental task alone. Enlist the help of family members. Professional cleaners are also available; Pristine Home takes pride in its team of highly trained cleaners.
You don't have to pressure yourself and do EVERYTHING in one day. Divide chores amongst family members and focus on one room or area of the house per cleaning time, for example.
To get the children in on the cleaning, implement a reward system. They have something that motivates them and look forward to afterwards. It might be a trip to the cinema to watch a movie they've been raving about or an outdoor adventure hike that lets you and the whole family bask in the warmth of the sun. Regardless of what you think is the best incentive for your kids, there's no denying the power of a reward.
While you spring clean, put on some light and fun music. Dance while you're at it! Make this a fun activity for all to enjoy. Make sure to have all your cleaning materials and tools ready.
Key Cleaning List (KCL)
A cleaning checklist that you should start with in every room of the house.
● Take a moment and think about what you need to let go of; declutter!
● If a lampshade can be washed, do so. Light fixtures also need a good washing.
● Walls need washing too, as well as the baseboards
● Wipe down door knobs and knobs
● Registers and air vents need to be wiped cleaned; if they can be removed, wash them.
● Floors can be mopped with a solution of soap and water and then wiped dry
● Take down the curtains. They're on their way to the washing machine.
● Blinds and carpets need to be deep cleaned. Contact us for a thorough deep clean.
● Dust and sweep underneath and/or behind furniture.
● Window screens can be taken down and washed.
● Wash windows as well.
● Look around the room and see if any parts need a paint job
● Check and double check smoke detectors.
Living Room
● KCL
● If your furniture has upholstery, have it deep cleaned.
● Pillow cases and throw pillows should be laundered.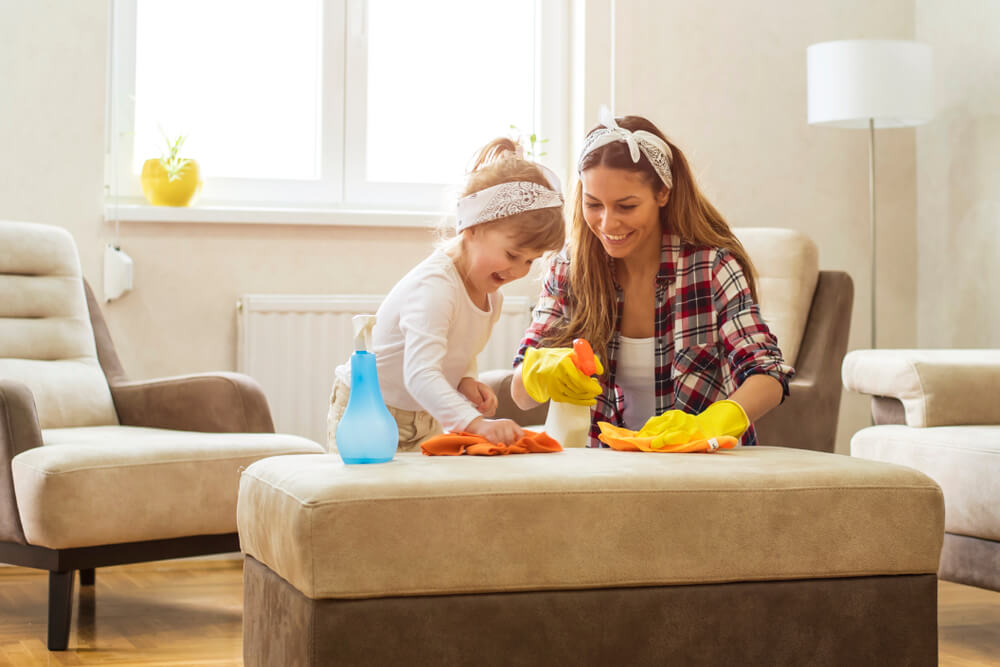 Kitchen
● KCL
● Take out all items from the cupboard, pantry, and drawers. Throw out whatever you
don't need or food that might have expired already. Organise remaining items.
● Have the following deep cleaned by Pristine Home: oven, refrigerator, microwave, stove, and cabinet fronts.
● Check your grout. It may need resealing.
Bathroom
● KCL
● Remove shower heads and clean it
● You may either clean shower curtains or replace it
● Check your medicine and remove any item that may have already passed its expiration date or needs to be replaced
● Clean and reorganise your linens and linen closet
Bedroom
● KCL
● Declutter and organise your closet and dresser. Perhaps it's time for that rummage sale?
● When it is hot outside, mattresses and pillows and be left in the sun to be disinfected and aired out
● Bedsheets, comforters, and pillow cases are to be laundered
Garage
● KCL
● Declutter and do some organisation. You might have a designated area in your garage for seasonal items. Check these out and remove whatever you feel is not needed any longer by the family or is already not functioning properly.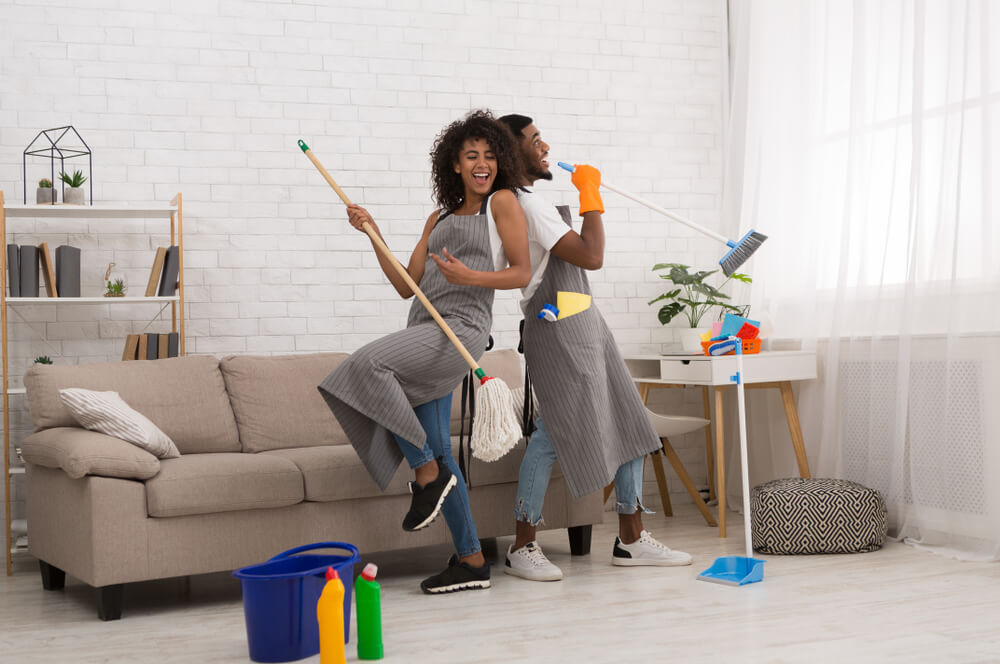 Some Tips From the Experts
Make spring cleaning less of a chore by following these tried and tested tips from us:
1. Set a schedule – Always begin in an area of the house that looks the most cluttered, or you think needs the most work. This way you've gotten the "hard ones" ticked off your list.
2. Remember this word: Declutter – A lot of cleaning experts agree (us included!) that decluttering helps homeowners become more efficient and organised. There have been numerous studies claiming that clutter has a psychological effect on you, and not a very good one! So lessen the stress and get rid of that mess!
3. Start from the top – Always clean from top to bottom. The dirt and debris from the upper part of the room (ceiling, top of shelves and cabinets) simply fall down to the ground.
4. Protect yourself – the cold wintry months have left a lot of dust and dirt to settle in your home and if you are prone to allergies, it wouldn't hurt to use a mask while you spring clean. Rubber gloves give protection to your hands as you handle cleaning agents or chemicals and wearing an apron to protect your clothes are also a great way to protect
yourself.
5. Change is good – Now would be a perfect time to change it up a bit. Thinking of repainting your bedroom? Go ahead! With the weather looking bright and the temperature reaching a comfortable degree, it wouldn't hurt to give a part of your home an upgrade. If you can't afford a paint job, or it's simply too drastic of a change, something as simple as buying new pillow cases can help set a new tone in your home.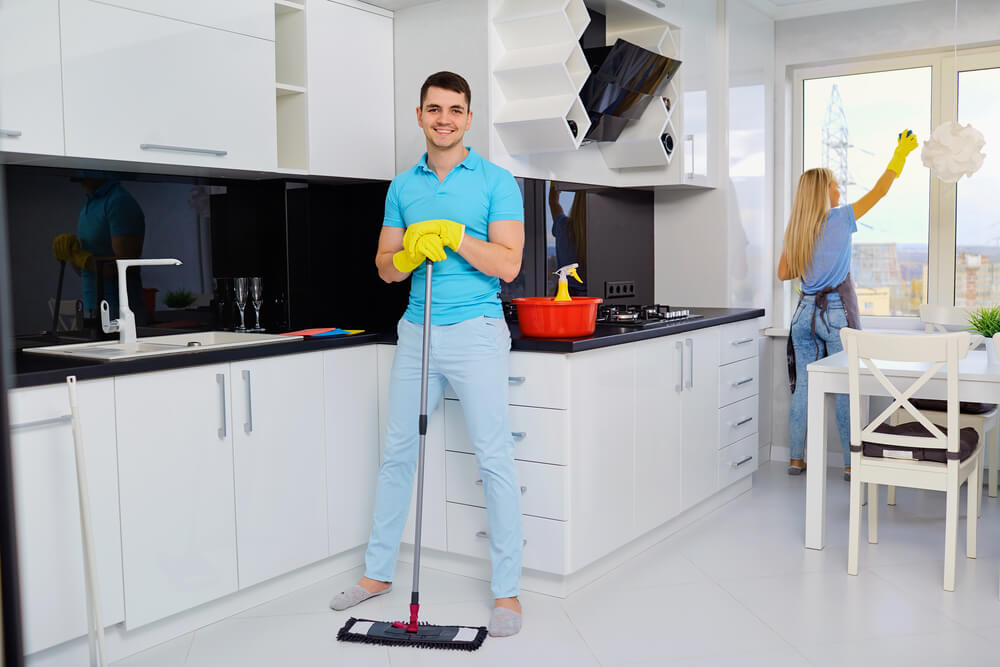 The purpose of a spring clean is to shake away the monotony that comes with winter. As days appear to be longer, we have an urge to become physically active. One way of channeling this urge is through cleaning.
A spring clean is also the perfect opportunity to see if there's anything that needs to be done in your home. It may help to also have a checklist handy of items you lack or needs replacing.
A spring clean doesn't necessarily have to happen after winter. You can do this cleaning checklist whenever you feel your house needs a bit of an uplift.
For tasks that seem daunting, or if you simply don't have the time to do a proper spring clean, contact us and we will have our team of professional cleaners come over. We have a wide range of cleaning services to choose from. You are assured of a clean that is done with utmost care and attention.
---