Being one of the busiest rooms in the house, the bathroom needs a little extra attention to keep it clean. The good news is though, while the dirt and grime can build up quicker than in other places in your home, there are several little things you can do to make keeping the bathroom clean easily.
How You Can Keep Your Bathroom Cleaner Easier & For Longer
We've compiled a list of tips, tricks, and daily habits that you can start including in your daily or weekly routine to make sure this space is always looking it's best.
Tip 1: Keep Your Counter Tops as Clutter-Free as Possible.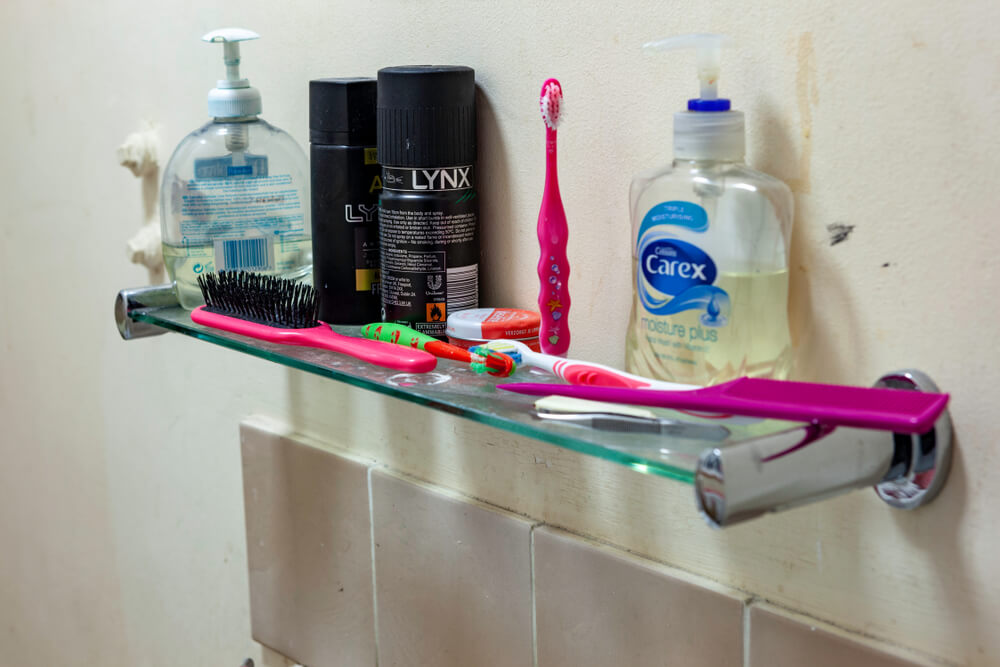 Besides the necessities that you use every day, like your toothbrush, toothpaste, and soaps, aim to keep as much off your bathroom counter area as possible. It may not be possible if you don't have much built in storage or space in your bathroom. However, if you have storage facilities in your bathroom, like vanity cupboards, medicine cupboards, drawers, and ledges, use them!  Clutter breeds clutter, the more that is out on display, the more we keep adding to it, and before you know, you're wading through a gigantic pile of make-up, hairbrushes, and lotions, just trying to find your toothbrush.
And while many bathrooms do suffer from a lack of storage space, and let's be fair, bathroom are usually pretty small, there are lots of cleverly designed and affordable storage options out there. Drawer units on wheels, slimline cupboards, and stackable storage containers all make great bathroom storage options, and it will certainly help keep clutter from building up and multiplying on your counter tops!
Tip 2: Keep Cleaning Supplies Handy.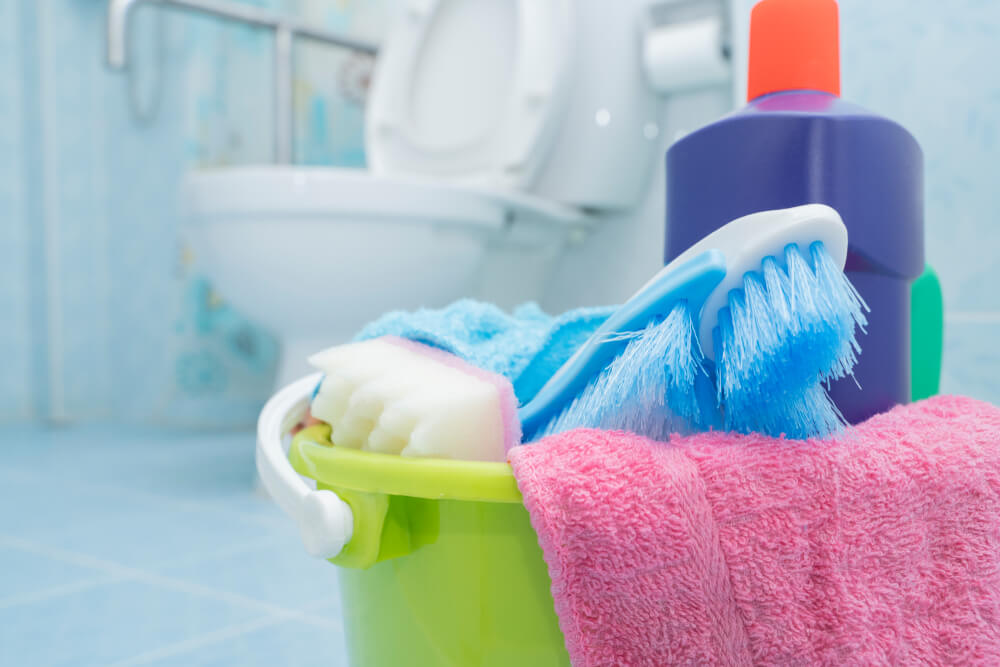 It's a good idea to have a caddy or drawer dedicated to cleaning supplies in your bathroom.  You don't need many things, just some microfibre clothes, sponges, a scrubbing brush, your preferred all-purpose and/bathroom specific cleaning spray, glass cleaner and a squeegee and gloves. These can stay in the bathroom and only be used in this space. It means that your supplies are always nearby and ready to go.
Keeping them in an easy to reach space gives you the chance to spot clean for those things that just pop up.  If you flick a bit of toothpaste onto the mirror, you can just quickly wipe it off with your sponge or microfibre cloth. Some of us get into a cleaning routine where we let little things go and wait until our dedicated cleaning day or time, but if it's going to take you less than two minutes to give it a little clean now, you'll save yourself from having to dedicate a lot more time to cleaning the bathroom in the future.
Tip 3:  Keep the Bathroom as Dry as Possible.
The bathroom is by far the wettest room of the house, and of course, with showers, baths, people washing their hands and brushing their teeth, it's not easy to keep the room dry.  And though most bathrooms have been built to withstand this high presence of water and moisture, water build up can cause the appearance of dirt, grime, mildew, and mould.
One of the best ways to do this is to make sure that when anyone showers or baths, the ventilation fan has been used, this will help to rid some of the humidity and moisture in the air, which will stop it from settling and on the walls, mirrors, and surfaces of the bathroom.
Even if you can't see mould in your bathroom, the chances of it appearing are far greater than most other rooms of your home.  Keeping the room dry is the best way to prevent this. After showers, wiping down surfaces to dry them faster helps to prevent this build up.  You can also try keeping your shower door open or shower curtain hung in a way so that it's not resting against another surface, like the edge of a bath or wall.  It will give it a chance to dry properly.
Avoid mildew build up and stains on the shower glass doors or mirrors by using your new best friend in the bathroom – the squeegee, and quick wipe over the surfaces with the squeegee, will help remove a layer of that moisture, and any trickles you may have.  This will let the surface dry quicker and avoid any mildew stains.
Tip 4: Don't Forget About the Floor – It Needs to be Kept Dry Too!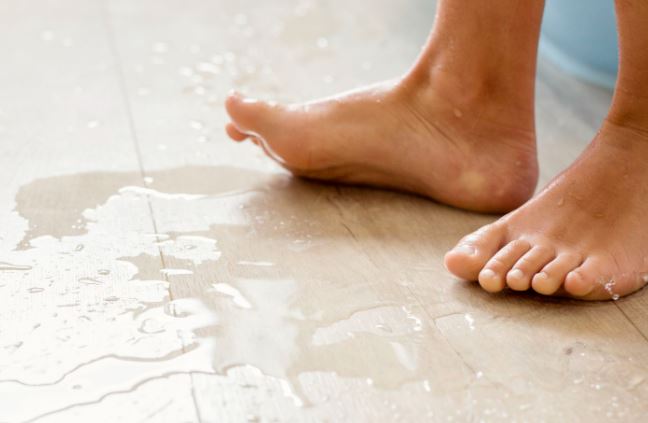 While most bathrooms have tiles that are made to withstand water spillages and drips, if you notice water present on the floor, use a towel (either cloth or paper) to dry it up.
Not only is it a health hazard in the room that is the most slippery, and the home to some of the pointier things in your home, water is a magnet for dust, hair, and other debris. It might be hard to notice the dust particles at first, but once the now dirty water has dried, when you walk on it, it's not a pleasant feeling, and it doesn't look too great either.
Tip 5: Make Sure You've Got Ample Drying Space.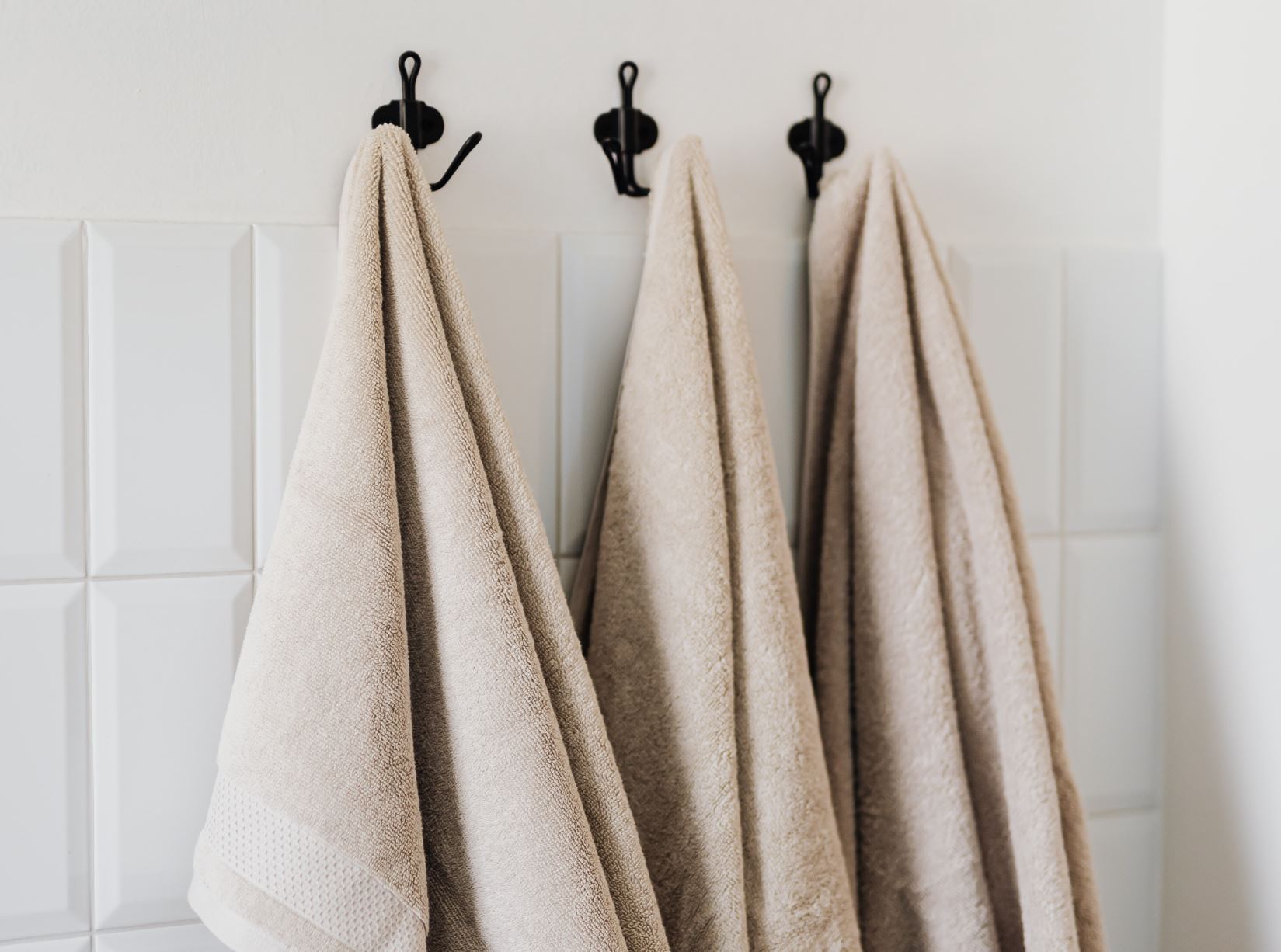 Having a space dedicated to drying towels is important for any bathroom.  You need somewhere to hang a towel that has been used after a bath or shower, somewhere for your hand towels to hang, within easy reach, and somewhere that you can hang the bathmat after a shower. Giving your towels somewhere to dry means that they can dry completely between uses and you won't have to wash them in the washing machine as often.
Most bathrooms have some form of drying rack built into them, however if your bathroom doesn't, there are several different, and affordable solutions out there, including free standing towel racks, over the door towel racks that can be hung over any door, ladder style towel racks take up minimal space or you can install some knobs that you can use to hang towels on.
Bonus Bathroom Organisation Tips & Tricks
There are lots of little things you can do and get that will make keeping your bathroom organised that much easier.  Read on for some of our favourites.
Keep an eye on expiration dates – Aim to do a bit of a de-clutter of your bathroom space every couple of months.  Many of the products we use in this space have a lifespan, and you want to make sure that the products you're using are safe to use.
Add a laundry hamper or basket to your bathroom – You can use this hamper for clothes if that works for you, but it's a good place for everyone to be able to put their dirty towels that are ready to be washed in. It stops them from making their way to the floor or becoming lost in someone's bedroom! There are lots of small-space friendly laundry options out there, you could use a simple basket, or and over the door laundry bag that can be hidden on the back of the door.
Save space and keep surfaces clean by using hanging shower caddies – You can either opt for a shower caddy that hangs over the head of your shower, or the walls of your shower, or you can go for a shower caddy, or shelf that uses suction caps to keep them in place.  It saves you from keeping products on the ground or around the edges of the bath, and stops water from pooling around the products, which can cause water stains.
Use acrylic or clear containers to organise your bathroom items – Make it easy to see the bits and pieces you have packed away by using see-through storage containers.  Many of these options can look quite stylish, but they make it so much simpler to know where to find your supplies.
Label everything – Particularly if any containers you are using aren't clear. It will lead you in the right direction to find your supplies.
Magnetic strips can be your best friend – Hair pins, clips, tweezers, bits and bobs have a way of getting lost. But you can avoid this by adding a magnetic strip to the inside of a cabinet or cupboard door, or even to the inside of a drawer. It stops these little things from getting lost or being loose in the drawer.
Add drawer dividers – There are lots of little bits and pieces that we use in the bathroom, instead of dedicating oversized spaces to some things, keep your products and tools separated and organised by adding drawer dividers. You can get simple plastic ones that fit in most sized drawers, or you can get little fabric or plastic containers that you can mix and match inside the drawer as well.
Utilise the inside of cupboard doors for extra storage – We touched on this with the magnetic strips, but the inside of your cupboards and drawers can be used for so much more. Take advantage of the space available on the other side of the doors and walls by adding caddies, hooks, and magnetic strips. You can use removable adhesive products to affix them in place. And they are perfect for those small bits and pieces to keep them out of the way.
For more bathroom organisation tips, check out our piece "How to Organise Your Bathroom".
As you can see, it can be easy to keep your bathroom clean, and more importantly, help you avoid having to spend much time in there cleaning it.  But if you want to avoid cleaning your bathroom at all, then why not get some help?  At Pristine Home, we are the cleaning experts, and we specialise in keeping not only your bathroom clean with our bathroom cleaning service, but we can make sure your whole home is clean and spotless.  We can work with your schedule and customise our service to suit your needs, so why not work with us today?  To book, you can call us on 1300 654 696 or get a quote here.
---