Top 5 Questions to Ask a Cleaning Service
Once you have done your research and narrowed down the list to which is the best cleaning service for you and your home, we're pretty sure you have a list of questions you'd like to ask before committing.
Asking the right questions is essential as it can save you money, time, and from getting a migraine. Don't get sidetracked when you're talking to someone who's coming on too strong for you; some companies like to use flowery words to convince a potential client that they are the one.
Here is a list of questions you should be asking a professional cleaning service:
What are your rates?
A professional cleaning service usually bases its rates on a number of factors:
An hourly rate is usually given during an initial visit
Any specialised cleaning service you wish to procure, such as a bond clean
The number of cleaners they will send
How big the property is
When you talk to a cleaning service, give as much information as you can so they can give an estimate of how much the cleaning would cost such as the number of rooms, how many square feet your home is, and how many cleaners you would need. If your budget is a bit tight, inform the cleaners that you would want the cleaning to be done in X number of hours.
Are you insured or bonded?
Never skip this question.
Most cleaning services have liability insurance and bonds. This means that when an employee suffers an injury in your home while on the job, you're not held liable. If anything gets damaged, broken, or broken, the company will be responsible for it.
Opting to get a smaller cleaning company might come out cheaper, but in case an accident does happen (because they do), they would most likely won't be able to reimburse any damage caused. You'll be left with unexpected expenses, ultimately burning a hole in your pocket. Don't be afraid to ask for proof if the company is indeed covered by insurance. You may verify their claims by also asking the insurance company yourself.
Knowing that the company is insured gives you peace of mind and security while cleaners are in your home. Let them know if any items should be handled with care, like that antique clock you inherited from your Aunt.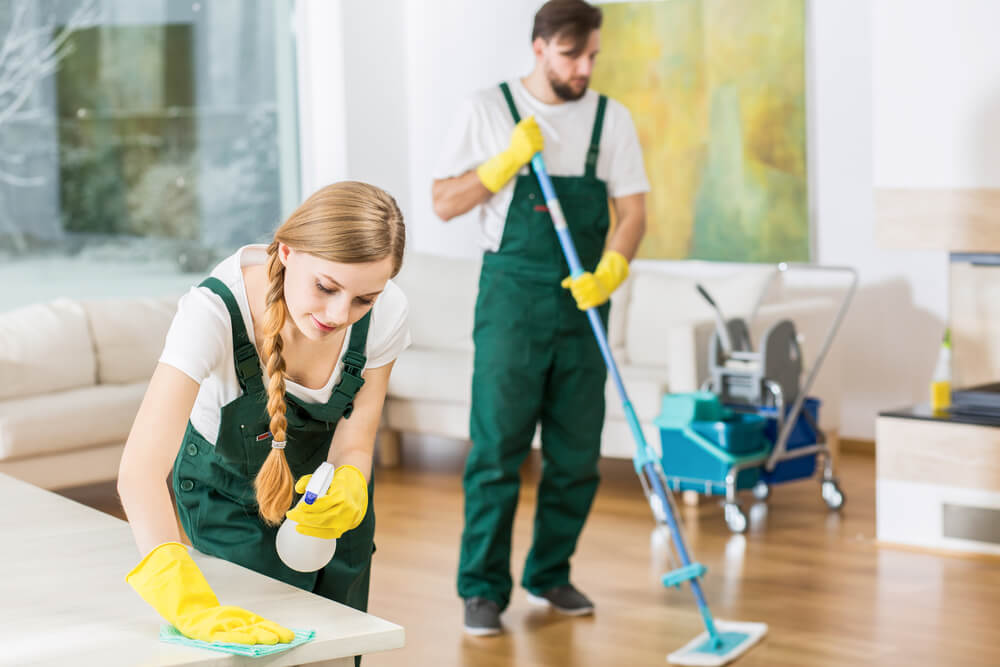 How do you screen your employees?
Opening up your home to strangers can be daunting. Asking about how a company screens its employees should be a top priority.
At Pristine Home, we personally interview and do comprehensive background checks on applicants before hiring.
How long have you been in the business?
Asking how long one company has been doing professional cleaning can be a great gauge of the type service you'd expect once you decide to book them. A start-up company may have good intentions and while there is nothing wrong with choosing one, this might come out to be a risky move on your part.
It takes a lot of hard work and dedication to keep any company afloat, and if one has been around for more than a decade (Pristine Home boasts being in the business for 15 years ), then it is safe to say that a long-running cleaning service would be your best choice.
What cleaning tasks should I expect?
Assuming that this is an initial visit, ask for a checklist of what a basic cleaning service entails as some companies have a different idea of such. You can expect the following tasks to be performed by a cleaning service:
Dusting
Vacuuming
General tidying up
There are quite a few areas of confusion when it comes to basic cleaning service, such as doing the dishes and laundry, making the bed, taking out the trash, and handling children's toys. Ask for a written list, or better yet you may choose to give specific instructions upon booking. This way you know what to expect when a cleaner comes over. The company will charge you accordingly based on what you want to have done.
What cleaning products do you use?
A lot of households nowadays are eco-conscious of the products they use in their homes. Many are wary of the contents of some cleaning products as they may be hazardous or allergic to such. Many companies provide their own products and cleaning tools.
At Pristine Home, we recommend that our client provides the products and tools for the cleaners to use for hygienic purposes. For end of lease and spring cleaning, we prefer to provide cleaning products and equipment. If there are any areas in your home that need special attention, don't be afraid to give instructions.
Other Questions Worth Asking
After asking all the necessary questions, you may still have a few left hanging in your head, such as
What do I do with my pet? (if you have one) – Ask if a cleaning service charges extra for a home with pets. Slowly introduce your pet to the cleaner by letting it sniff and examine the person under your supervision. During the cleaning, you may leave your pet at the back, or in its crate or cage.
How will you gain access to my home? – There might be the off-chance that you won't be home when the cleaner comes over. Coordinate and give instructions if this is the case. However, it is still wiser to be present when your house is being cleaned so you can supervise and watch.
What if I'm not happy with the service? – Hopefully this won't be the case, but do communicate with the company as soon as you find that the cleaning is not to your liking. Some cleaning services give a discount on your next booking, give a full refund, or may send another cleaner over for the next visit.
How do I pay? – You have the option to pay cash directly to the cleaner; by giving a cheque; or by online transfer. Some companies accept payment via credit cards.
How often do I book a cleaner? – Getting the house clean and organised should be a priority but if you can't commit to doing it yourself, you can schedule visits every week, fortnight, or on a monthly basis. It all depends on you and your family's lifestyle.
Pristine Home: The Ultimate in Clean
Being in the business for 15 years has given us the experience, tools, and the right team to provide the best possible cleaning service any client would expect. We are a proud Australian, family-owned company and we like to surround ourselves with people who are as committed as we are to our work and service.
Booking a cleaner in the Sydney area has never been this easy: simply give your area code and we will give you an estimate charge in 60 seconds or less. Enjoy $20 off your first booking too! You may also contact us and talk to any of our customer care team members for a more comprehensive quote.
---