Apparently, the average Australian spends almost 7 hours a week cleaning their homes. That's basically an hour a day, and while it might not seem like too much, it does add up!  Wouldn't you like to get a little extra time back in your day?  I know I would.
The great news is that there are some good daily habits you can get into that can stop those cleaning tasks building into bigger ones and get you back some of that time.
Here are 11 small habits you can pick up that will make your daily clean a breeze.
1. Make the Bed
This job is a never-ending hangover from your childhood. This was probably one of your pocket money tasks at home, and as hard as your parent's tried, it's probably one that is sometimes still a bit of a struggle. But it's also a simple, quick job, that can change the whole feel of your bedroom.
A made bed encourages you to keep the entire bedroom clean. There's also nothing more satisfying than getting into a nicely made bed at the end of a long day.
Get into this habit daily, the most time it's going to take is 3 minutes!
2. Take Your Shoes Off When You Get Home
Your shoes travel everywhere outside your home with you, and along the way they pick up all sorts of dirt and germs. Don't trek that through your house. Take them off when you get home and leave them neatly by the door. This will avoid any unnecessary mess being carried throughout the house.
Consider adding in a shoe rack by the door, or a storage chest to keep the shoes neat and easily accessible.
3. Don't Let Mail Pile Up
It's so easy to build up a pile of mail that you will "get to". So many of us just put the pile by the front door and unless it's something super important, it stays there.
When you collect the mail from the mailbox, go through it as soon as possible, even before you get inside, that way you can recycle any flyers, catalogues or junk mail right away and only bring the important things inside.
Once those catalogues and flyers make their way into the threshold of your home, it can be weeks before they make their way back out – don't let them get that far inside!
4. Do a Night-Time Sweep
So, we don't mean a literal sweep with a broom, rather before you go to bed, do a quick walk through of the main rooms of your home and do a quick tidy up.  It doesn't have to be anything major or involve you getting the vacuum cleaner out, rather, just pick up those little bits and pieces that are out of place, straighten things, that sort of thing.
Look for magazines and books that have been left out, fold up throw blankets, put cushions back where they belong, and take any teacups, mugs or other dishes and put them in the dishwasher.
5. Put Clothes Away Properly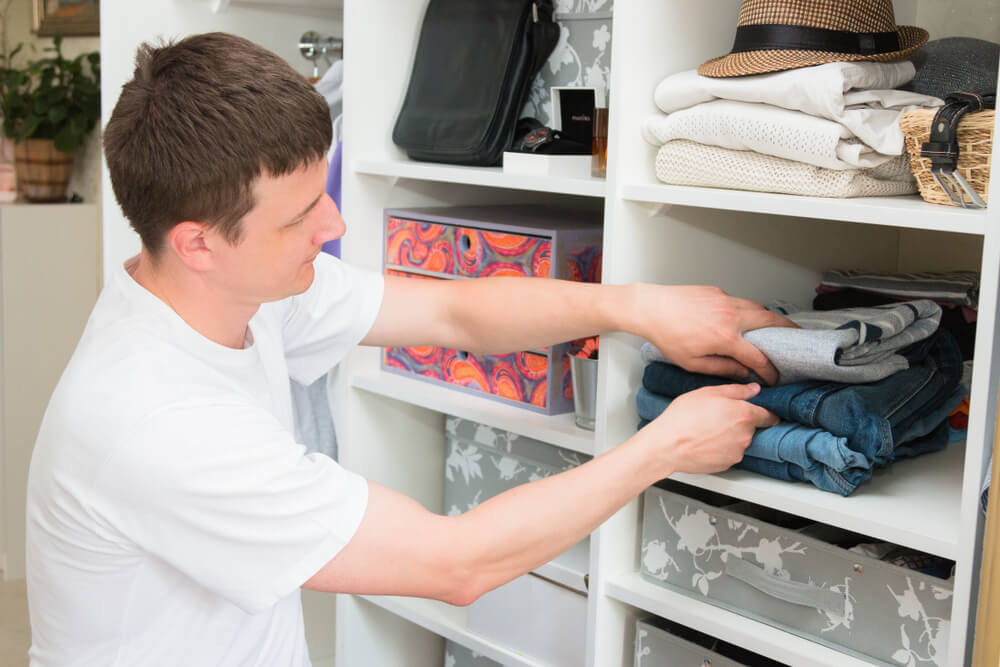 Admit it, we've all got that chair in our bedrooms that somehow becomes the "chairobe", your wardrobe away from the wardrobe. It can be the home for the clothes you've just taken off the line, or the home for the ones that you aren't sure whether they should be cleaned or can be worn again.
Either way, we don't want a chairobe.  Try to get into a habit of either putting your clothes in the laundry basket at the end of the day, or hanging them back up in the wardrobe. And for the clothes you've just taken off the line, take a little time out to fold them up or put them back on their hangers and pack them away straight away.
6. Put Things Back After You've Finished Using Them
This is another habit our parent's tried to instill in us all, once we're finished with something, put it away. It's so much easier said than done.
When we're halfway through a task and we only need to use something quickly, it can be easy to just discard and forget about it. Try to get into the habit of putting something away straight after you've finished using it! You'll thank yourself in the long run!
7. Clean Up As You Cook
Some of us only use what we need to when we're cooking, and then some of us manage to use every utensil, plate, and bowl when we're making our meals. Whichever category you fall into, make your life easy and clean as you cook.
Once you've finished chopping your ingredients for dinner, and they are gently simmering on the stove top, start loading the dishwasher with everything you've finished using.  If you don't have a dishwasher, collect all of the bits and pieces and put them next to sink in preparation.
If you're dinner takes a little longer to cook, fill that sink up with water and dishwashing liquid and get started on those dishes!
8. Wipe Down Tables & Benchtops After Every Meal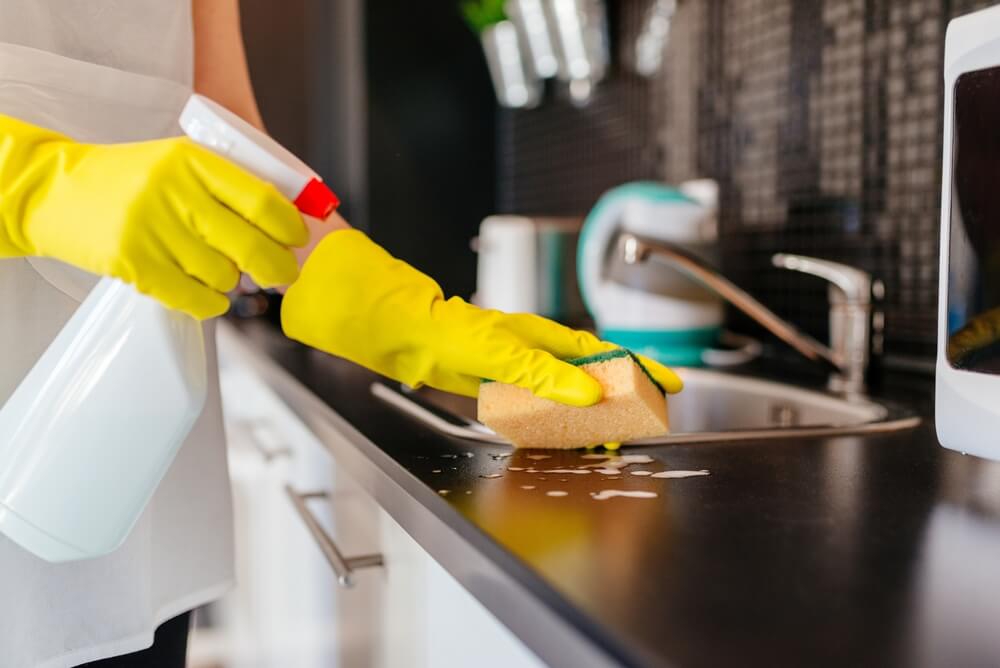 This is a quick job that takes only a couple of minutes and saves you time in long run, stopping any spills from building up, and getting hard and crusty.
After you've finished eating, and cleared the table, give it a quick once over with a cloth and an all-purpose cleaning spray. Then once you're back in the kitchen give the countertops a quick wipe down.  If you clean as you cook, this part won't take too long, you're just going to pick up any of those little spills and splatters of food you may have made in when you were serving up your meal.
9. Wash the Dishes at Night, Pack Away in the Morning
Whether you have a dishwasher or do them by hand, dishes are an evil necessity that is better to be dealt with sooner rather than later. Don't let dishes build up, get in the habit of cleaning them nightly.
If you do them by hand, let them dry overnight on the dishrack, and then pack away when you get up in the morning. If you have a dishwasher, add all those dishes in and let it run while you sleep, you'll wake up to clean dry dishes that just need to go home.
10. Go Through Your Fridge Weekly
While we're in the kitchen, one last thing you can do to keep it clean is to go through your fridge weekly. It's easy to lose track of used by dates, which can lead to some unfortunate odours in your fridge. Stay on top of your fridge and it's contents and make it easy by doing it weekly.
This way, you can also stay on top of any spillages that may have occurred, and no one gets food poisoning.
11. Wipe Down the Bathroom Mirrors, Sinks & Counter Tops as Part of Your Night-Time Routine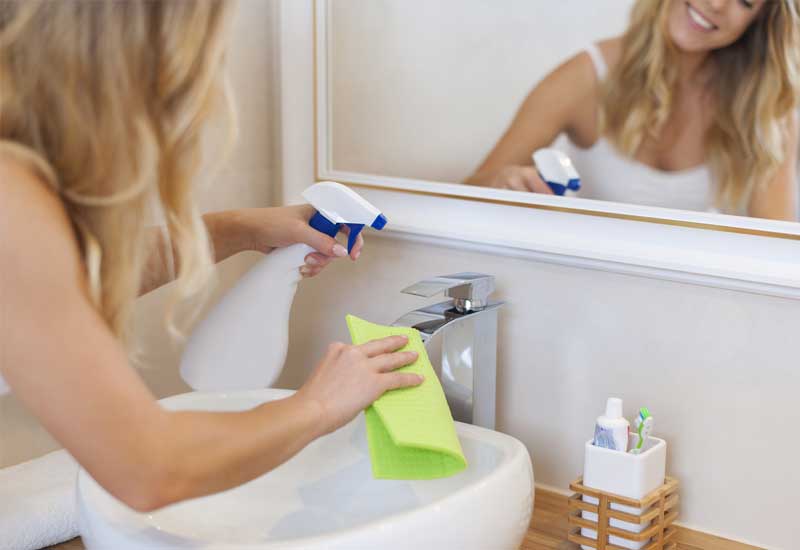 As part of your night-time routine, while you brush your teeth or after you've washed your face, give the bathroom mirror, sink and counter tops a wipe down. Keep a spray bottle and microfibre cloth handy and wipe away any soap or toothpaste build up.
You'll be able to keep the bathroom sparkling clean daily with just a couple of minutes, rather than having to dedicate a lot of time to it.
BONUS TIP: Declutter Once a Month
As much as these habits will save you a lot of cleaning time in the long run, try dedicating some time once a month to declutter some areas of your home – think the wardrobe, the kitchen and keep an eye out for things that you haven't used recently, and may not use again. It's easy to build up all sorts of bits and pieces, and it can happen quite quickly, so stay on top of it by decluttering regularly.
If you need some tips on decluttering, check out our article "What to Keep and What to Give Away: Decluttering 101 by Pristine Home".
Take Back That Cleaning Time by Hiring Pristine Home
While these little habits will help you gain time to yourself in the long run, another way you can get some more time back in your day is with some help from the professionals! At Pristine Home, we're experts in everything cleaning – we love cleaning homes and our trusted team of professionals can work with you for your individual needs. Customise a cleaning plan with your cleaner, set up a a regualr service, or just get a one-off clean every now and then! Either way, you don't have to go it alone.
To get a quote, call us on 1300 653 295 or click here!
---