Having guests over can sometimes be more of a hassle than a pleasant experience when your home isn't in tip top shape. You'd likely dread the visit more when you're told about it and you have a few minutes to spare! Here are a few tips from your friends at Pristine Home to help you get through:
Speed Cleaning
It is what it is: cleaning the house as fast and as effectively as you can before guests arrive.
Speed cleaning can leave you high strung, so having a routine in the first place will avoid any speed cleaning in the future.
Have a trash bag ready and start picking up trash around the house
If you haven't set a cleaning routine or schedule yet (you should) then you would likely see pieces of garbage strewn here and there around your home. Move quickly around the house with a trash bag in hand and get into as many places as you can, grabbing trash wherever you go.
Speaking of trash, take them out
Take out the trash especially when it's full. You might not have noticed it but it probably reeks of stench (sometimes our noses get immune to certain scents after a while). Avoid any awkward side glances from your guests and just take out the trash for a fresher smelling home.
Focus on high traffic areas
When you have little time to clean, make sure to put your full attention on high traffic areas like the living room, kitchen, and guest bathroom. These are places that your guests will spend the most time on. Don't neglect the front door too, and the porch if you have one. If this is the first time your guests will visit your home, always remember that first impressions do last; ensuring that the first thing they see is neat and clean gives off the impression (illusion, even) that your home is clean. Swap your rug with a fresh one, do a quick wipe down and sweep of the area.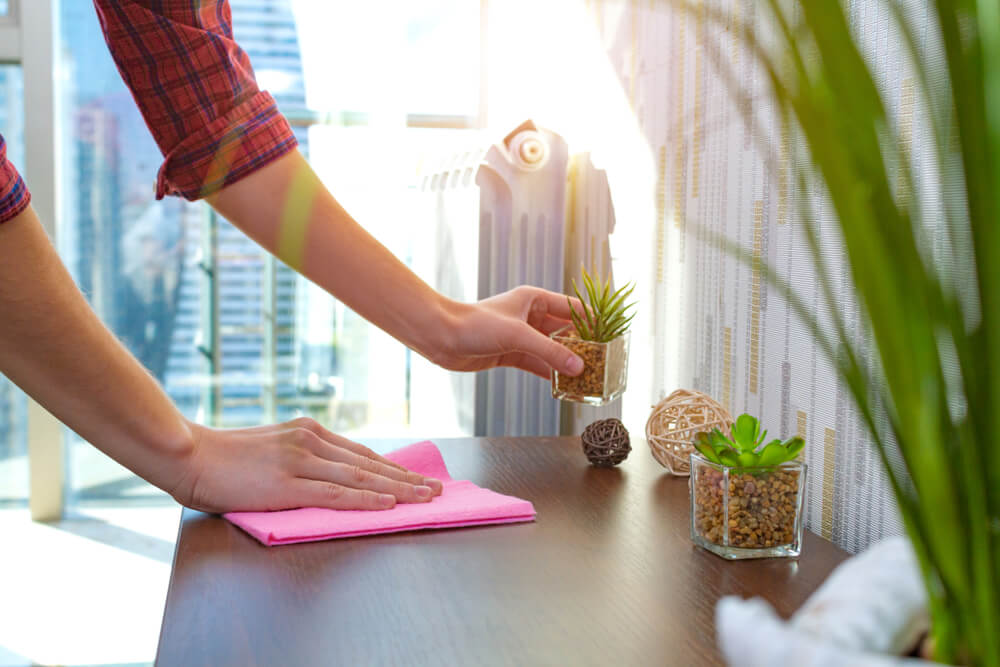 Prep the guest bathroom
Your guest bathroom should be properly wiped down, have fresh towels, and a few rolls of tissue ready for your visitors. You can't scrub the bathroom to make the tiles shiny and clean, but quickly brushing the toilet with cleaner and spraying the bathroom with a deodorising spray will be enough, at least for the meantime.
Throw the dirty dishes into the dishwasher
Nothing screams "Untidy! Dirty!" than a pile of dirty dishes in your kitchen sink. Chuck them in the dishwasher and run a load while you have some guests over.
Remove dust using a lint roller
Dusting the house will be a breeze when you use a lint roller. Use it on furniture, pillows, lamp shades and any surface areas you see visible debris or dust. This is especially helpful when you have a pet around.
Pro tip: Do the dusting from top to bottom. That way any dust or dirt that falls from higher surfaces will simply fall, giving you the opportunity to remove it with a lint roller.
Think like a guest
If you were visiting your home, what are the things you'd notice if you were the guest? By thinking like an outsider you get to zero in on smudges, stains, and other visible dirt that make your home look unkempt. A spray bottle filled with a gentle solution of water, white vinegar, and dishwashing soap, and a clean microfiber cloth, are your best friends at this point. Simply spritz on the area and wipe away!
Other Expert Tips
Call the professionals
If you have little time to do a deep clean, call Pristine Home for a next day cleaning service. With the cleaning out of the way, you can focus on other details that can help make your guests right at home.
Bring out fresh towels and linens
If you have guests staying overnight, it is always advisable and hygienic to replace the towels and bed sheets in your guest bedroom and bathroom. A freshly laundered towel smells fresh, while a clean bed sheet and pillowcases are always a welcoming sight for any weary guest.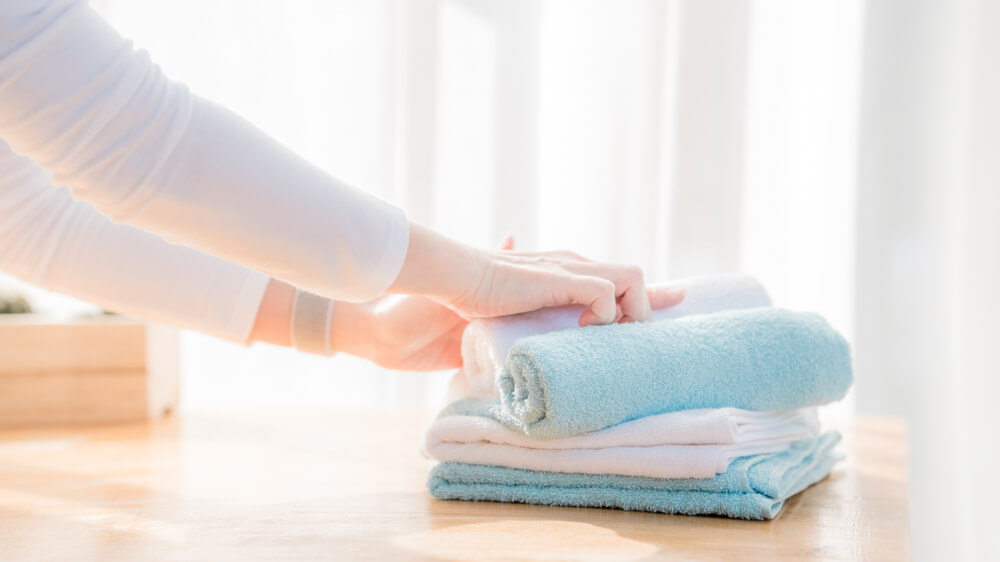 Don't overplan the stay
It is easy to overplan a weekend stay when you have visitors coming over. Don't fill every second with activity, but it is always good to have some tentative activities lined up just in case your guests feel like going out. Lounging around the house and catching up over a cup of coffee or tea are usually fine things to do with guests.
Scented candles work wonders
Help make your home more home-y by lighting up a scented candle around high traffic areas. Opt for gentle scents like lavender, eucalyptus, and mint. Just make sure to place them away from little hands if there are children present.
Clear up the dresser
In your guest bathroom, clear up the dresser and put the essentials like a new toothbrush, a fresh tube of toothpaste, a newly opened hand wash soap, and a fresh hand towel. It gives off the vibe that you have a home that's put together.
Final Word
You don't need to stress out over visitors when you follow a strict cleaning schedule. Consistently cleaning up will almost always leave your clean and presentable, and ready for guests. Having a professional cleaner over every week or fortnightly to do a thorough clean will put your mind at ease, leaving you confidently welcoming any visitor who decides to drop by.
---