Spring cleaning is arguably the most well-known cleaning event of the year.  And while there is nothing better than giving the house a nice refresh, you don't have to wait until spring to get your cleaning on.
In fact, here at Pristine Home, we think winter is the best time to get your deep cleaning on. You see, besides a clean home looking and feeling nice, there are plenty of logical reasons why winter deep cleaning is an absolute must. And to find these out, all you need to do is to keep reading.
We'll even give you some handy winter cleaning tips along the way.
Why you should clean your home in winter
The theory behind spring cleaning is quite sound. The earth is defrosting after the chilly winter months, and as the weather warms up and the sun shines brighter, opening the curtains and windows to let that spring light and air in is indeed a refreshing feeling.
Now, while we're not suggesting that you skip this glorious part of the change in the seasons, we just think that instead of spending those few first warm spring days cleaning, why not tackle some of the big cleaning jobs in winter, so you can enjoy the nice spring days instead.
But getting some of the cleaning out of the way in winter isn't just about you being able to enjoy the glorious warm spring weather. Some of the reason you should start with your cleaning in winter include: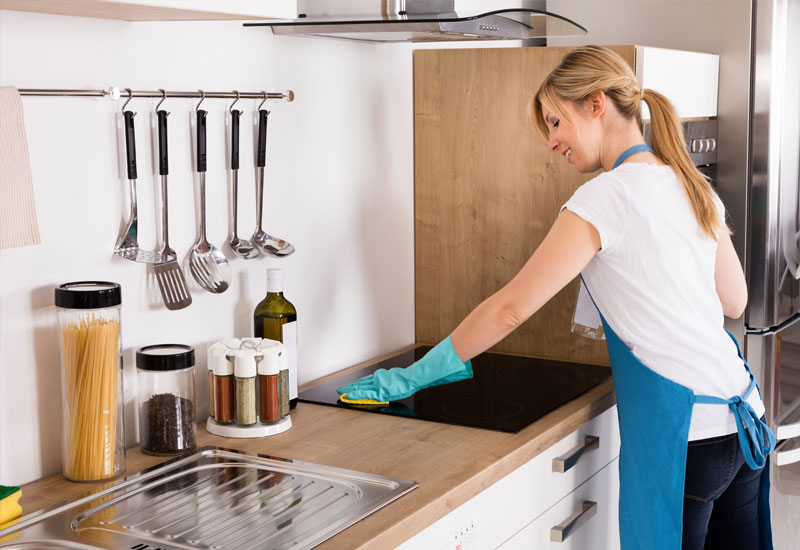 1. You're home more in winter
Winter is the season for staying in. If you do go out, you're usually not out for as long or as late. You're cooking at home more, hanging out with friends at home more and you're just spending a lot more time inside. And being home more means you're using your home – and the appliances around your home – even more. This means that the chances of making mess and having things to clean up is even higher. And life is just going to be so much enjoyable and peaceful inside a clean home.
2. Keeps you busy and occupied
Now, to be fair, you might work from home or have kids to clean up after, so you might not be looking for activities to do. And we suspect that the last thing you want to do is spend your spare time cleaning. But, if you're already at home and you don't have any pressing plans, there's really no excuse.  Get those bigger, and more annoying, cleaning jobs out of the day so you don't have to spend the warm spring and summer days doing them!
3. Your home can get super dusty in winter
You might think that because you're not heading in and out or having the windows open as much during winter, the chances of dust building up and collecting in the house is lessened.  Well, unfortunately, it's the exact opposite.
Dust tends to build up more during winter for a few different reasons. When you're not opening up the house as much, less natural fresh air is circulating, which means there is less chance of this dust naturally making its own way out of your home. We also tend to have our heaters running more during winter. This can lead to skin becoming dry and when our skin dries out, it tends to become flaky and we shed more. And this might be a little gross, but dust is partly composed of dead skin cells, so there is even more chance of dust building up.
Hair is another major component of dust, and if you've got pets, them spending less time outside means more hair inside. Keeping on top of dust levels in winter can also keep those allergies at bay.
4. Winter is the season of sickness
Unfortunately, winter is the time of year that many of us get ill. As we go to work or run errands, we're exposed to varying temperatures, which can wreak havoc on our body's immune system. And as soon as one person in the family gets sick, it's only a matter of time until everyone gets sick. It's super important to stay on top of disinfecting the home, particularly the high traffic areas. The bathroom, the kitchen and the door handles and light switches in your home are some of the most commonly used areas and things around the house. Make sure these get a thorough wipe down regularly in winter.
One way to combat seasonal sickness is by setting up a nice little sanitisation station at your entryway. Keep your hand sanitisers, masks, tissues and room sprays handy – they will become your best friends in winter.  For more cleaning tips to help avoid sickness click here.
5. A clean home is a happy home
A clean home environment has been closely linked to our mental health. The actual physical activity of cleaning, combined with the end result of a clean home has been shown to reduce feelings of anxiety, stress and even fatigue. And if we're going to be spending more time at home during winter, then it makes sense to make it a clean home.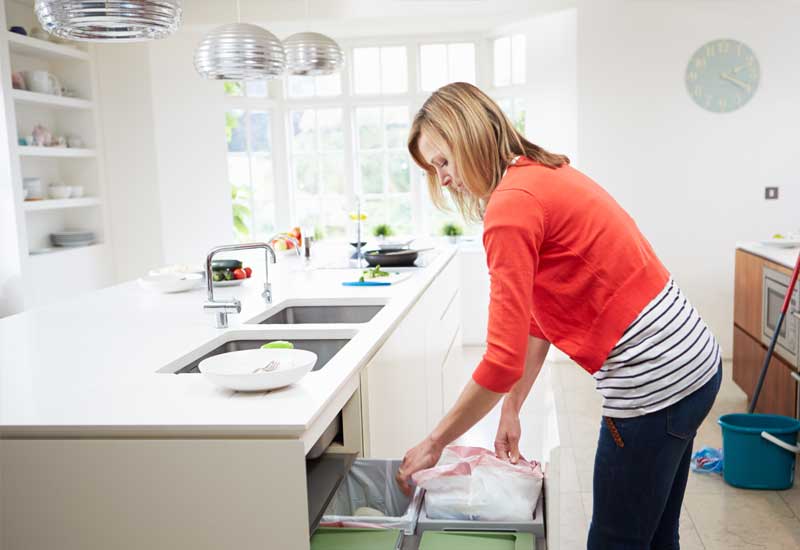 So, while there are some great reasons to get a jump start on your spring cleaning in winter, where do you begin?
Winter cleaning jobs to do around the house
While there are no set rules on what you should and shouldn't clean in your home during winter, it is the perfect time to clean some of those areas that you might have forgotten about.
Some of our favourite things to clean during winter include:
1. The hidden compartments in appliances
Some mess is super easy to see, marks on the wall, clutter on the kitchen bench, handprints and smudges on appliances, for example. But then there is a lot of mess we don't see – especially when it comes to our appliances. If you're going to be home more during winter, you're probably going to be using your appliances more, now is the time to clean out the insides of these appliances. The crumbs tray of your toaster, the lint filter in your dryer, the inside of your kettle – when was the last time you gave any of these a clean?
2. Disinfect your bins
The bins around our home get an absolute workout. And when they are full, we obviously take the rubbish out, but how often are you cleaning inside your bin?  We put all sorts of things in our rubbish bins, from food scraps and packaging, to used tissues and everything in between. Sometimes our rubbish can leak and leave residue in the bin. We recommend giving your bins a good clean out at least once a month, or if you notice something has leaked in your bin, get on it right away. You don't want to give that bacteria a chance to breed.
3. Wash and disinfect your toilet brushes and holders
Ok, this is a doozy, but something to really think about – when did you last clean your toilet brush?
We use so many cleaning tools around the home to clean, but often we forget to clean the cleaner. And we suspect that in many homes around the world, one of the most forgotten about cleaning tools is the toilet brush. And given its purpose, it's definitely important to make sure it is clean.
If you're not sure where to start with cleaning your toilet brush and holder, follow these easy steps:
Carefully take your toilet brush and holder outside
Hose down with the garden hose to give a quick clean
Fill a bucket with equal quantities of hot water and vinegar – an effective and affordable cleaning solution
Soak your toilet brush and its holder for a few hours in the bucket
Rinse the toilet brush and holder with clean water
Let dry in sunlight
Check out some of the other things we forget to clean in the home here.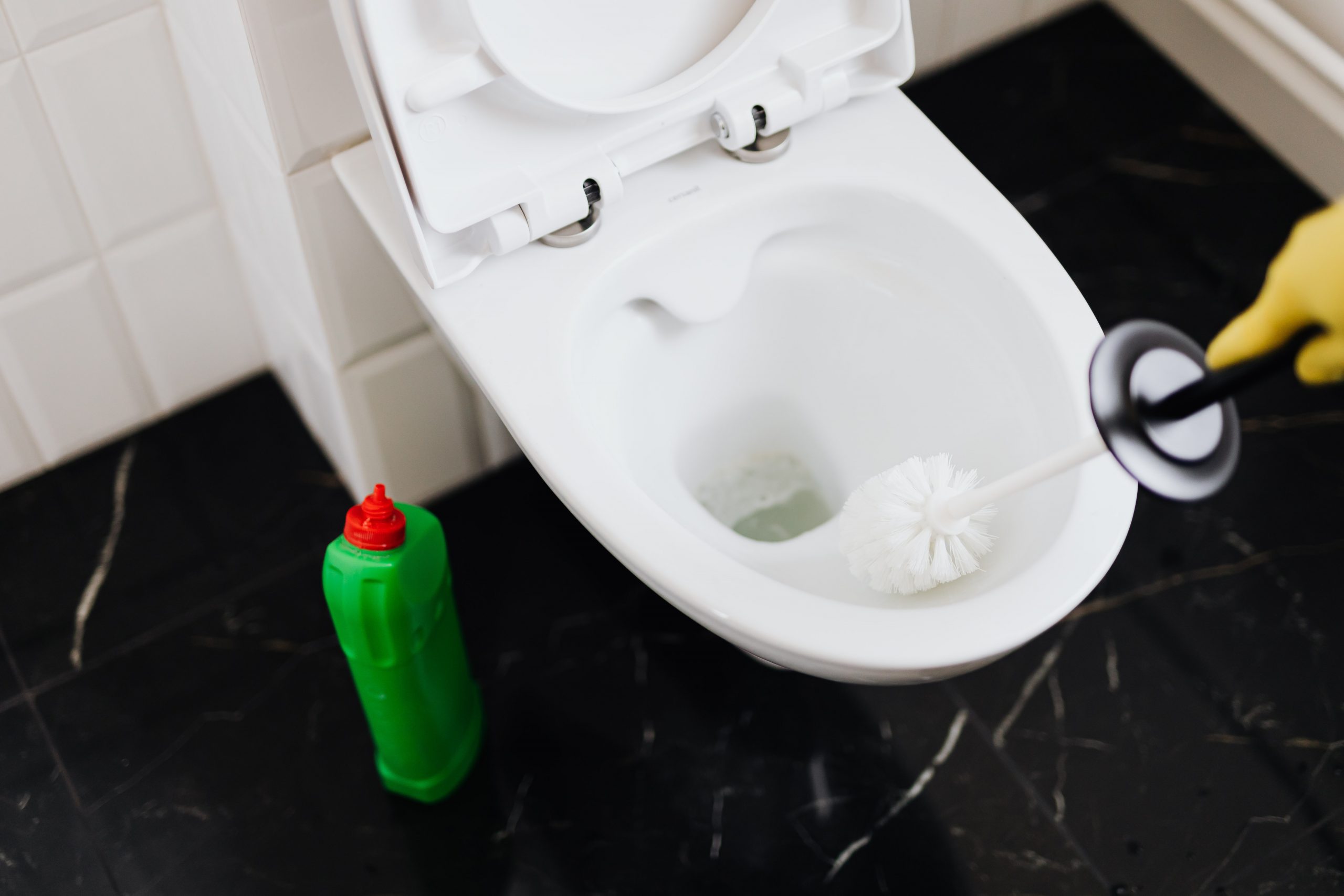 4.  Clean the underside of your furniture
While you probably shift your furniture every now and then to reach the floors underneath, chances are you may not have actually thought about cleaning the underside of your furniture.  Dust can stick to any surface, but it particularly loves the upholstered furniture.
Turn your armchairs and couches over to give the underside a nice vacuum. Be careful though, these pieces tend to be a bit heavier than other furniture in the home, so you might need another person to help you do this safely.
5. Think about where dust collects
As we mentioned earlier, dust is more prevalent in winter. And unluckily for us, dust doesn't discriminate, it will settle absolutely anywhere. So, have a think about some of the less visible areas where this dust might collect.
You might notice dust on your baseboards because they are a bit easier to see than other areas, but what about your architraves and trim around your home? Even the tops of doors can collect dust. A quick wipe down with a damp cloth, a disinfectant wipe or even using a brush attachment on your vacuum cleaner can quickly solve this problem.
And while we're on the topic of cleaning the forgotten tops of things, give the top of your television, picture frames and any artwork you might have around the home a quick wipe down – we guarantee that there will be a nice little dust collection there.
6. Clean the windows inside and out
While this is a job usually reserved for warmer weather, it's something worth considering doing at the beginning of winter.  You see, with shorter days and the sun not being out as often, it can be hard to take advantage of natural light. And the last thing we want is dirty windows blocking out this gorgeous sunshine.  Even if you can't clean the windows outside, cleaning them inside will do great wonders!
You can discover our secret tips for cleaning windows like a pro here.
7. Deep clean the oven, stove and rangehood exhaust
Spending more time at home during winter might mean more home cooked meals. And there's nothing better than having a clean workspace to prepare your meals in. Put in a little elbow grease to get your oven and stove top spotless.
Many modern ovens have a self-cleaning function, but if yours doesn't you can read our oven deep cleaning tips here. But it's not just the inside of the oven that you should give a deep clean. The stove top and the overhead exhaust area can always do with a little love.
Most rangehood exhaust filters will be covered in oil and grease, given it is their job to collect grease. To tackle cleaning it, slide it out from its home in the rangehood exhaust (most filters easily slide or pop out), and give a soak in hot water and degreasing detergent. Once it's had a chance to break down the grease, using a non-abrasive dish brush, give it a nice scrub before letting it air dry.
A clean oven and stove top is going to make meal time even better. For more deep cleaning kitchen tips, read our A-Z of kitchen cleaning tips here.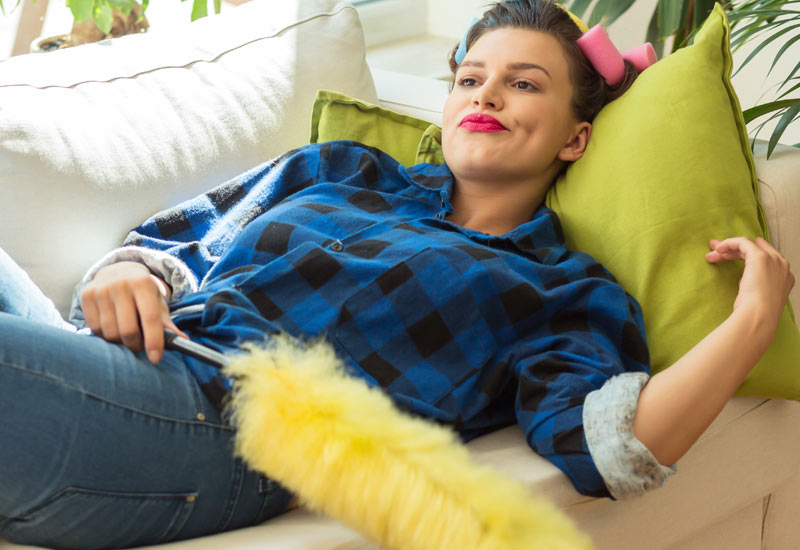 You don't have to do it all yourself
As you can see, cleaning the home in winter is going to make those long, cold winter days so much more enjoyable at home. But if you're struggling for time to get to the winter cleaning, you're not alone and you don't have to do it all yourself. We're here to help get your home winter ready in Sydney. Our highly trained team of cleaners can work with you to customise your home clean to be exactly what you need, so what are you waiting for? Get a cleaning quote for your home today!
---