Cleaning doesn't have to be a bore (or a chore) when you're doing it right. We have a few tips you can easily apply whenever you're down for some elbow grease.
Put your head in the game
Professional cleaners aren't robots; they have a personal life that they attend to when work is done. But for them to do their job well, they are not only physically present, but also mentally aware of the tasks that need to be done.
Allowing yourself to be distracted whenever you have cleaning to do will lengthen cleaning time and make an already tedious task even more of a hassle.
Make it a habit
Make cleaning a part of your daily routine so it doesn't feel like a chore.
It will be difficult at first to incorporate some tasks (especially when you're not used to it) but eventually cleaning will become second nature and before you know it, you've cleaned the house in no time!
Create a pattern
It's always best to clean from top to bottom in every room or area in your home. The dirt or debris from the top can easily be swept or wiped clean when you're about to clean the bottom. By also creating your own pattern, you don't need to go back to places you have missed, thus saving you time and energy.
Simplify your cleaning tools
It's tempting to buy that contraption on home shopping TV, or that cleaning product that promises to remove stains from all types of surfaces, but if you keep giving in to your whims, you'll soon see that your cleaning cabinet is
loaded will sorts of products that you don't really need in the first place. Make sure to buy only the tools and materials you need for your home. It will take up less space and even simplify your cleaning routine.
Let products soak
Most cleaning products don't work right away. You'll need to wait for a few minutes to let it work its magic. While it's soaking, do other cleaning tasks to save time. Letting the product soak will even lessen cleaning time; it would have broken down any grime or dirt, making scrubbing easier.
Don't do everything all at once
By now you can already determine which cleaning tasks should be done every day and every other day. Don't tire yourself by cleaning up areas you know are seldom used (such as the guest bedroom). Make a priority list and
stick to it.

Declutter first, and then clean
Removing any unnecessary clutter will help cleaning
become a breeze. Set aside time to get rid of stuff you and your family don't need any longer. You'll be surprised at how much space you have, and how little (or how much) cleaning you need to do. Clutter has a way of covering up surface areas and you'll eventually lose focus on the main task – cleaning – when all you'll be doing is decluttering.
Have a caddy
Having a handy caddy around minimises the time you need to go and pick up any cleaning tools you might need from another room. With a caddy with you, you have all the necessary things you need whenever you begin cleaning.
Don't neglect your furniture
It's easy to forget that your couch or ottoman also needs some tender loving care every now and then. Professional cleaners cannot stress enough how most people forego cleaning their furniture, often resulting in unwanted dust
mites, recurring allergies, and the like. Simply vacuum your furniture every week or fortnight to remove any food crumbs, dust, pet fur, and hair. You'll be surprised at how dirty your sofa actually is!
Clean as you go
Made a mess? Clean up. See crumbs on the floor? Sweep it. Got a spill? Wipe or mop it. Cleaning as soon as there is mess leaves you little to think about when you do need to clean.
Clean when it's bright outside
Open the windows, curtains, and drapes whenever you clean to let natural light in. Also make it a goal to clean before three in the afternoon. With the sun shining bright, you get to see dust and dirt better compared to cleaning at 7
in the evening. This also has another purpose: getting chores done early in the day makes it easier to tackle than at night time (when your body knows it's time to rest, chill, and binge watch Netflix).
Brush that fur
Brushing your pet's fur will keep any furbunnies to a minimum.
Opt for microfibre cloths
Many cleaning experts agree that microfibre cloths are effective in picking up dirt, dust, and germs. Another reason why professional cleaners prefer microfibre cloths over traditional cloths or paper towels is that they clean fairly
easily and dry quickly. You make less of an environmental footprint when you switch to microfibre cloths ,towels, and mops.
Save cash
You don't need to buy every cleaning agent in the market to clean your home. Some of the essential tools you may need can be found in the kitchen. Baking soda, for example, can beat those tough kitchen messes and stains. Simply sprinkle baking soda on the stain, let it sit for several minutes, and then wipe the area with a damp microfibre cloth. Mixing water, white vinegar, and a bit of dish soap is also a good general cleaning mixture that you can spritz on most surface areas.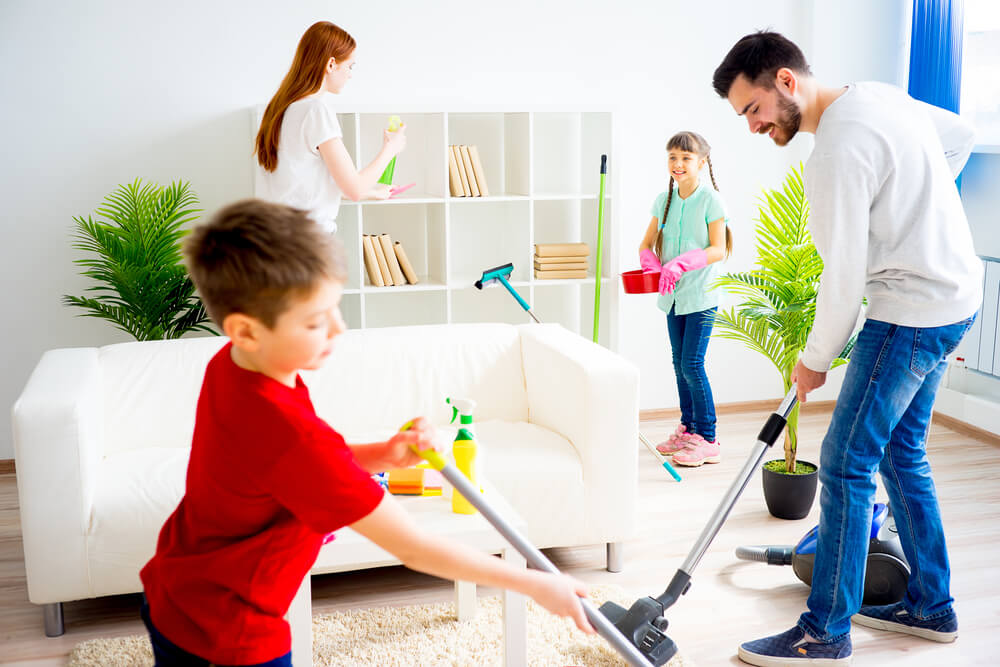 Delegate cleaning tasks to the rest of the household
Make it a point to make cleaning a part of everyone's daily routine. It instills a sense of responsibility to younger
and older children too, plus you don't have top bear the brunt of cleaning the entire house.
Call on the Experts
As much as you want to clean your home, sometimes you just can't. During times like this, contact Pristine Home and have a team of professional cleaners over. Whether you decide to have us once or on a scheduled visit, it is entirely up to you; our priority to make sure your house is a space worth living in, all day, everyday. Book a cleaner today!
---